Joshua Wong, the 17-Year-Old Leading Hong Kong's Democracy Protests
Joshua Wong is "skinny" and "bespectacled" with a "meager physical frame," CNN reports. His hair is "floppy," his shorts are "baggy," his T-shirts are "stripy," The Guardian says. At 17, he is not "quite old enough to drink or drive—let alone vote," Sydney Morning Herald reports.
He is no Che Guevara is what they're trying to tell us. He does not fit the traditional image of a revolutionary—rugged, worn, wise from years of experience. He's just a skinny Chinese kid whose role as leader of Scholarism, a student activist group, has thrust him into the international spotlight as protests against Beijing's refusal to allow free democratic elections in Hong Kong gained momentum.
But a focus by the Western media on Wong's appearance belies how well he fits into a particular Western narrative on Democracy and China's Communist Party.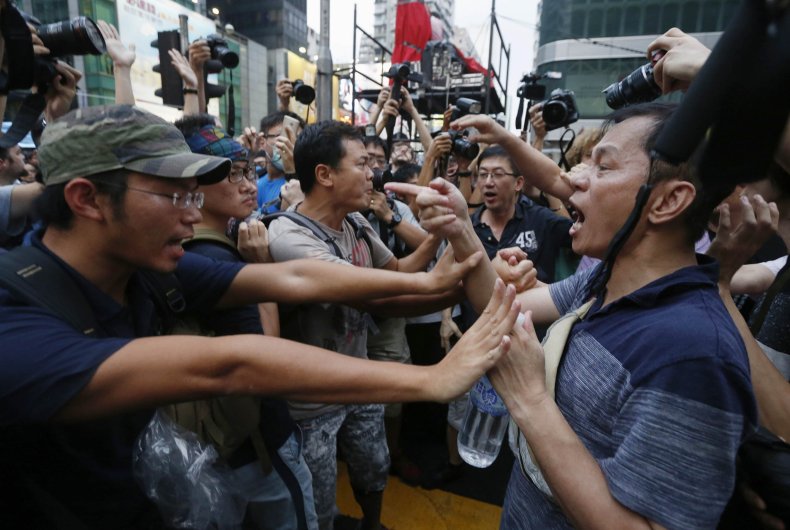 In Focus
Pro-democracy protesters in Hong Kong, many of them students, faced tear gas and arrests as they took to the streets in massive numbers to call on China to allow free elections for territory's next leader
Launch Slideshow

27 PHOTOS
Wong is young and energetic; the party is painted as hoary and tired. Wong is lean; the party has glutted itself on the labor of those it claims to represent. And Wong is "bespectacled"—code for intelligent, progressive—whereas party politics have changed little from Chairman Mao's time.
Beyond the fact that he looks like an average teenager campaigning for democracy, what else is known about Joshua Wong? So far, very little.
He became an activist at 15, he said in an interview with HK Magazine from May, protesting against a proposed linkage of the high-speed railway from mainland China to Hong Kong in 2010. The protest was ultimately unsuccessful.
He next got media attention when, in 2011, he founded Scholarism, a student group opposed to "moral and national education," a curriculum for Hong Kong students, which Wong criticized as pro-Beijing propaganda. The curriculum was scrapped after Wong's group rallied 120,000 protesters against the reform.
The current protests began September 22, after China's National People's Congress announced new rules that voters in Hong Kong's elections will only be allowed to choose candidates from a list of "two or three" approved by Beijing.
Shortly after protests began, students were joined by Occupy Central, a pro-democracy group composed of older scholars and veteran pro-democracy activists, The Wall Street Journal reports.
Wong has claimed that he is more fervent than many of his older peers in the pro-democracy camp. Wong's defiant statements on the protests have catapulted him into the media spotlight. He has said he would rather fight "every battle" as "the final battle," he told CNN. He has no intention of compromising his beliefs to achieve piecemeal reform, either. "Compromising before you even begin fighting is illogical," he told HK Magazine. "Grown-ups like to talk about political realities and the broader context. But the broader context is that Beijing won't give you what you want. If you don't persist, then it's only more likely that they won't listen to you."
Wong was arrested Saturday after he urged protesters to charge and occupy government buildings. He was released after more than 40 hours of detention without charge, South China Morning Post reports. Police said their investigation into Wong is ongoing, and they "reserve the right to prosecute" him.