Democracy Under Fire: The Insurrectionists Are Heavily Armed | Opinion
Every Western democracy has extremists—individuals who believe in the worst forms of racism and xenophobia, or are committed to overthrowing the government by force. But America is the only such country that makes it easy for its extremists to arm themselves with, and stockpile, high-powered weapons.
As we reflect on the one-year mark of the insurrection at the Capitol, there will rightfully be discussion around the role of politicians in instigating the violence that day, the ugliness and lawlessness displayed by the insurrectionists and the threat that such an event poses to our democracy. But we'd like to name another threat that often goes unsaid: The extremists in America are heavily armed.
To start, we now know Jan. 6 itself was an armed insurrection, though we may never know just how many rioters carried firearms that day. In reviewing court dockets, we were able to identify at least 12 individuals allegedly tied to the events of Jan. 6 who were arrested in Washington, D.C., and charged with firearms offenses. These armed insurrectionists included multiple people carrying firearms on Capitol grounds during the melees with police, a man who traveled to D.C. with a cache of guns and ammunition and subsequently texted about "putting a bullet" in Speaker Nancy Pelosi's head and a man arrested with a 110-round drum magazine. This count does not include the four members of the militia group the Oath Keepers—now charged with conspiracy—who allegedly stored guns at a hotel across the Potomac River for what they called a "Quick Reaction Force" to storm the city if need be, or the multiple members of the Three Percenter militia—now charged with conspiracy—who in the days before the insurrection discussed plans to bring multiple firearms to D.C.
The insurrection took place in our Capitol, where gun laws are strict and open carry is prohibited. Conspicuous use of guns at protests is far more common elsewhere in America. Everytown for Gun Safety Support Fund partnered with the Armed Conflict Location and Event Data Project (ACLED) to begin tracking the presence of armed groups and individuals at demonstrations, and we have chronicled over 610 armed demonstrations in our country since the beginning of 2020. According to our research, the top actors at these demonstrations represent a who's who of the extreme right: the Boogaloo Boys, Three Percenters, Proud Boys and affiliates. Of all the groups identified at armed demonstrations since January 2020, the vast majority (81 percent) are right-wing actors. And the recent trial of Kyle Rittenhouse—a rallying cry for many on the extreme right—demonstrated that guns and protests can be a volatile and dangerous combination.
This phenomenon is even more common when it comes to pro-Trump demonstrations, including "Stop the Steal" events, which have continued throughout the country. Pro-Trump demonstrations are four times as likely to involve armed demonstrators. We chronicled over 110 armed pro-Trump demonstrations in 2020 and 2021. Nearly half of these demonstrations occurred on legislative grounds—underscoring the threat to our democratic institutions. But perhaps most alarming is the fact that armed pro-Trump demonstrations have actually increased in 2021, as compared to 2020.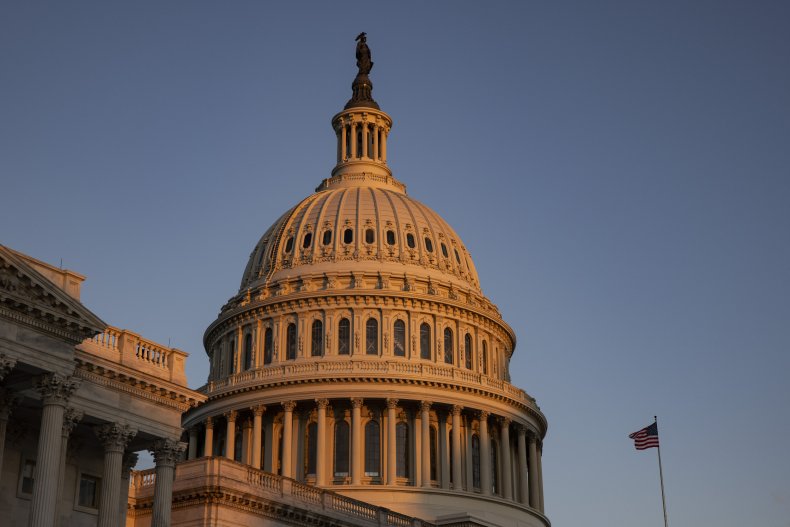 Guns at protests are not just tools for intimidation and suppression of speech rights, they also are organizing tools for extremist groups. For years, the far right has parroted the National Rifle Association (NRA)'s baseless conspiracy theories that, any day now, the government will be coming to take your guns. It matters not that each breathless prediction has proven false. It's no surprise then that the first oath taken by members of the Oath Keepers, a militia organization whose members took part in the Jan. 6 insurrection, is to not "obey any order to disarm the American people."
Extremist groups also often embrace the insurrectionist theory of the Second Amendment, which says the Second Amendment gives armed groups the right to take whatever measures necessary, including force, to abolish oppressive government. The theory is particularly dangerous when the same people making that claim are also the ones baselessly accusing political adversaries of having an authoritarian agenda. As an attendee at a right-wing conference asked a few months ago, "This is tyranny. When do we get to use the guns?" The audience cheered, with the man adding, "That's not a joke. I'm not saying it like that. I mean, literally, where's the line? How many elections are they going to steal before we kill these people?"
The terrifying question the country must confront is: What happens when you combine years of conspiratorial rhetoric about guns, weak gun laws and a new strain of conspiracy theories about a rigged election?
A recent survey by the University of Chicago may help answer the question. Currently, 9 percent of Americans believed the statement the "use of force is justified to restore Donald J. Trump to the presidency." Nine percent of Americans equates to over 21 million American adults. That's more than 21 million Americans willing to support a coup or insurrection to overthrow our democratically elected government.
And those millions have nearly unlimited access to high-powered firearms in our country. For many in this group, Jan. 6 is remembered as a day where the insurrectionists didn't go far enough. In the words of one militia member arrested in connection with his participation in the insurrection, via text sent from the Capitol that day, "If we'd had guns I guarantee we would have killed 100 politicians."
We need a full accounting of the Jan. 6 attack on our seat of government, to lay bare the conspiracies and to protect the right to vote that is under siege across the country. But to truly protect our democracy, we must reckon with the threat that extremism, baseless conspiracies and weak gun laws pose to our Union.
Nick Suplina is the senior vice president for law and policy at Everytown for Gun Safety.
Justin Wagner is the senior director of investigations at Everytown for Gun Safety.
The views expressed in this article are the writers' own.