Why Democrat Chris Murphy Remains Optimistic, But Isn't Holding his Breath For Increasing Background Checks On Gun Sales
The chances that new background check measures for purchasing firearms will pass Congress are "less than 50-50," Democratic Senator Chris Murphy said Friday. However, it's legislation he's still trying to lead to fruition through conversations with White House officials, including President Donald Trump.
This despite Trump's public stance on gun control measures, such as increased background checks, changing nearly every day as lawmakers discuss what steps will be taken to address gun violence once they return from August recess in two and a half weeks.
"I am skeptical that these efforts are going to bear fruit. It's very hard to negotiate with this White House when the president's public positions seem to change by the day," the Connecticut senator told reporters in his home state. "I'm sure there will be some people who will say I'm naive to think that we're going to end up getting a proposal through that will significantly expand background checks and be able to get 60 votes in the Senate."
Still, Murphy, who's district bore witness to the Sandy Hook Elementary School shooting in 2012 that left 26 adults and young students dead and who's authored a universal background checks bill, expressed some optimism. He tried to quell the notion from some in his party that there is little-to-no hope of Trump getting his Republican colleagues in Congress on board.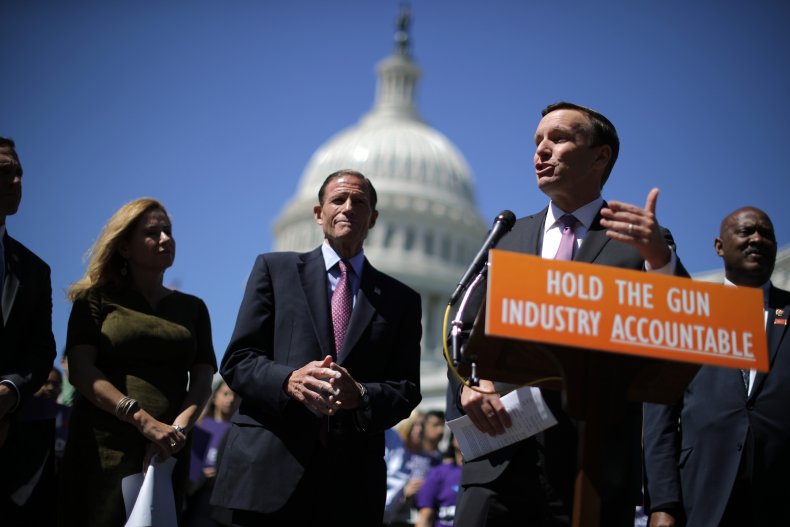 "I think the chances of success here are less than 50-50. But I think it's worth giving this a shot," he elaborated. "The president and the White House have been clear that they are willing to support background checks legislation that might not today be popular in the Republican Party. They are open to leading on this issue and [are] trying to bring Republicans along with them."
Murphy said he had a conversation with Trump via phone about a week ago, in which the president said he was serious about moving forward on background checks legislation and that Senate Republicans would only support the move if he gave his blessing. It's not clear whether Trump would only support stricter background checks, such as closing internet and gun show loopholes, or would go a step further to call for universal background checks, which would be applied to virtually all gun sales.
Despite Trump's recent conflicting messages on gun control, Murphy said recent conversations with White House officials and the president have left him some degree of hope.
"I believe that the White House is still committed to try to work on a comprehensive anti-gun violence proposal that would include strengthening background checks," Murphy said. "And I committed to the White House last night that I would work with them over the course of the next few weeks to try to find common ground on expanding background checks in this country."
Trump did express support for increased background checks and new mental health laws regarding firearms in the wake of two mass shootings earlier this month in Ohio and Texas, only to waver and reverse course several times this week after having conversations with the National Rifle Association CEO Wayne LaPierre.
On Tuesday, Trump retreated from his previous statements pushing for increased background checks, saying, "We have very strong background checks right now." That same day, LaPierre wrote in a tweet that he spoke with the president.
Trump confirmed to reporters Wednesday the conversation occurred and that the two men discussed background checks. In that same media appearance, the president confirmed his attitude toward the potential legislation had changed again.
"I have an appetite for background checks. We're going to be doing background checks," the president told reporters. "We're going to be filling in some of the loopholes... I want guns to be in the hands of people who are mentally stable."
Murphy's piece of advance for Trump, if the president truly seeks to pass gun control measures, was simple: be specific and stay the course.
"He can get behind a specific proposal. I think so long as he is talking vaguely about his support for background checks or extreme risk protection orders, very few Republicans are going to want to get on board," he explained.
The extreme risk protection orders, or "red flag" laws, would allow law enforcement officials to temporarily confiscate firearms from individuals believed to be an imminent threat to themselves or others.
"The only way that we pass a bill in the Senate," Murphy added, "is if there is a proposal with words on a piece of paper that the president says he's for, and says it for more than 24 hours at a time."