Democrat Compares Jared Kushner's WhatsApp Use to Seeking Russian Back Channel: What's He Trying to Keep 'Secret'?
Jared Kushner's alleged use of private WhatsApp messaging to conduct official business is reminiscent of his previously reported attempts to set up a secret back channel to speak with Russian officials before President Donald Trump's inauguration, a member of the House Judiciary Committee said.
On Thursday, a key House Democrat sent a letter to the White House's legal counsel expressing concern that Kushner, Trump's son-in-law and adviser, had used personal email accounts and WhatsApp to conduct government business.
"During a meeting with Mr. Kushner's attorney, Abbe Lowell, Mr. Lowell confirmed that Mr. Kushner has been using the messaging application WhatsApp as part of his official White House duties to communicate with foreign leaders," reads the letter from House Oversight Committee Chairman Elijah Cummings, a Democrat from Maryland, to lawyer Pat Cipollone.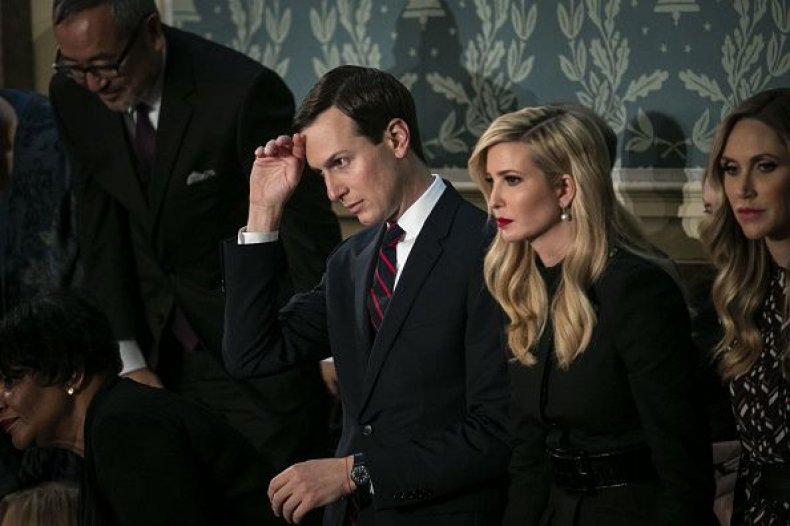 Speaking with CNN late on Thursday, Democratic Representative of Rhode Island David Cicilline said that Kushner's use of private channels to communicate with foreigners, including potentially foreign leaders, is "very concerning," especially given the fact that questions have been raised over whether Kushner should have received a security clearance.
The Presidential Records Act prohibits all senior White House officials from sending or creating records "using a non-official electronic message account," unless a copy of the messages is forwarded to official accounts within 20 days.
"This is very likely a violation of the Presidential Records Act," Cicilline told CNN about Kushner's use of WhatsApp and private email. "We should remember Jared Kushner was alleged to have attempted to set up a back-channel communications with the Russians during the transition, if you remember that reporting."
"Both Jared and Ivanka [Trump] were denied—or serious questions were raised—by intelligence and law enforcement about their security clearance. The president overruled those objections and directed they be given and then lied about it," Cicilline continued. "This is very concerning—not only is it potentially a violation of the Records Act but also raises questions: What is he communicating about, and why does it need to be kept a secret?"
Cicilline went on to say that it is the responsibility of the House Oversight Committee to ensure U.S. national security has not been compromised.
Serious questions have been raised in the wake of the 2016 presidential election about improper contact between Trump associates and foreign officials. In particular, Kushner and Trump's former national security adviser Michael Flynn both spoke with Russian ambassador Sergey Kislyak prior to Trump's inauguration and lied about it.
Kushner told Congress that he had forgotten about the calls with Kislyak. He was later temporarily stripped of his top-secret clearance while he added dozens of contacts with foreign officials to his clearance form.
Kushner also allegedly asked for a back channel line of communication to be set up between the Trump transition team and Russian officials. Kushner later told Congress that the Russian ambassador had raised the idea in order to discuss issues related to Syria.
Some analysts at the time raised questions about whether Kushner and Flynn, who were not yet government officials when they spoke with Kislyak, may have violated the Logan Act, which prohibits unauthorized private citizens from negotiating with foreign governments.