Democrat Accuses 'Chickenhawk' Trump of Stealing 'Money From Our Troops' With 'Repulsive' National Emergency
Donald Trump declared a national emergency on Friday to officially sidestep Congress over funding for his long-promised border wall—a move Democrats are calling "repulsive" and "unconstitutional."
"It's repulsive that a chickenhawk like President Trump would steal money from our troops, damage our military readiness and undermine our national security, all in the name of going around Congress because he didn't get his way," Representative Debbie Wasserman-Schultz said during an appearance on CNN.
Her comments came shortly after the president's press conference on Friday afternoon in the Rose Garden at the White House, where he officially announced that he would be issuing a national emergency declaration over border security.
"I'm going to be signing a national emergency," Trump told reporters. "We're talking about an invasion of our country with drugs, with human traffickers, with all types of criminals and gangs.
The controversial executive action, which some lawmakers have called an abuse of presidential power, comes after Trump said he would sign a bipartisan federal spending bill to keep the government open. The legislation had only included $1.375 billion for border security, billions less than the president had requested.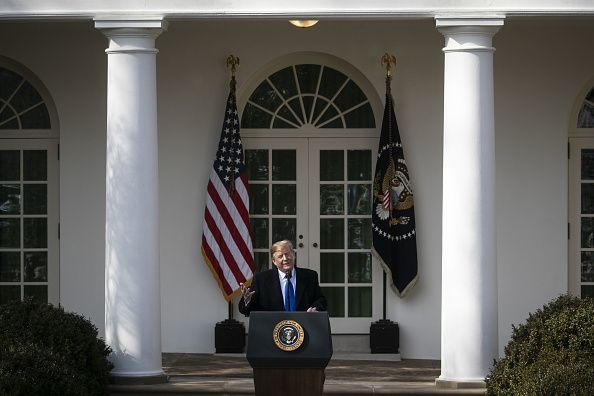 The national emergency declaration will take $600 million from the Treasury Department's drug forfeiture fund, $2.5 billion from the Defense Department drug interdiction force and another $3.5 billion from the military's construction budget.
Wasserman-Schultz, the former chair of the Democratic National Committee, told CNN that the wall was "unnecessary" and an "ancient form of barrier for border security." She added that a majority of the American people oppose the border wall. According to recent polling by Gallup, 60 percent of Americans oppose new construction of the border wall.
Other top Democrats have also slammed Trump's action, with Senate Majority Leader Chuck Schumer and House Speaker Nancy Pelosi arguing that the president is "trying to shred the Constitution." In a joint statement, the duo wrote that they "will defend our constitutional authorities in the Congress, in the Courts, and in the public, using every remedy available."
Democratic Representative Ruben Gallego, a military veteran, also criticized Trump for using an "unconstitutional power grab" to get his wall funding.
"Trump's decision to declare a fake national emergency and illegally use taxpayer dollars intended to support our servicemembers is an attack on our nation's most sacred traditions and institutions," Gallego wrote in a statement. "The real national emergency is Donald Trump's presidency."
Wasserman-Schultz added that lawmakers need to "dive a little deeper" to evaluate what Trump's emergency declaration will mean for "military readiness."
Democrat Accuses 'Chickenhawk' Trump of Stealing 'Money From Our Troops' With 'Repulsive' National Emergency | U.S.