Democrat Eric Swalwell Teamed Up with Taylor Swift in A Last-Minute Bid to Drive Young Voters to the Polls
A congressman made a cold pitch to Taylor Swift. And the American pop superstar went for it.
Just days before Tuesday's election, Representative Eric Swalwell (D-Calif.) had a production company craft a short video with one goal in mind: to drive young voters to the ballot box and help elect Joe Biden.
On several accounts, the less than two-minute video appeared to be a viral success, receiving nearly 10 million views across social media in just a few days.
The montage included footage from some of the most recent calls to action, from protests about racial injustice and President Donald Trump, to Justice Amy Coney Barrett and climate change. A song that Swift released in January, 'Only The Young,' was overlaid on the video.
"I've always considered myself the unofficial chairman of the Congressional Swifty Caucus," Swalwell told Newsweek in an interview. "I've always been impressed with Taylor Swift for how she fights for her art and her fans and her own values."
Swift's team liked the production so much that the singer-songwriter agreed to allow Swalwell to use her song at no cost. And it quickly spread on social media, thanks to people like Barack Obama, Hillary Clinton, Hollywood celebrities and Democratic lawmakers sharing the video. Swift even retweeted Democratic vice presidential candidate Kamala Harris, who also shared the video.
The 2018 midterm elections marked the first time that Swift voiced her political opinion. She largely remains absent from the world of politics, though she did endorse Biden last month.
Swalwell's original tweet sharing the video for the first time has received nearly 8 million views (as well as more than 1 million shares and views on other social media platforms), #onlytheyoung trended on Twitter and the digital project caused the 9-month-old song to re-enter the top 20 on iTunes.
"From the day Donald Trump was inaugurated, it's really been the youth who stepped up, recognizing what's at stake," Swalwell said.
Young and first-time voters is a cohort of the electorate that the Biden campaign, and Democrats more broadly, are counting on in order to win Tuesday. Based on early voting statistics, there are promising signs that Millennials and Gen Z voters are participating in record numbers this year.
The pandemic, coupled with the way in which traditional door-to-door campaigning has changed thanks to social media, has made political digital content all the more important to reach younger voters this cycle.
The 2018 midterms featured record turnout among younger voters, helping Democrats retake the House thanks to some 26 million Millennial voters who accounted for roughly one-fifth of all votes. This year, participation among young people is again expected to shatter records.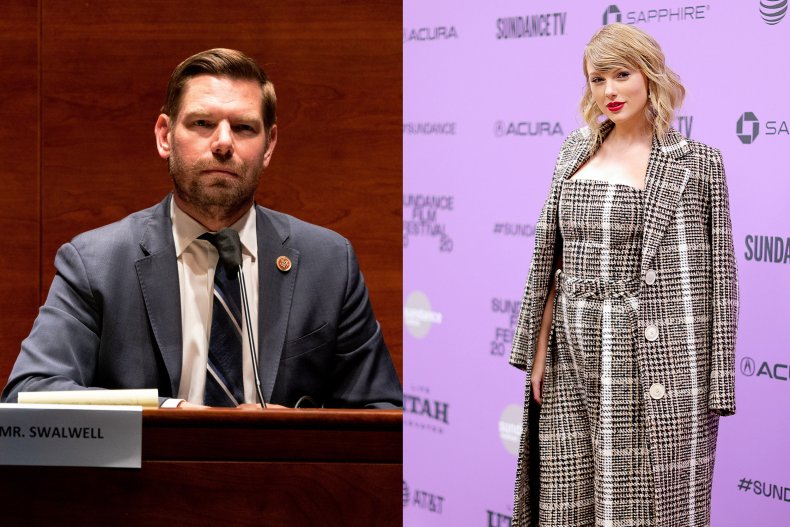 Early voting turnout among voters under 30 years old is up nationwide, compared to the 2016 presidential election. And in several battleground states like Texas, Florida and Pennsylvania, records could be broken for the amount of pre-Election Day ballots cast by young voters.
"I don't really follow politics that much, so to get to me, you're going to have to do it on an outlet that's going to reach out to me," Madison Best, 24, told Newsweek. She's a second-time voter in Washington state. "I'm not going to go out of my way to look it up—because that's me as a person—but if I see it on my timeline in an inspirational video like that, then I'm going to be more likely to be interested in it and want to contribute."
The wild and unpredictable year that 2020 has been, said first-time voter Carly Baker, is all the more reason for young people like herself to pay closer attention to what's occurring in the world around them and to participate in the electoral process.
"We're being more affected in ways, like Black Lives Matter and everything that's happened, you can't ignore that anymore," said Baker, who is 23 and also lives in Washington state. "I think young people are finally noticing and are trying to make a difference. [Voting] had been something I planned on doing, but it really wasn't in the forefront of my mind."
Capturing the youth vote this cycle could make or break the election outcome on Tuesday. Fully aware, Biden has made pitches to young Americans while on the campaign trail about what his vision is for the country's future.
Now, Swalwell said, it's up to young voters to get involved and help spark change.
"One high school student recently told me that she does not, at this point in her life, want to have children when she gets older because she knows what's coming down the pike on climate," Swalwell said. "She said to me, 'how can I bring someone into this world knowing that it's going to be on fire or underwater?'"
"That really hit me," he continued. "They're definitely looking at decisions that our leaders have made or have not made today, and thinking about how it affects them."