The decision by Nebraska State Senator Machaela Cavanaugh, a Democrat, to prevent any bill from being addressed in the state's legislature until the trans surgery bill—LB 574—is withdrawn has sparked a heated debate on social media, with some praising her determination and others condemning her choice.
The bill, also known as the Let Them Grow Act, was introduced to the Nebraska Senate by Omaha Senator Kathleen Kauth, a Republican, in January. The proposed legislation, if passed, would take effect on October 1, 2023; it would ban "gender altering procedures" for minors in the state.
The bill would forbid physicians from performing or referring any individual under the age of 19 for procedures, including surgical ones, hormone treatments, and puberty blockers. Any physician found in violation of the law would be subject to review by the state's medical licensing board, while also being liable to be sued by the minor they had operated gender-affirming surgery on for two years from the date of the procedure.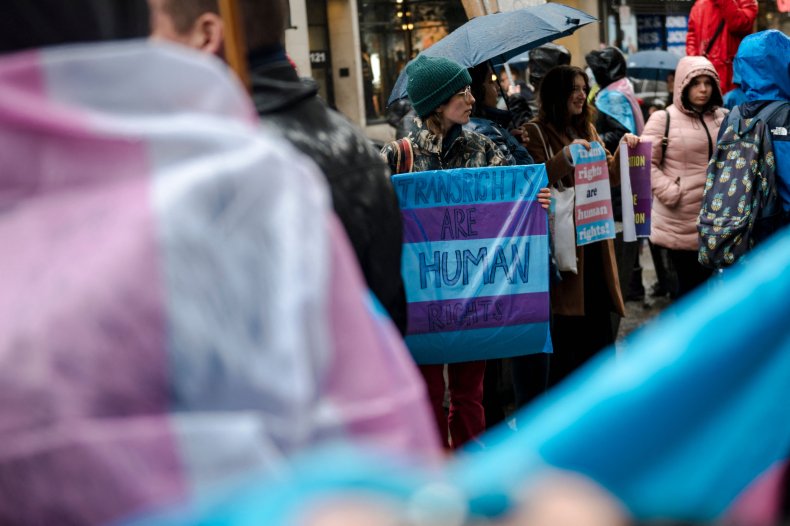 The Nebraska bill can be seen as part of a recent nationwide push to restrict LGBTQ and trans rights in Republican-controlled states across the country. These efforts have been reinforced by the passing of the divisive 'Don't Say Gay Bill' in Florida by Republican Governor Ron DeSantis, but have often found a roadblock along the way of approval because of issues related to the language used to refer to sexual orientation and gender identity.
A majority of these legislative efforts have focused on criminalizing gender-reassignment surgeries for transgender youth and limiting children's exposure to discussions around gender identity and sexuality in schools.
In Nebraska, the bill has met the fierce resistance of Cavanaugh, who last week said: "I don't care how sick I get. I don't care how tired I am. I am not going to look back on this moment in time and say I didn't do everything that I possibly could to fight for and protect children, especially our most vulnerable children, which are trans youth."
Her efforts to stop the bill from being passed have been praised by activists, with Gen-Z for Change, a non-profit collective of Gen-Z activists fighting for progressive change in American politics, lauding Cavanaugh's filibuster—which is now in its fourth week. In a tweet published on the group's account, the activists called what the Democratic senator is doing "incredible."
"The legislative session is halfway complete and zero bills have been passed," the group tweeted on March 16.
But others are not that enthusiastic about the senator's filibuster. Cavanaugh's own Twitter account has seen harsh comments from critics supporting the bill, or opposing the senator's filibuster.
"It must be an urgent problem to jump ahead of: taxes, sentence reform, education funding, expressway funding, public transportation, rural hospitals, job training, workplace housing, juvenile justice issues, restoring SNAP benefits, restoring state aid, &c.," one Twitter user commented on the senator's Twitter account.
"I don't support giving a child gender affirming care until they become an adult. This causes a lot of damage to someone if later in life they decide they don't want to change their gender. If that's the case then all kids no matter the age need to be charged as an adult for a crime," tweeted another.
In an interview with Vogue earlier this week, Cavanaugh said in her view, opposition to the bill is not a "partisan issue."
"I think everyone should be pushing back, should be fighting and standing up against this assault on trans youth. I don't think that transphobia is a Republican thing. I think that transphobia is a problem that needs to be addressed directly and head-on by people in positions of power," she told the magazine.
The lawmaker added: "It should not just be Democrats that are pushing back on this. It should be Republicans. This is government overreach. This is taking away parental rights, and no one should be standing for that. This is an assault on the tenets of the GOP, and this is an assault on families across the country, specifically in Nebraska."
Kauth, who introduced the bill, said she's doing it to protect children and give them time to think about what they want.
In a statement to Newsweek, Kauth wrote: "[The] LB 574 Let Them Grow bill will be heard starting on Tuesday. The purpose of this bill is to prohibit children under age 19 (the age of majority in Nebraska) from gender altering surgeries, puberty blockers and cross-sex hormones. These medications are experimental for use for gender dysphoria, and along with the surgeries, have permanent, irreversible side effects.
"It is a known and accepted fact that young people's brains are not yet developed enough to make an informed decision with irreversible consequences. Their parents and medical providers are trying desperately to help these children with gender dysphoria, but the experience of European countries like Sweden, Finland, the U.K. and Norway with these procedures and protocols has shown that puberty blockers, cross-sex hormones and gender altering surgeries do not solve the issue —they ultimately create more. These countries have now reversed course and advocate for 'watchful waiting' which involves therapy, rather than medical procedures and chemicals.
"We are looking forward to the vote tomorrow."
Supporters of the bill also say that there is not sufficient data proving that hormone therapy and puberty blockers are safe in the long term. Opponents of the bill, on the other hand, say that such procedures save lives and that taking them away from transgender youth would only endanger vulnerable individuals.
Newsweek has emailed and called Sen. Cavanaugh's team for comment.
Update, 3/23/2023 4:30 a.m. ET: This article has been updated with comment from Sen. Kauth.