Joe Biden, Elizabeth Warren and Bernie Sanders are Ahead of Donald Trump In Georgia: Poll
President Donald Trump would come second place to the top five Democratic primary candidates in Georgia were an election to be held today, a new poll has found.
The Atlanta Journal-Constitution poll conducted from October 30 to November 8 and published yesterday found that Joe Biden had the biggest lead over Trump in the state, with 51 percent of voters in Georgia backing the former Vice President over the commander-in-chief.
Vermont Sen. Bernie Sanders was found to have the second largest lead among the 1,028 registered voters surveyed by the AJC and the University of Georgia's School of Public and International Affairs Survey Research Center, polling at 48 percent in Georgia to Trump's 44 percent.
Elizabeth Warren, South Bend Mayor Pete Buttigieg and Kamala Harris were found to have smaller leads over the president, all of which were within the survey's 3 percentage point margin of error.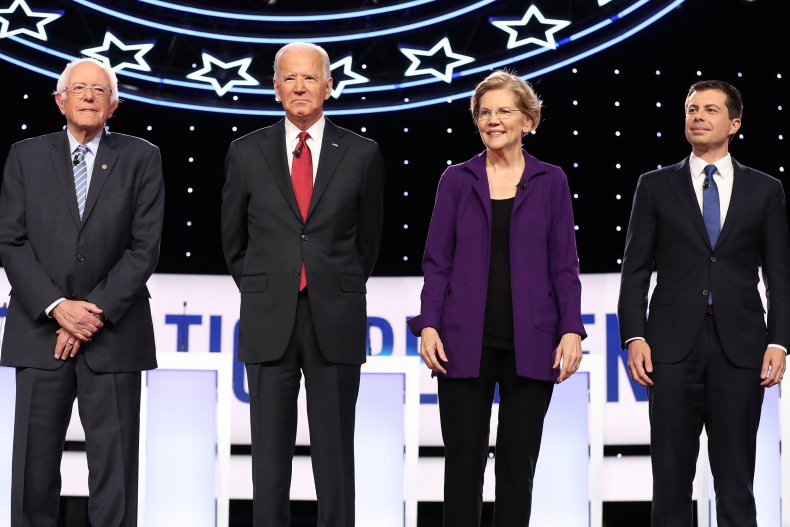 Sen. Warren and Buttigieg both polled three points ahead of President Trump in Georgia while Sen. Kamala Harris came out just one point ahead of the commander-in-chief, with 45 percent of those surveyed backing her over Donald Trump, who was supported by 44 percent in the hypothetical head-to-head.
In yet more bad news for the Trump re-election campaign, 54 percent of Georgians surveyed for the new AJC poll also said they disapproved of the president's record-in-office so far, with 46 percent saying they "strongly disapproved" compared to the 8 percent who "somewhat disapproved", while just 44 percent approved of his performance before public impeachment hearings began yesterday.
But his support among conservatives was strong, with 89 percent of Republicans in the state saying they approved of his presidential record and a majority opposing the impeachment process led by House Democrats, according to the Atlanta Journal-Constitution.
The latest Georgia poll may alarm Republicans, considering that the president beat Democrat nominee Hillary Clinton in the state by 5 points at the 2016 election with 54 percent of the local popular vote.
It also follows a survey by The New York Times and Siena College, published on November 4, which found the president losing to two top Democrat rivals in key battleground states.
The survey of 3,766 registered voters across six states found Joe Biden polling ahead of Trump in four states—Pennsylvania, Wisconsin, Florida and Arizona—while Bernie Sanders beat the president in three while Elizabeth Warren only beat him by two points in one state: Arizona.
Real Clear Politics average of Democratic primary race polling puts Biden at the front of the pack with 26 percent support among party voters, while Warren is in second place with the backing of a little more than 20 percent.