Democrat Henry Cuellar Refutes Biden's Statement That Border Crisis Is Under Control: 'It's Not'
Texas Democratic Rep. Henry Cuellar refuted President Joe Biden's recent statement that the situation at the border is under control and said, "it's not."
While appearing on Fox News on Sunday, Cuellar said, "To say that we have everything under control—you know I'm supportive of President Biden, I'm a supporter of his—but we're not paying attention to the border's communities."
"And it's not under control. I can tell you that," Cuellar said.
The comments by Cuellar came shortly after Biden suggested that the situation at the U.S.-Mexico border was under control during an interview with NBC's Craig Melvin that aired on Friday's showing of Today.
During the interview, Biden was asked about the number of migrants and unaccompanied children crossing the border into the U.S.
"It's way down now; we've now gotten control," Biden said in response.
While speaking about the border crisis, Melvin noted that in April, 170,000 migrants crossed the U.S.-Mexico border, noting that it was a 20-year record.
"They didn't plan for, which comes every year, this flow, whether it's 22,000 or 10,000," Biden said, alluding to former President Donald Trump's administration. "They didn't have the beds that were available, they didn't plan for the overflow. They didn't plan for the Department of Health and Human Services to have places to take the kid from the border patrol and put them in beds where there's security and there were people that could take care of them."
While speaking with Newsweek, Cuellar expanded on his comments saying, "I want to be as helpful as possible with [Biden's] administration, but they can't say it's under control."
During his interview with Fox News on Sunday, Cuellar also spoke about Biden's recent joint address to Congress on his 100th day in office. While Biden did call on Congress to pass his proposed immigration bill, he did not speak about what his administration is doing in the short term to address the situation at the border.
"I did notice that the president did not talk about the border. There is a border crisis, no ifs, ands or buts about it," Cuellar said.
When asked how he thinks Biden should address the border crisis in the short-term, Cuellar explained to Newsweek that he would like to see it addressed in three phases.
"What we do before they come in, what I call the 20-yard line, what we do at the 1-yard line which is the border management...and of course the third phase is what happens after they get out of border patrol [protection] and they're in Health and Human Services [custody," Cuellar said.
Arizona Senator Mark Kelly made similar comments following Biden's joint address to Congress.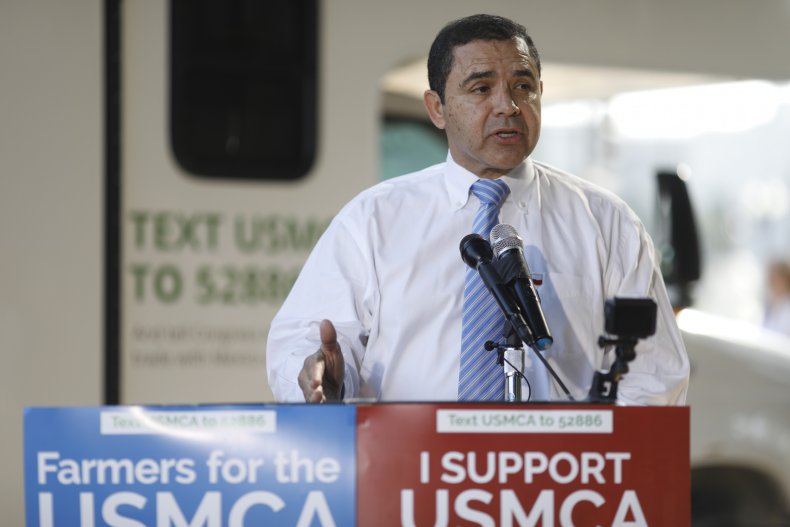 "While I share President Biden's urgency in fixing our broken immigration system, what I didn't hear tonight was a plan to address the immediate crisis at the border, and I will continue holding this administration accountable to deliver the resources and staffing necessary for a humane, orderly process as we work to improve border security, support local economies, and fix our immigration system," Kelly wrote in a statement on April 28.
Updated May 3, 2021, 2:06 p.m. ET, to include comments from Cuellar.