Democrat House Chair Skeptical of Bernie Sanders Plan to Pass $15 Minimum Wage Via Reconciliation
Now that they control the White House, Senate and House of Representatives, Democrats are renewing their push to increase the federal minimum wage to $15 per hour.
On Tuesday, members in the House and Senate introduced legislation that would raise the federal minimum wage over the course of the next five years. But the bill faces an uphill battle in the evenly split Senate, as it would require support from all 50 Democrats and 10 Republicans.
An alternative route for advancing the policy would be to include it in the upcoming budget reconciliation process, which would only require a simple majority in the Senate rather than 60 votes needed for new legislation. Senator Bernie Sanders, a leading advocate for a $15 minimum wage, has suggested that it's possible to do.
"If we cannot get enough Republicans to vote for this legislation under regular order, we cannot simply take no for an answer," Sanders said on Tuesday. "We must raise the minimum wage to $15 an hour, either through budget reconciliation, by a simple majority vote in the Senate. And as the incoming chair of the Senate budget committee, that is exactly what I will be fighting to do."
Democratic Senator Dick Durbin of Illinois confirmed Tuesday that discussions are underway to pass a $15 minimum wage bill without any Republican votes but that he was not aware if a "final decision has been reached."
But House Budget Chairman John Yarmuth, a Democrat from Kentucky, has poured some cold water on the idea, explaining that the proposal may not meet the necessary criteria to pass via the budget reconciliation process.
"I'm not sure it's the smartest thing to do," Yarmuth told Politico, referring to Democrats potentially changing the rules and setting a new precedent.
The Kentucky Democrat outlined potential problems with that path during an interview with CNN's Kate Bolduan on Monday.
"To be very candid with you, I think that's a stretch," Yarmuth said. "I think we'll have a problem clearing what's called the Byrd-rule in the Senate, which means that you can't make policy and you have to have more than an incidental impact on the budget in order to include in the reconciliation instructions."
He went on, "Eventually, that decision is made by the parliamentarian, and so we'll see."
The proposed Raise the Wage Act would more than double the current minimum wage, which has remained at $7.25 an hour since 2009. The Democratic-controlled House of Representatives passed the bill in July, but the legislation stalled in the Republican-controlled Senate.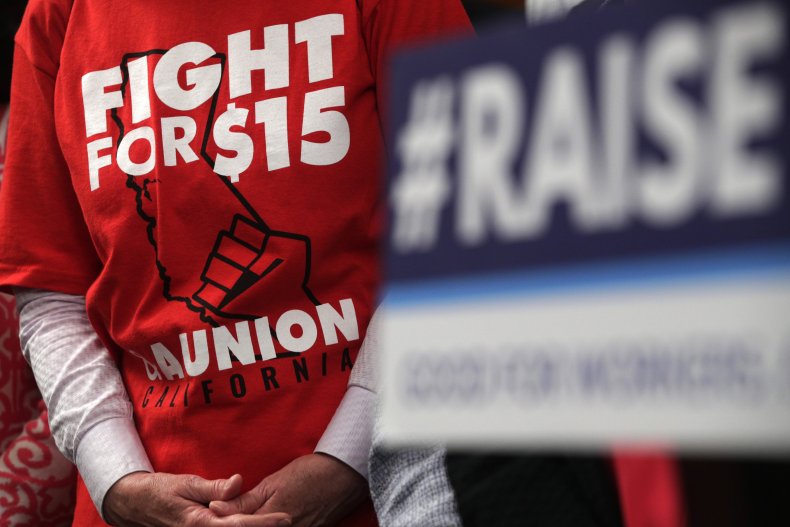 But now that Democrats control the White House and have slim advantages in the House and Senate, the push for a $15 minimum wage has resumed. President Joe Biden has also made increasing the minimum wage a central component of his $1.9 trillion coronavirus relief plan.
'No one in America should work 40 hours a week making below the poverty line. Fifteen dollars gets people above the poverty line," Biden said last week. "We have so many millions of people working 40 hours a week—working—and some with two jobs, and they're still below the poverty line."
But Republicans have been generally opposed to a $15 minimum wage, as many argue that it would force employers to layoff workers. Florida Senator Rick Scott said that a $15 minimum wage would "kill our small businesses."
Newsweek has reached out to the offices of House Speaker Nancy Pelosi and Senate Majority Leader Chuck Schumer for comment on whether they support passing $15 minimum wage via budget reconciliation. Newsweek has also reached out to Sanders and Yarmuth for additional comment.
Update: This story has been updated to clarify a quote Yarmuth made to Politico regarding the budget reconciliation process.