Democrat Joe Manchin's Republican TV Commercial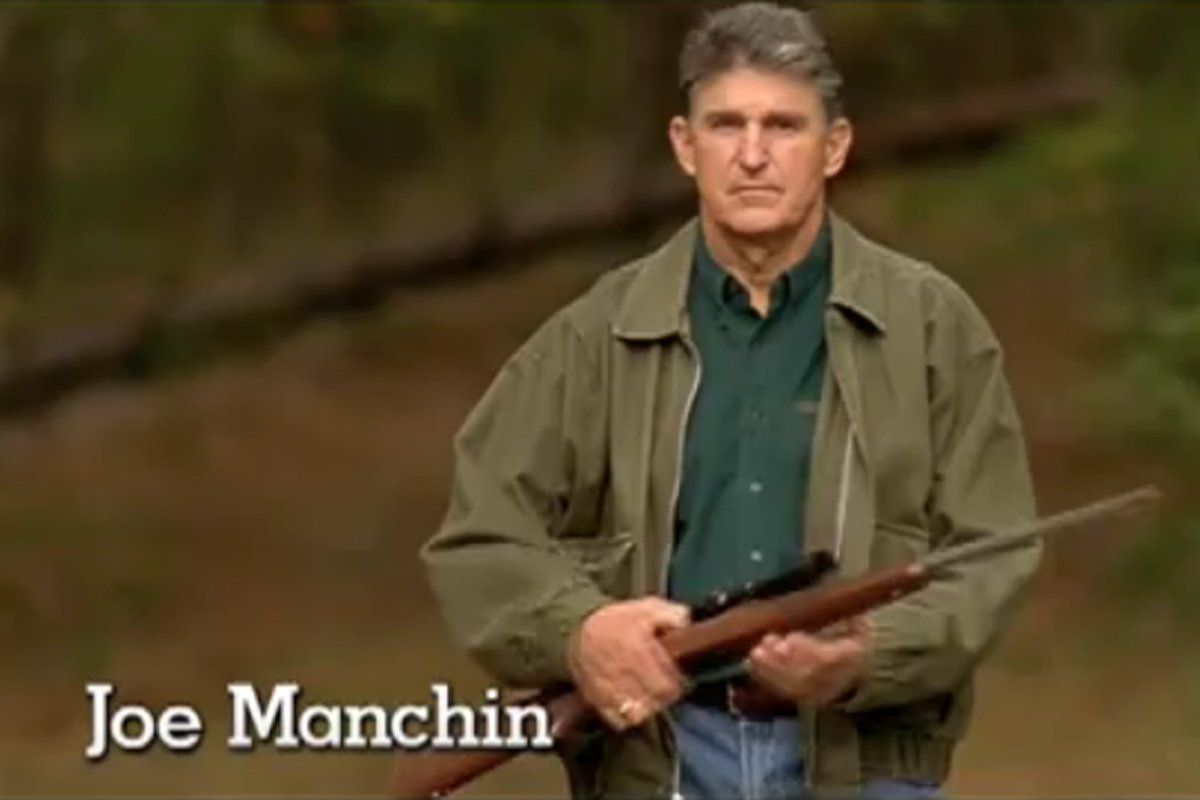 The advertising imagery is unsubtle and so archetypically right-wing you might think it was a parody: a candidate taking target practice while declaring his or her allegiance to gun rights and small government. Arizona state legislator Pamela Gorman cut one such ad earlier this cycle that became a YouTube sensation (but was not enough to best Ben Quayle in Arizona's 3rd congressional district). What's newsworthy about another commercial delivering typical Republican talking points—pro-gun, anti-Obamacare, and anti-cap and trade? Well, this time they are being delivered by a Democrat.
In West Virginia, Joe Manchin, the popular governor who is running for an open seat in the Senate, is facing a surprisingly tough fight from heretofore politically unsuccessful Republican businessman John Raese. (The latest Public Policy poll has Manchin, who once held a large lead, up by only 3 points.) It's a tough political environment for Democrats everywhere this year, and the rugged hills of West Virginia are a particularly difficult terrain. The electorate is "moderate to conservative on fiscal policies," according to Marybeth Beller, chair of Political Science at Marshall University in Huntington, W.V. Even Democrats in West Virginia, Beller notes, are mostly "moderate to conservative on social issues." West Virginia is also one of very few states that favored John McCain in 2008 by a bigger margin than it did George W. Bush in 2004.
So, Manchin has put out an ad that touts his endorsement from the National Rifle Association. He promises to "take on Washington and this administration to get the federal government off of our backs and out of our pockets," and to "repeal the bad parts of Obamacare." His final flourish is to fire a symbolic bullet through the heart of cap-and-trade legislation, which he says is "bad for West Virginia." It might seem odd for a Democrat to run against the Democratic president and his signature issues, but as Beller wryly notes, "That's only if you're presuming Democratic unity. I've been a student of politics for a while and I'm not familiar with unity in the Democratic Party."
Taken alone, each part of Manchin's pitch makes sense. Cap and trade, the proposal to place a limit on carbon emisssions in order to reduce climate change, is unpopular in West Virginia because of the state's prominence as a coal producer. Gun rights, says Beller, "are very critical in this state. It's a big part of the reason we went for Bush rather than Gore according to post-election surveys." Indeed, Democrats in recent years have recognized the need to compromise on social issues such as gun control and abortion rights (which Manchin opposes) in certain races. In 2006 the national Democratic Senatorial Campaign Committee threw its weight behind the anti-abortion rights Bob Casey in neighboring Pennsylvania and the anti-gun control Jim Webb in Virginia, and their victories were crucial to Democrats winning control of the Senate that year.
But Manchin's ad raises the question: if you're a Democrat, how can you win by advertising only on issues where your opponent agrees with you? In other words, while it makes sense for a candidate like Manchin to be pro-gun and pro-coal, he can't outdo Republicans on those issues. What is the issue where Manchin is to the left of Raese and how does he use that to win?
It's identity politics. Manchin's ad, coming on the heels of the National Republican Senatorial Committee commercial made in Philadelphia that was revealed to have used a talent agency that requested actors show up in "hicky" attire to portray West Virginians, is all about saying "I'm one of you." Manchin and his Democratic surrogates have been hammering Republicans for the "hicky" ad imbroglio, and more generally for Raese's unapologetic economic elitism. Raese is an heir to an industrial fortune, and he is fond of joking that he "made his money the old-fashioned way," by inheriting it. His wife lives in Florida, and his children went to school there, and he uses a private jet to go visit them.
Raese's most effective line of attack on Manchin, who has enjoyed strong public approval in West Virginia, has been to claim that Manchin will be a tool of Obama's once he is in Washington. By traipsing through the woods of West Virginia in the middle of hunting season and promising to do what's right for West Virginia when it means opposing the administration, Manchin is rebutting that line of attack and drawing an implicit contrast with Raese by showing that he is the real native son in the race.
In a similar vein, The International Association of Fire Fighters labor union has released a commercial that reinforces the narrative from every angle. One firefighter declares: "Like Joe Manchin, West Virginia is my home," while another notes that "Joe Manchin doesn't hire Philadelphia actors to play hicks in his ads." (Another firefighter says, "I heard 'Florida John Raese' got a tax break on his Palm Beach mansion," an accusation that, while true, is a bit of an non sequitur since it was the NRSC, not Raese, who paid for the ad.)
But is there any risk of it backfiring? "The NRSC ad outraged a lot of West Virginians because they felt they were being stereotyped," says Beller. "So it raises the question of whether the governor is now stereotyping West Virginians by hunting through the woods to shoot the cap-and-trade bill."