Democrat Lawmaker Slams Clinton Over Trump Comments, Warning: She Needs to Be More Careful
A Democrat lawmaker has hit out at Hillary Clinton over recent comments made by the former presidential candidate criticizing Donald Trump voters.
Senator Claire McCaskill of Missouri said Clinton needs to "show respect to every American voter" after she disparaged the President's 2016 election campaign while speaking at a conference in Mumbai, India, earlier this month.
"I won the places that are optimistic, diverse, dynamic, moving-forward, and his whole campaign, 'Make America Great Again,' was looking backwards," Clinton said. She also accused Trump of rejecting "the American story" and the country's values.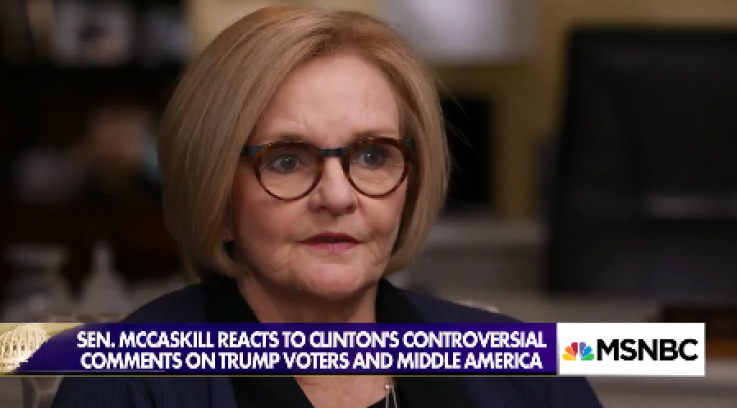 Responding to an attack ad featuring the comments, McCaskill told MSNBC that while she understood the point Clinton was trying to make, she felt her comments were "criticizing Missouri voters" and warned that the former Secretary of State should be "more careful" with her words.
"For those of us that are in states that Trump won, we would really appreciate it if she would be more careful and show respect to every American voter and not just the ones who voted for her," the senator said.
Trump won Missouri with 56.8 percent of the vote in the 2016 election, while Clinton claimed 38.1 percent of the vote. The president's 19-point margin of victory in the state was more than double that of Mitt Romney's in 2012.
McCaskill said she could "completely understand" why many voters rallied behind Trump.
"Frustration is a powerful motivator and if you've played by the rules and worked hard all your life and you're further behind this year than you were 10 years ago, no wonder you want something completely different. And so, I get that," McCaskill said.
She said that while Clinton's words appear to have been "taken out of context," her attack on Trump's campaign "wasn't helpful."
Read more: Democrats Are 'Moving On' From Hillary Clinton, Senator Dick Durbin Says
Clinton previously addressed her comments made in Mumbai, which sparked widespread backlash, saying she could "understand how some of what I said upset people and can be misinterpreted."
While she did not go so far as to apologize for the statements, she said in a Facebook post: "I meant no disrespect to any individual or group. And I want to look to the future as much as anybody."
This is not the first time Clinton has been accused of criticizing voters. She sparked outrage during the 2016 election campaign after branding half of Trump supporters a "basket of deplorables."
Democrat Lawmaker Slams Clinton Over Trump Comments, Warning: She Needs to Be More Careful | U.S.