The Democratic challenger trying to unseat Representative David Schweikert, an Arizona Republican who recently admitted to violating a slew of House ethics rules and was slapped with a hefty fine, holds a narrow lead over the five-term incumbent, according to an internal poll obtained by Newsweek.
Dr. Hiral Tipirneni is one of 31 Democratic candidates that the national party is hoping will help them flip congressional districts from red to blue this November and increase its majority control in the lower chamber. A recent survey conducted by the progressive firm GQR for the campaign of Tipirneni, a former emergency room doctor, shows her leading Schweikert by three points, 48 to 45.
The narrow lead represents a six-point swing from an earlier internal Democratic poll this month, which had Dr. Tipirneni trailing Schweikert by three points as she won her primary.
The Democratic Congressional Campaign Committee, House Democrats' campaign arm, is eyeing the race in Arizona's 6th Congressional District as a potential pick-up, given Schweikert's recent ethics scandal. Dr. Tipirneni said in a statement that the poll was "just the latest evidence that Arizonans are ready for leaders who will fight for them, not for personal gain or their corporate special interest donors."
The House Ethics Committee determined at the end of July that Schweikert violated 11 chamber rules and federal laws, including campaign finance violations; misuse of campaign funds for personal reasons; errors in reporting contributions; misusing congressional office funds; pressuring staff to conduct campaign work; and stonewalling tactics that were evasive and delayed the two-year investigation.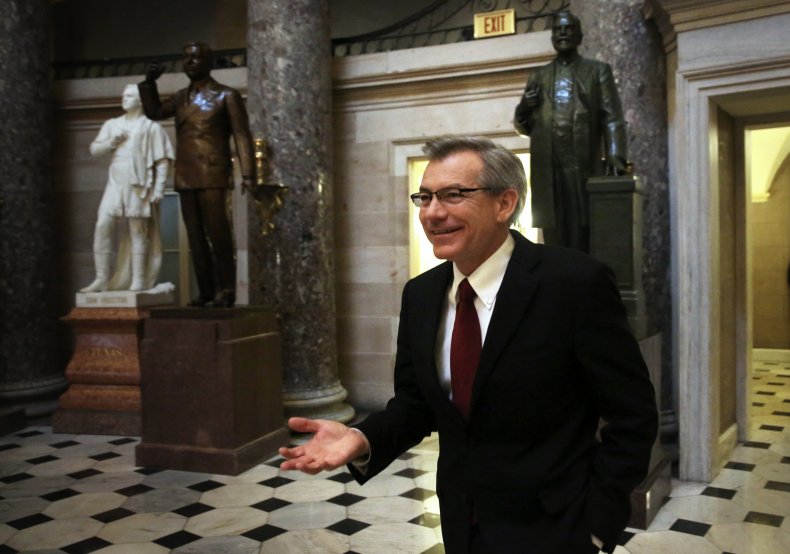 As part of his reprimand, Schweikert agreed to pay a $50,000 fine. And in rare unanimous rebuke, the House formally sanctioned Schweikert by voice vote. Among the worst violations committed by Schweikert were that his former chief of staff made more than $270,000 in "impermissible outlays" on behalf of the campaign over several years; the campaign failed to properly report some $300,000 in loans, including a "fictitious loan" for $100,000 that Schweikert falsely claimed he made to the campaign; and a failure to report more than $140,000 in contributions.
"Arizonans are sick and tired of Rep. Schweikert breaking the law to take advantage of his office all while voting to hike health care costs and take away Social Security benefits from his constituents," Dr. Tipirneni added in her statement.
The internal poll also showed that Dr. Tipirneni leads Schweikert in favorability. Twenty-three percent are favorable versus 13 percent unfavorable of Dr. Tipirneni, while 27 percent are favorable of Schweikert with 32 percent saying unfavorable. Dr. Tipirneni outperforms among Independent voters—50 to 37 percent—in the district that covers northern Scottsdale and conservative suburbs.
The survey, which was conducted August 6-12 among 548 general election voters and has a margin of error of plus or minus 4.2 percent, also showed promising news for other Democratic candidates. In the Arizona Senate race, Democratic challenger Mark Kelly lead Senator Martha McSally (R-Ariz.) by four points—50 to 46 percent—and presumptive Democratic presidential nominee Joe Biden lead President Donald Trump by two points—50 to 48 percent.
Arizona is one of several states that Democrats hope will aid them in flipping the GOP-controlled Senate and potentially help clinch the White House.
This story was updated to clarify that the internal poll was conducted for Dr. Tipirneni's campaign and not the DCCC.