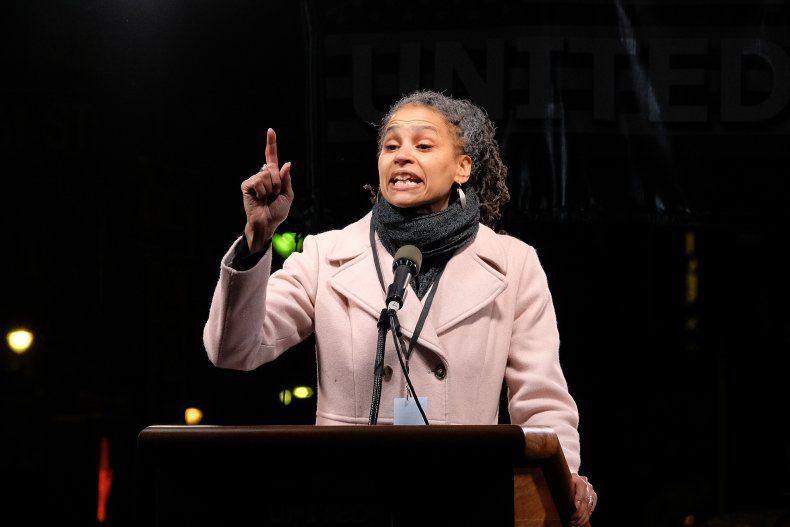 Democratic New York City mayoral hopeful Maya Wiley accused New York Governor Andrew Cuomo of "finger-pointing" during press conferences while criticizing his handling of nursing homes amid the COVID-19 pandemic on Friday.
"New York City is the greatest city in the world but our people are struggling and need help - not insults hurled our way in front of a national audience," Wiley said in a statement obtained by Newsweek. "The Governor has had ten years to work on the issues he tried to call New York City out on today and nothing gets solved by finger-pointing at press conferences. New Yorkers just deserve better than this."
Cuomo has been under heavy bipartisan fire after his administration admitted underreporting nursing home deaths last year, while claiming that accurately reporting the data would have made them susceptible to unfair treatment from the GOP-controlled federal government. The controversy escalated after Cuomo denounced Ron Kim, a Democratic state Assembly member from Queens who has been critical of the governor, during a Wednesday press conference while further lashing out in a defense of his actions during a Friday briefing.
"We need to focus on the issue at hand: getting to the bottom of what happened in New York's nursing homes so that our seniors and care workers get the answers and accountability that they deserve," Wiley said. "No amount of distractions or bravado at press conferences should take our focus away from what needs to be our top priority right now, which is working hard for the people of New York who need our leaders to rise to meet this moment."
Cuomo accused his critics of boosting "conspiracy theories" and insisted that his administration had "saved tens of thousands of lives" during Friday's briefing, which was held as a growing list of Democrats joined Republicans to back investigations into his actions. Rep. Alexandria Ocasio-Cortez (D-N.Y.) announced support for the investigations during Cuomo's briefing, saying in a statement that "the public deserve answers."
Investigations by the Eastern District of New York U.S. Attorney's Office and the FBI are currently underway. Republican state lawmakers also hope to impeach Cuomo, an effort that would normally seem very unlikely to succeed with a Democratic governor and a state legislature that is heavily dominated by Democrats.
"I want to set the record straight on nursing homes for a number of reasons, primarily for the families of nursing home deaths," Cuomo said on Friday. "We created a void by not producing enough public information fast enough. People wanted information, we did not produce public information fast enough. That creates a void."
"What happens in a void, especially today in this environment - in this toxic political environment?" continued Cuomo. "Something fills the void and conspiracy theories and politics and rumors fill the void. You can't allow inaccurate information to go unanswered."
Wiley, a former lawyer for current New York City Mayor Bill de Blasio and MSNBC legal analyst, was endorsed by the city's largest labor union on Friday, Local 1199 of the Service Employees International Union.
She is one of more than a dozen candidates hoping to replace de Blasio, who is not running for reelection due to term limits, with other prominent candidates including former Democratic presidential candidate Andrew Yang.
Newsweek reached out to Cuomo's office for comment.