Democrat Mayor Faces Lawsuits Over Discrimination Against White People
The owners of five restaurants in Boston, Massachusetts, are alleging they have been discriminated against because of their white, Italian background by the city's Democrat Mayor Michelle Wu.
The legal dispute stems from the levying of a fee on restaurants in the North End area—which is known for its Italian heritage—for placing tables outside for outdoor dining. Court documents cited a joke she made in a St Patrick's Day speech on March 17, 2022, in which she said: "I'm getting used to dealing with problems that are expensive, disruptive and white."
The complaint perpetuates a broader debate about what should be considered discrimination amid a shifting sense of power felt among different communities. A May 2022 poll found that 40 percent of Americans felt there was more discrimination against white people than there was five years ago.
The legal challenge was refiled this year after an initial one was dismissed by a judge in October following a motion to dismiss the case by the city government.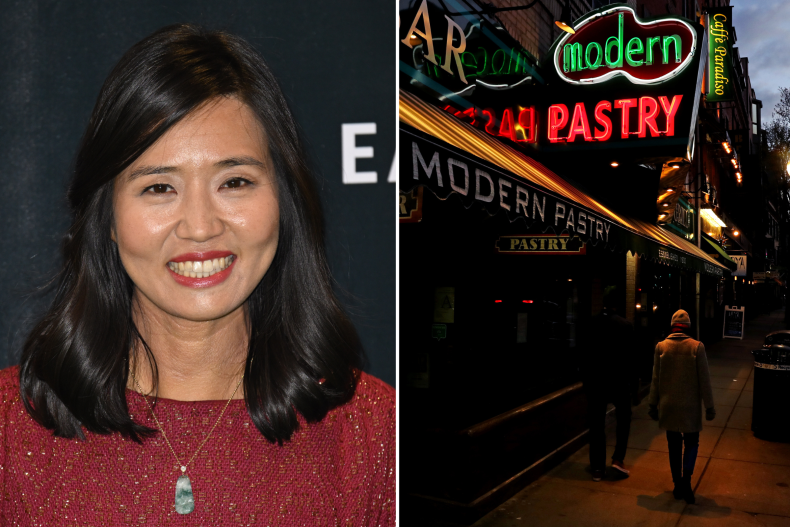 In 2022, Wu ordered that restaurants in the area that wanted to have outdoor dining for that summer would have to apply for a license to do so, which would cost $7,500, and the use of parking spaces would cost an additional $480 per space used.
Court documents state that the order didn't apply to other restaurants elsewhere in Boston, noting that there were at least 114 restaurants in the nearby vicinity with outdoor dining, a majority of which were not charged for a license. Some 15 percent of all city licenses were given to restaurants in the North End.
"It is commonly known that the traditional owner of a restaurant in the North End of Boston is a white male of Italian descent," the complaint said. "And the North End is generally regarded as the last true ethnic Boston Italian neighborhood."
The documents also claimed that white Italian owners were omitted from the city's All Inclusive Boston Campaign, which was aimed at attracting tourism and promoting minority-owned businesses.
The complaint said that the restaurants that had taken out the licenses had been left with a loss, and as such the owners hadn't been able to claim a salary. It is calling for punitive damages of $1 million and compensatory damages of $500,000.
"Literally last year, we were $15,000 in the hole before we could sell a plate of spaghetti," said Christian Silvestri, a co-owner of Rabia's Dolce Fumo, one of the restaurants involved in the legal dispute.
Wu declined to comment on the ongoing litigation to local media outlets, but told NBC Boston: "We stand fully behind decisions that are to ensure residents can live in their neighborhoods with ease of access, safety and opportunity."
Newsweek has reached out to Wu's office for comment.
According to research by the Boston Planning & Development Agency, 88 percent of North End residents identify as white, compared to 45 percent in the wider Boston area.
As part of a motion to dismiss the previous case, Wu's attorney wrote that the "unsupported assertion" that the traditional North End restauranteur was white Italian and a "one-liner" at a breakfast event "cannot create constitutional barriers to the city's ability to put in place reasonable constraints on local restaurants regulating congestion, noise, and excess trash in one of the most crowded and compact neighborhoods in Boston."
According to the Boston Globe, the mayor announced fresh changes to the outdoor dining rules for 2023 in February. Restaurants will this year only be able to have outdoor dining on sidewalks deemed wide enough, and will have to pay a monthly fee of $399 if they have a liquor license.
Newsweek has contacted the owners of Dolce Fumo and the other restaurants named as parties in the legal complaint—Vinoteca di Monica, Terramia, Antico Forno and Monica's Trattoria—for comment.