Here's How Democrats Can Stop Mitch McConnell From Filling a Supreme Court Vacancy in 2020 Election Year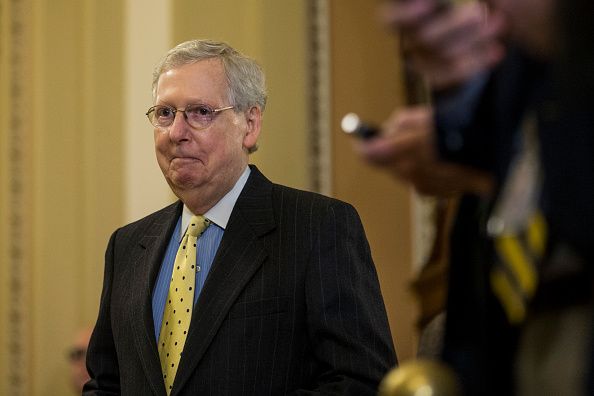 In a stunning reversal from 2016, Senate Majority Leader Mitch McConnell said Republicans will absolutely fill a Supreme Court vacancy during the 2020 presidential election should the situation arise.
The Republican leader was at the Paducah Area Chamber of Commerce public policy luncheon in Kentucky on Tuesday when he was asked what his position would be on filling an empty seat on the high court if a justice died or retired.
"Oh, we'd fill it," McConnell said, smiling as the audience laughed. The response immediately raised eyebrows, given the senator's refusal to consider Barack Obama's Supreme Court nominee Merrick Garland in March 2016. At the time, he argued that the American people should have a voice in the selection of the next judge to receive the lifetime appointment.
"Mitch McConnell's hypocrisy is unprecedented in how brazen it is," Caroline Fredrickson, the president of the American Constitution Society, a liberal legal group, told Newsweek. "And what is maybe most galling is that he thinks that's funny."
Despite Democrats regaining majority control in the House of Representatives during the 2018 midterm elections, the chamber has no constitutional role in the confirmation of Supreme Court justices. Plus, Senate filibuster rights that used to slow down the nomination process were gutted by Republicans in 2017.
But that doesn't mean Democrats can't use some leverage to fight back against President Donald Trump's nominee if a Supreme Court seat were to become vacant before the 2020 election. The only problem is that Democrats have a track record of letting judicial issues fall by the wayside.
"Democrats have limited tools but the key is a willingness to use what they've got," Michael Waldman, president of the Brennan Center for Justice at NYU School of Law, told Newsweek. "They can demand quorum calls, they can slow down votes and they can make a big public issue of it. That's the one thing they've never done before."
The Republican Party has spent decades working to pack the courts with conservative judges. Since they regained control of the Senate in 2014, the GOP essentially blocked Obama's judicial appointment authority. In the last two years of his presidency, Obama saw the fewest confirmed judges in more than half a century.
The streamlining of the judicial-selection process has aided Trump in making good on a 2016 campaign promise to remake the courts. Just two years into his administration, Trump has appointed federal judges at a record pace. As of May 2, the Senate had confirmed 100 Trump judicial nominees.
Exit polling even showed that the Supreme Court vacancy may have had a significant role in Trump getting elected. According to one CNN survey, one in five voters said the high court was one reason they voted. Of those who said it was the "most important factor" in casting a ballot, 56 percent supported Trump.
Democrats, on the other hand, barely mentioned the court during the 2016 election—even in the wake of Garland's snub from the Senate. John Podesta, Hillary Clinton's campaign adviser, told The New York Times in 2018 that Democrats "have ignored this field of battle for too long."
But in order to block a third Trump nominee from ascending to the lifelong court position, House Democrats are going to need to commit themselves to using their appropriations and oversight powers to tip the scales. They can also withhold support for certain legislation until a controversial nomination is withdrawn.
"Politics is a game of give and take. The president and the Republicans are going to need something that the Democrats will need to cooperate in giving them," Fredrickson said. "Is it the debt ceiling, is it an appropriations bill with funding for some pet project of the president? We'll see."
Democratic leaders were enraged after McConnell announced that Republicans would work to fill an empty Supreme Court seat during an election year. Representative Hakeem Jeffries slammed McConnell as a "shameless individual" who stole the 2016 Supreme Court nomination.
Senate Minority Leader Chuck Schumer responded to McConnell's remarks on Twitter, writing that the senator was a "hypocrite." He added that the Republican senator "lives for GOP judges because he knows the GOP agenda is so radical & unpopular they can only achieve it in courts."
Polling has indicated that the American public no longer believes the Supreme Court is a neutral, independent branch of government. According to an annual Gallup poll, only 16 percent of Americans had a "great deal" of confidence in the Supreme Court. Seventeen percent of those polled had "very little" confidence in the court.
"Many people believe that the court has gotten both too powerful and too politicized," Fredrickson said. "People don't think the court is neutral anymore and that's a really sad reflection on how politicized it's become and Mitch McConnell is to some extent to thank for that."