Democrat Reportedly Berated Kids at Sleepover, Won't Leave U.S. House Race
Abby Broyles, an Oklahoma Democratic candidate for the U.S. House of Representatives, became intoxicated at a sleepover for eight middle school-aged girls and allegedly berated several of the children.
Broyles, 32, took medication given to her by a friend while drinking wine and had an adverse reaction. Broyles said she doesn't remember anything until she came to and was "throwing up in a hamper."
The homeowner, a friend from law school and the mother of one of the children, invited Broyles to attend the Valentine's Day party, Nondoc reported.
One of the parents of the girls told Oklahoma City news station KFOR that the party started out fine but took a turn for the worse when Broyles began drinking wine and allegedly became aggressive. Multiple parents claimed that Broyles began verbally assaulting the children, who are all between the ages of 12 to 13 years.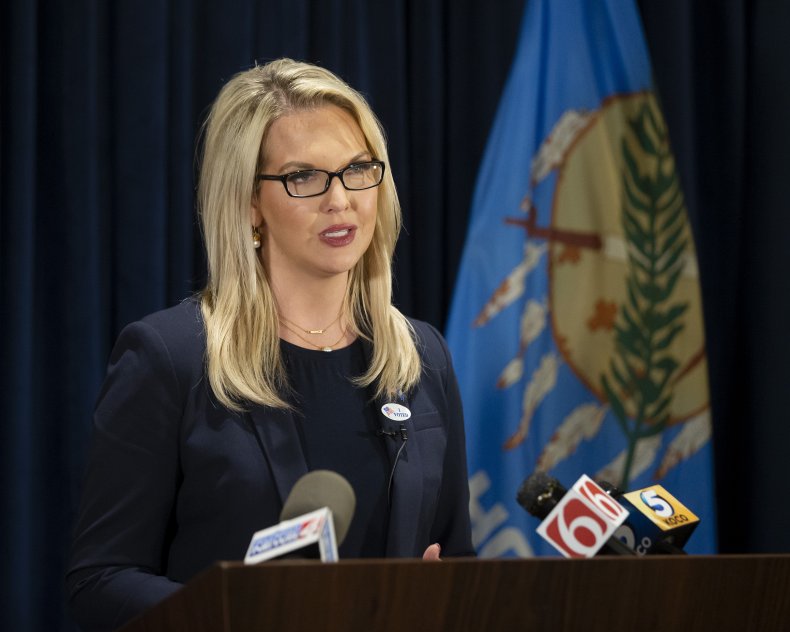 Broyles allegedly called one of the girls an "acne f****r" and the child left the room crying, a parent said her daughter told her the next morning. Broyles also allegedly called another girl a "Hispanic f****r."
"It was like an attack," the parent, Sarah Matthews, told KFOR. "Like personal, vicious attacks."
Matthews tweeted last week saying Broyles should have apologized to the girls and that her "vile, cruel and bigoted behavior should not be excused or 'swept under the rug.'" She claimed that Broyles scared and traumatized the girls.
Broyles initially told Nondoc that the even in question didn't happen but later admitted in an interview with KFOR that she had taken medication while drinking wine and didn't remember anything that happened.
"I remember starting to hallucinate, and the rest is just blurry," Broyles told KFOR. "I just remember opening my eyes, and I had gotten sick in this hamper and I didn't know where I was. It was the most awful experience that I've had."
She apologized to the girls, telling the news station: "I want to say sorry from the bottom of my heart, I apologize for any hurt or damage or trauma that my behavior when I didn't know what I was doing, caused. I'm deeply sorry."
The Democratic candidate running for a U.S. House seat said she does not plan on dropping out of the race. Broyles added she doesn't believe she would have said those things to children that she's accused of saying, the Associated Press reported.
"The things I'm accused to have said are not who I am. They're not a reflection of my beliefs at all," AP quoted Broyles saying. "It's clear this media smear campaign is politically backed, and I won't stop fighting for Oklahomans."
Newsweek reached out to Broyles for comment.
Update 02/22/22, 3:00 p.m. ET: This article has been updated with background information and quotes from Abby Broyles.