Democrat Running Against QAnon GOP Candidate Marjorie Greene Abruptly Drops Out of Race
Georgia Democratic candidate Kevin Van Ausdal, who was running against Republican Marjorie Taylor Greene, on Friday abruptly announced that he is dropping out the race, citing "family and personal reasons."
"I am heartbroken to announce that for family and personal reasons, I cannot continue this race for Congress," Ausdal said in a statement. "After lengthy discussions with my team, attorneys, party officials, and others, the answer was clear, stepping aside would be best for the voters."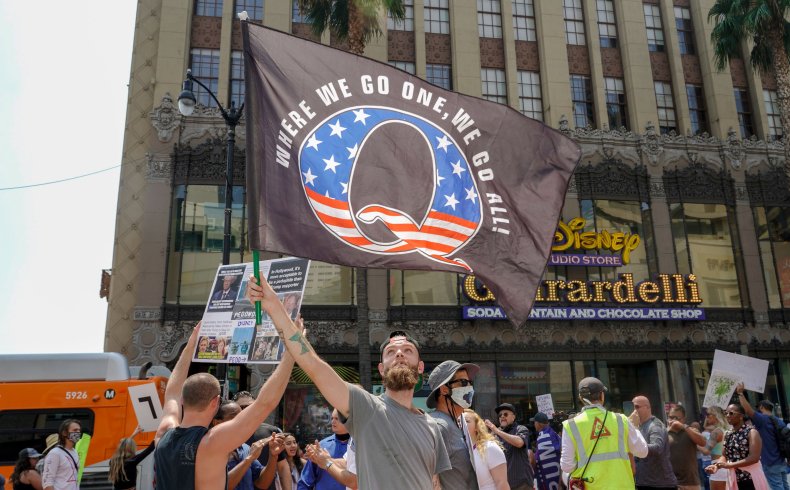 The Democrat explained that he would be disqualified from serving in Congress because his life is taking him away from the state of Georgia. He said by dropping out now, he "will give the Party a chance to put forward a candidate that can carry this fight to the end."
Ausdal ended his remark with one final dig at his Republican opponent.
"This rhetoric has turned into dangerous extremism," he said, referring to the "anger and divisiveness" in the current U.S. political climate. "Like, the candidacy of Marjorie Greene."
While the Democrat had little chance at victory in a solidly red district, his exit from the race will leave Greene, a QAnon supporter, one step closer to becoming the first U.S. congressional lawmaker to openly back the conspiracy theory.
Newsweek reached out to Marjorie Taylor Greene for comment.
Greene, who has a history of inflammatory rhetoric and links to the baseless QAnon conspiracy, won the GOP runoff for Georgia's 14th Congressional District against opponent John Cowan last month.
While the growing conspiracy has countless interpretations, at its core, QAnon claims that President Donald Trump entered politics with the secret mission of taking down an underground group of Satan-worshipping pedophiles that has members across all levels of government and key institutions.
Greene has publicly supported the theory. In 2017, she called the fictitious figure Q a "patriot" and encouraged Americans to pay attention to the movement.
"He is someone that very much loves his country, and he's on the same page as us, and he is very pro-Trump," she said. "Something worth listening to and paying attention to."
When asked outright whether she supports QAnon during a primary debate, Greene said "like many Americans, I am disgusted with the Deep State who have launched an effort to get rid of President Trump."
"Yes, I'm against all of those things and I will work hard against those issues," she added.
Despite her position, Trump praised her victory over Cowan. Greene is "strong on everything and never gives up—a real WINNER!" the president tweeted last month.