'They're Not to be Treated as Subhumans': Democrat Scolds Trump's Handling of Detained Child Migrants
Immigration was back in the limelight Friday as Congress held a hearing on the Trump administration's former practice of child separation — known as the "zero tolerance" policy — and allegations of current inhumane conditions at migrant detention facilities housing adults and children along the southern border.
Current and former government officials, lawmakers, advocates and experts testified before the House Oversight Committee Friday about administration immigration policies and conditions that they had witnessed at some of these detention centers.
One member, Representative Gerry Connolly, made no secret of his distaste and frustration for the "zero tolerance" policy, which separated more than 2,600 migrant families in total, according to a newly published report by the committee, and for the current conditions at migrant facilities, where children reportedly lack proper hygiene products and bedding.
"I never thought as a member of Congress — as an American — I would hear the testimony I heard today... as to the simple inhumanity that faces these children and families at the border," the Virginia Democrat said. "I don't really care what their motivation was — whether it was asylum or economic betterment — they're not to be treated as subhumans."
Elora Mukherjee, director of Columbia Law School's Immigrants' Rights Clinic, testified in detail about the condition of dozens of migrant children she recently interviewed. What she encountered were children who had been unwashed, crying and ill after leaving severely overcrowded and underfunded detention facilities.
"You can talk all you want about whether the poor border control is overwhelmed. That makes no excuse for how we are treating children!" Connolly said, his voice increasing in volume as he spoke. "If there's one basic value that ought to unite us as Democrats and Republicans—as Americans— it's how we treat children! Their children, our children, it doesn't matter."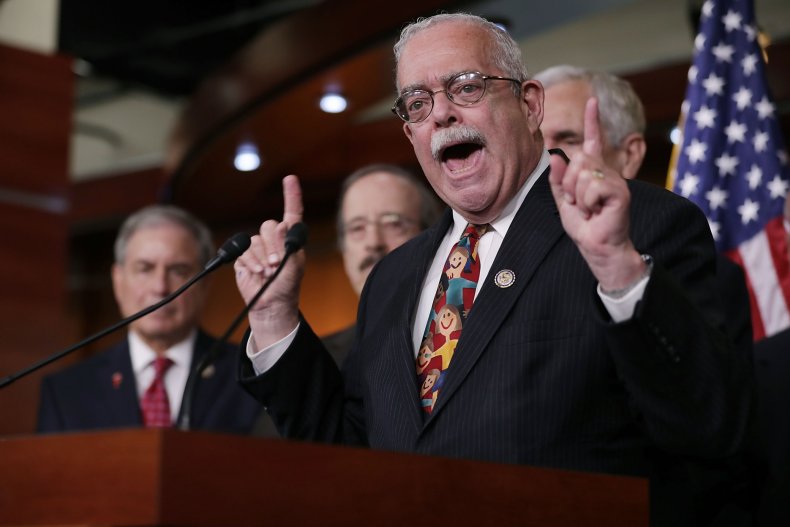 Connolly continued, still visibly frustrated from the personal accounts of lawmakers who toured some of the detention facilities and government watchdog reports, both of which have occurred in recent weeks and paint the picture of overcrowded rooms lacking parental care for children, beds, soap and toothbrushes.
He likened what he had heard to a description one might find in a Charles Dickens novel about the squalid conditions of 19th century London: "Children without soap, children in filth — conditions that none of us would ever countenance with our own children," said Connolly. "The equivocation, the enabling, the rationalization, is inexcusable. Is there no limit to what you will justify in this administration when it comes to the mistreatment of our fellow human beings? And do you have no shame about the fact... it's all done in the shadow of the American flag?"
Connolly's questions were, for the most part, rhetorical, as the only witness directly linked to the Trump administration was Thomas Homan, the former acting director of U.S. Immigration and Customs Enforcement (ICE). Homan disagreed with many of the Democrats' assertions about how the immigrant detainees were being treated and admonished the lawmakers whom he claimed supported relaxed immigration restrictions, likening them to calling for "open borders."
Homan, who led ICE for approximately 18 months without ever being confirmed as director, said that the roughly $4.5 billion in emergency humanitarian aid recently approved by Congress to address the conditions at the southern border came months too late and that the Democratic lawmakers lobbing criticism at him should be "ashamed" for failing to properly address the issue.
"The same people that vilify border patrol for detention conditions are the same people that refuse to answer the call for help, until it's too late... If you don't like this, do your job. Fix it," Homan said, as he described some of the gruesome scenes of dead immigrant bodies who tried to illegally cross the U.S.-Mexico he came across during his time at ICE.
After the passionate, but frustrated speech by Connolly, acting Homeland Security Inspector General Jennifer Costello, whose office has issued damning reports and photos of overcrowded detention facilities, reiterated what was mentioned in a recent report: the situation at the southern border with detained migrants was "dangerous" and posed an "imminent risk."
"What we haven't been able to do yet is asses the true causes. We can talk about the fact that the overcrowding is dangerous, the prolonged detention is continuing," Costello said. "But we don't really know what's causing it. We simply know that the conditions are causing imminent risk."