Democrat Senator Says There Won't Be Enough Votes to Remove Donald Trump From White House
A Democratic senator has accepted there won't be enough votes to remove President Donald Trump from office if he is put on trial before the Republican-held Senate.
Senator Chris Coons from Delaware told CNN last night that he did not think there would be enough bipartisan support for the president's removal from office if articles of impeachment are delivered to the Senate by the end of this year.
Speaking to The Lead Tuesday afternoon, the Senate Judiciary Committee member also said public polling on impeachment was "disheartening," but argued that testimonies from more senior figures in the Trump administration could "move the needle."
Coons' scepticism about the likelihood of the impeachment inquiry panning out in an ideal way for Democrats came a day after House Intelligence Committee chairman Adam Schiff said a report on the inquiry's findings would be sent to the House Judiciary Committee after the Thanksgiving recess.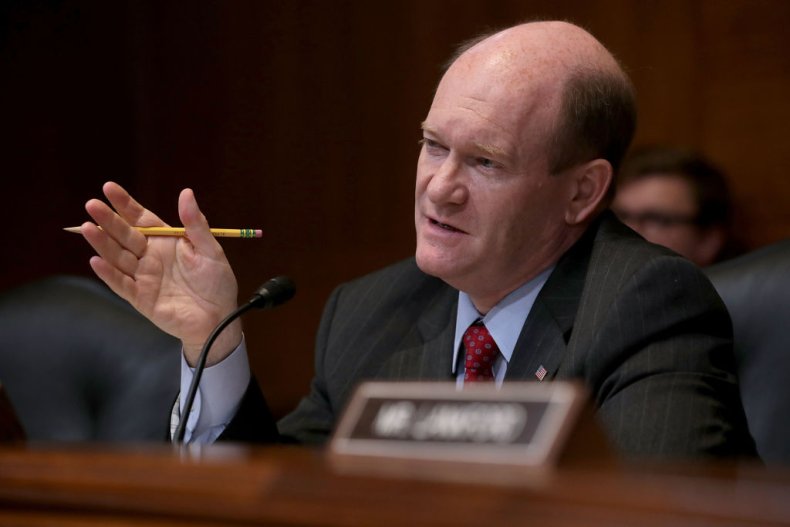 The House Judiciary Committee is then expected to draw up articles of impeachment and send them to the full House for a vote following approval. If the House votes in favour of the impeachment articles, a trial of President Trump will then be held in the Senate.
A two-thirds majority of senators would then need to vote against the commander-in-chief for him to be convicted and removed from office.
When CNN's Erica Hill questioned whether Democrats had the Senate votes needed to remove Trump from office on The Lead yesterday afternoon, Senator Coons said: "Well as a senator, the pledge I'm going to take is to weigh all the evidence in front of me.
"So far I haven't seen any evidence that's exculpatory, that would explain the president's perspective."
But he later added: "From what I've heard publicly and privately, I don't think there will be votes to remove him if this does come to an impeachment trial in the Senate."
"My hope and expectation is that my colleagues of both parties will take this seriously, will consider the evidence that's put in front of us," Coons said earlier in the show.
He then went on to suggest that testimony from Mike Pompeo, Mick Mulvaney and perhaps even the president himself could "move the needle" on support for impeachment in Congress and the American public.
Two new polls published this week showed the public mood on impeachment has not budged since the impeachment inquiry was launched on September 24.
Both the CNN and Politico/Morning Consult surveys found that just 50 percent of U.S. adults backed President Trump's impeachment in the wake of widely covered public inquiry hearings, while an almost equal number of voters felt the opposite way.
Asked if he believed Democrats had failed to make the case for impeachment during hearings, Senator Coons said: "Well what's striking to me is House Democrats made a very strong case across five days of testimony. A whole series of witnesses, folks who are career professionals: foreign service officers, diplomats, and people who worked in the administration."
He also said that some witnesses gave "damning testimony" regarding President Trump's decision to withhold military aid from Ukraine.
But the Delaware Democrat added: "It is striking to me that 50 percent of Americans think our president should be impeached and removed, and that number hasn't moved after that striking testimony."
He then suggested the "challenge" over the Thanksgiving holiday was for congressional Republicans to consider "what role they want to play" in ongoing proceedings.
"It is disheartening to see that the number of folks who oppose [President Trump's] removal hasn't increased after that compelling testimony," Coons later said.
"But I do think those of us in Congress have to be looking at the long term, at history, and at what sort of a precedent we're setting for the guardrails on presidential misconduct in office."