A Democratic county sheriff in Indiana switched party last week as President Donald Trump ramped up his law and order attacks on former Vice President Joe Biden with less than two months to go until the 2020 election.
Vanderburgh County Sheriff Dave Wedding told reporters that Democrats wanted to "burn that thing everyday" as he pointed to an American flag, and said he couldn't tolerate their supposed opposition to the symbol.
The Associated Press reported that the sheriff also said he was "tired of seeing fires set in our streets" as he revealed his switch to the Republican Party.
Speaking alongside Indiana's Lt. Gov. Suzanne Crouch (R), Wedding said: "It's interesting that we see this glorious flag here... and the Democrats want to burn that thing every day. And that's part of the reason why I said I can't tolerate that. Burning our flag. The symbol of our country and our freedom. The greatest country in the world."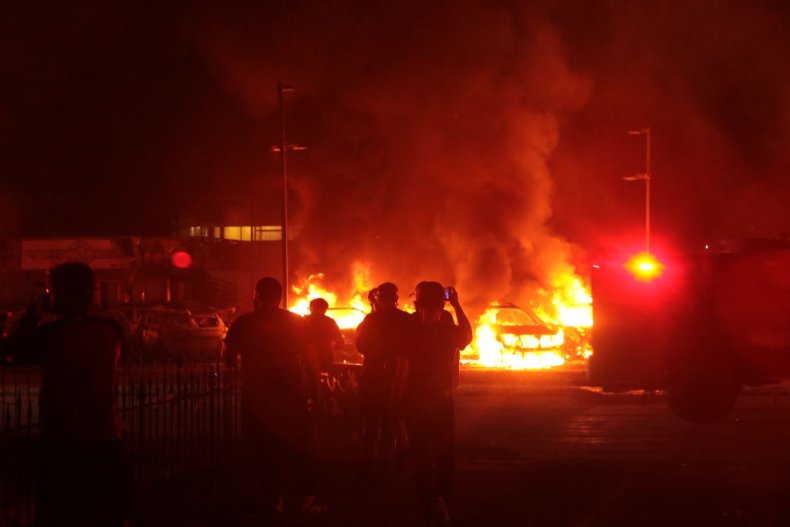 After the former Democratic sheriff switched allegiances to the GOP, Vice President Mike Pence took to social media to praise the move.
"Proud to welcome Sheriff Dave Wedding of Vanderburgh Co. and Sheriff Tom Latham of Posey Co. to the GOP," he tweeted. "Under President Donald Trump we stand for Law & Order and we Back the Blue!"
As the Evansville Courier & Press reported, Wedding was twice elected as a Democratic representative—first in 2014 and then again in 2018.
In a statement on Wedding's defection, the Vanderburgh County Democratic Party said: "While we are disappointed with Dave Wedding's decision to leave the Democratic party, we are more disappointed with the reasoning he provided the community for his choice.
"We are aware that there are many conversations regarding police reform on a national level. However, Sheriff Wedding knows that the Democratic majorities on the County Commissioners and City Council have been strongly and consistently supportive of local law enforcement.
"In contrast, he has always pointed out the Republican controlled Vanderburgh County Council and Indiana State Legislature were responsible for the creation of budgetary restraints that made his job more difficult."
The local party then went on to accuse their former colleague of being "distasteful" and engaging in "political opportunism" before adding that they looked forward to electing "fresh leadership" later this year.
Newsweek has contacted the Vanderburgh County Sheriff's office for comment. This article will be updated with any response.