Sherrod Brown Slams Donald Trump's 'Phony Populism': 'Real Populism Is Not Racist, It's Never Anti-Semitic'
Democratic senator and possible 2020 contender Sherrod Brown slammed Donald Trump for using "phony populism" to distract Americans from the fact that he has used his presidency to "enrich billionaires like himself."
"Trump has used his phony populism to divide Americans," Brown said during the first stop of his "Dignity of Work" tour in Ohio on Wednesday.
"Real populism is not racist. Real populism is not anti-Semitic. Real populists don't engage in hate speech and don't rip babies from families at the border. Real populists don't insult people's intelligence by lying," Brown told the 300-person crowd.
President Trump has come under fire this week for pushing back against his own intelligence community, calling the agencies "passive and naive." The comments came after the intelligence agencies issued an assessment that Iran was not taking steps toward making nuclear weapons and that North Korea had not made efforts to denuclearize—both of which contradict past statements by Trump.
"Perhaps Intelligence should go back to school!" Trump declared on Twitter early Wednesday morning.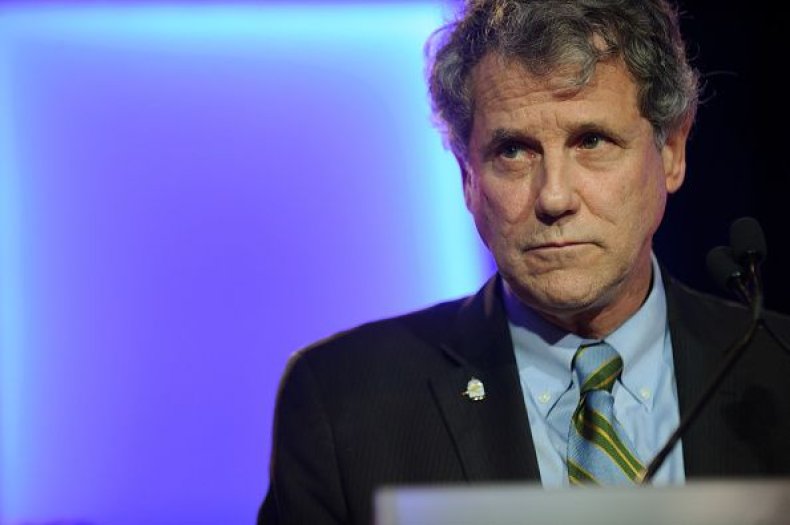 Brown also criticized President Trump for failing to follow through on of his campaign promises, including keeping manufacturing jobs in America. The senator referenced an announcement made by General Motors last year that it plans to halt in four Ohio plants.
"He has betrayed workers, and now that their jobs are on the line, not only has he not lifted a finger to help them, he actually passed a tax law that could reward GM for making cars in Mexico instead of here in Ohio," Brown said on Wednesday. "We're going to fight like hell to keep GM in Lordstown and save those jobs."
After Ohio, Brown will also make tour stops in Iowa, New Hampshire and South Carolina before he is expected to make a decision on whether or not he is going to run for president in 2020.
Brown, 66, is coming off of a successful re-election campaign during the 2018 midterms. The Democrat won by seven points in a state where Trump decisively beat out Hillary Clinton in 2016.
Brown told the crowd on Wednesday that Democrats will win in 2020 if they "fight for our progressive values. We fight for the dignity of work. It's who we are. It's how we govern. It's how we won."
The Democrat told Ohio reporters in a conference call on Wednesday: "If I don't run for president or if I do, I want 'Dignity of Work' to be the centerpiece of every Democratic campaign in the country."