One House Democrat is threatening to investigate President Donald Trump's use of National Park entrance fees to pay for his Independence Day parade, which the president has vowed will be "one of the biggest gatherings in the history of Washington D.C."
Representative Betty McCollum, a Democrat from Minnesota and a member of the House Appropriations Committee, issued a statement on Wednesday threatening oversight action against the president following a report that the administration diverted $2.5 million away from the National Park Service to help pay for the July 4 parade.
"Using National Park entrance fees to pay for this display of pageantry is absolutely outrageous," McCollum wrote. "These fees are not a slush fund for this administration to use at will. They are meant to improve our national parks, keep them safe and protected for Americans to enjoy, and are clearly not to be used for a political rally."
McCollum went on to slam the White House for not informing Congress of this use of taxpayer dollars, which was first reported by The Washington Post. The National Park Service funds, which were raised from entrance and recreation fees, were intended to help improve parks across the country.
"I'm prepared to use my full oversight authority as Chair of the Interior-Environment Appropriations Committee to determine how this decision was made and hold the responsible parties accountable. This administration needs to be reminded that the power of the purse belongs to Congress," McCollum added.
Thursday's "Salute to America" celebration will include military tanks lined up on the National Mall, warplane flyovers and a national address by President Trump. There will also be two firework displays at the Lincoln Memorial and in Potomac Park.
Days before the event, Trump tweeted that the military was "thrilled to be doing this & showing to the American people, among other things, the strongest and most advanced Military anywhere in the World. Incredible Flyovers & biggest ever Fireworks!"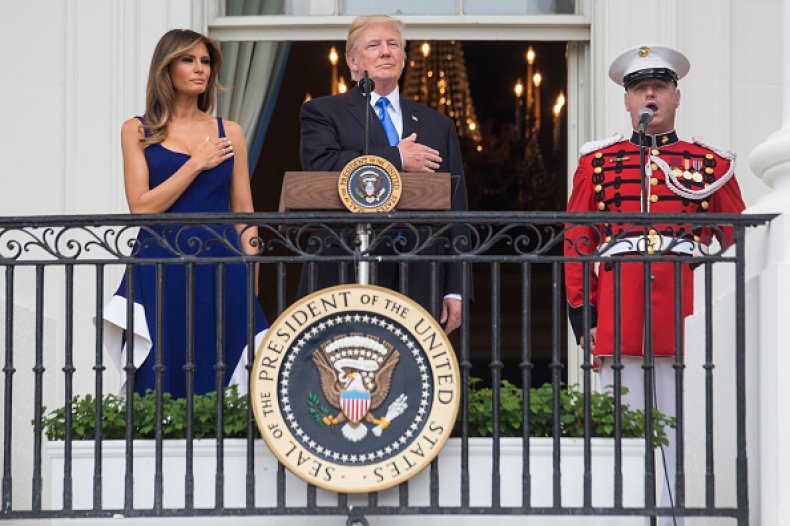 But the parade is probably going to end up costing taxpayers millions. A finance expert told NPR that some of the planes and military equipment being used throughout the celebration cost thousands of dollars. The Boeing 747 plane used for Air Force One could cost up to $250,000 per hour. Some of the fighter jets that will fly overhead cost about $20,000 or more, according to Pentagon figures.
Just to move the military tanks from Fort Stewart in Georgia to Washington D.C. was a hefty price. A White House aide told USA Today that the preliminary estimate for the transport was $870,000.
Congressional Democrats have protested against the parade, deeming it a costly affair that will probably serve more as a campaign rally for Trump than an Independence Day celebration.
Representative Jackie Speier, who serves on the House Armed Services Committee, tweeted on Monday that Trump is "desperate to create photo ops made for TV. Autocrats show off their military weapons to compensate for their inferiority. Above all else, this is a waste of $$$."
Amid reports of the high cost of the event, Trump tweeted on Wednesday that the parade won't cost as much as most people think.