Democrat Van Drew Is Expected to Switch Parties and Vote No on Impeachment, But His Voting Record Shows He's no GOP Supporter
It's no secret Rep. Jeff Van Drew agrees with Republicans on at least one issue: impeachment.
The moderate freshman Democrat has long believed the process is too divisive, and its certain demise in the GOP-controlled Senate will only bolster President Donald Trump's possibility of re-election.
But while Van Drew is expected to cross the aisle—literally—to become a Republican, his voting record in Congress suggests he is anything but a member of the Grand Old Party.
When he was prompted Tuesday to provide which issues other than impeachment that he agreed with Republicans on, the New Jersey lawmaker responded to a scrum of reporters just off the House floor: "American exceptionalism."
"I believe in American exceptionalism, that this is the best nation in the world," Van Drew, who flipped a Trump district in 2018, said. "I've been told often—and actually, there have been quotes—that many [Democrats] do not. They do not believe the idea that America is any better than any other country in the world."
Van Drew denied the notion he would switch parties for purely political reasons, despite internal polling that shows he lacks the support among Democrats for re-election. But his voting record in Congress represented little ideological overlap with Trump.
Since being sworn in January 3, Van Drew has cast far fewer votes in line with Trump's position than many of his Democratic colleagues. His stance on significant votes aligns with Trump roughly seven percent of the time, according to FiveThirtyEight. Several of his fellow vulnerable Democrats, such as Ben McAdams of Utah, Conor Lamb of Pennsylvania, Tim O'Halleran of Arizona and Josh Gottheimer of New Jersey vote more with the president, aligning with him 12, 24, 35 and 36 percent of the time, respectively.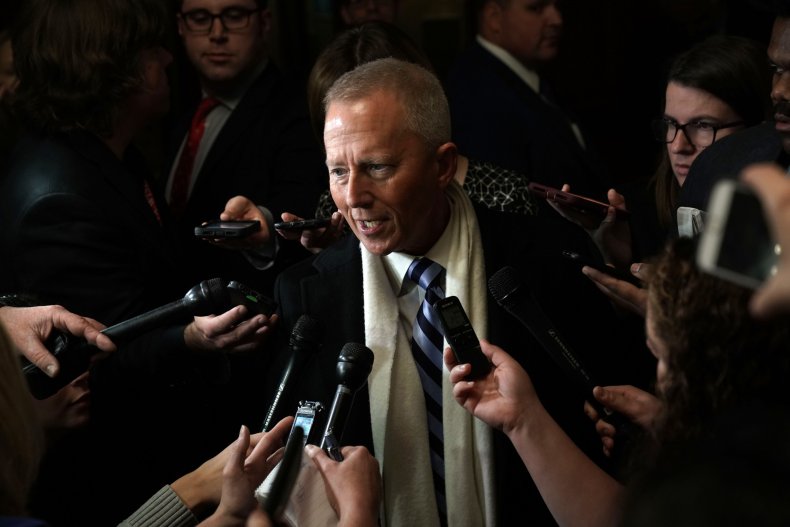 For comparison, political firebrand Rep. Alexandria Ocasio-Cortez (D-NY), who has described herself as a democratic socialist, has voted in line with Trump 14 percent of the time. Justin Amash (I-MI), who left the Republican Party to become an independent over his pro-impeachment view, voted with Trump nearly 64 percent of the time. And Will Hurd (R-TX), the lone black Republican in the House who's criticized Trump but still opposes impeachment, has voted with the president more than 81 percent of the time.
Van Drew would not confirm his plans to become a Republican, but as Newsweek and others reported over the weekend, he's expected to switch parties amid the House's impeachment proceedings and internal campaign poll numbers that painted a bleak future for the Democrat. Of likely voters in his district, just 24 percent believe he deserves to be re-elected and only 28 percent think he should be re-nominated. Sixty percent said another Democrat should replace Van Drew.
And as news spread over the weekend of Van Drew's intentions, his Washington, D.C., office experienced a sudden exodus of several top staffers who resigned in opposition.
"Any decision that I will make will be based upon ultimately reconciling philosophy," Van Drew said. "Impeachment is going to fracture the country even more. Impeachment is going to make people angrier. We're going to have an election in 10 or 11 months."
The House is expected to vote on two articles of impeachment—abuse of power and obstruction of Congress—sometime Wednesday, where it's expected to pass. A steady stream of vulnerable Democrats came out in support of impeachment since the articles advanced out of the chamber's Judiciary Committee last week.
But while each endorsement of impeachment from a Democrat who flipped a Trump district has seemed to lead to another one doing the same, Van Drew has remained steadfast in his resistance.
"I don't believe that impeachment is the proper tool to utilize to do this," he said. "I think it's actually a clumsy tool that is meant for very, very, very serious issues."