Women Are 'Less Effective in Politics Than Men,' 1 in 5 Democratic and Independent Male Voters Say: Poll
More than three-quarters of Democrats say gender and sexism factored into Hillary Clinton's 2016 election loss and a significant percentage of left-leaning male voters still don't trust a woman to defeat President Donald Trump in 2020.
One-in-five (20 percent) of U.S. men who lean toward the Democratic Party or independents said they agreed with the statement women are "less effective in politics than men," according to a new Ipsos public opinion poll conducted for The Daily Beast. Although a wide range of recent polls show Republican-leaning men are far less concerned than Democrats over whether there are enough women in top political offices, the Ipsos poll responses suggest Democratic candidates including Senators Elizabeth Warren, Kirsten Gillibrand and Kamala Harris will have a harder time convincing voters they can beat Trump in the general election.
According to the poll, 39 percent of Democratic and independent voters say female candidates will have a tougher time facing of against Trump than their male counterparts.
Several hypothetical head-to-head matches among North Carolina voters put together by Emerson Polling earlier this month showed male candidates all had a wider predicted margin of victory over Trump. Bernie Sanders, Joe Biden and Pete Buttigieg all pulled in more than 50 percent of votes while Warren and Harris were shown either tied or being defeated by Trump.
About three-quarters (74 percent) of respondents in the Ipsos poll said they were personally comfortable with a woman becoming president. But when asked to predict what their "neighbors" might think, only 33 percent said they think others are OK with a woman in the White House.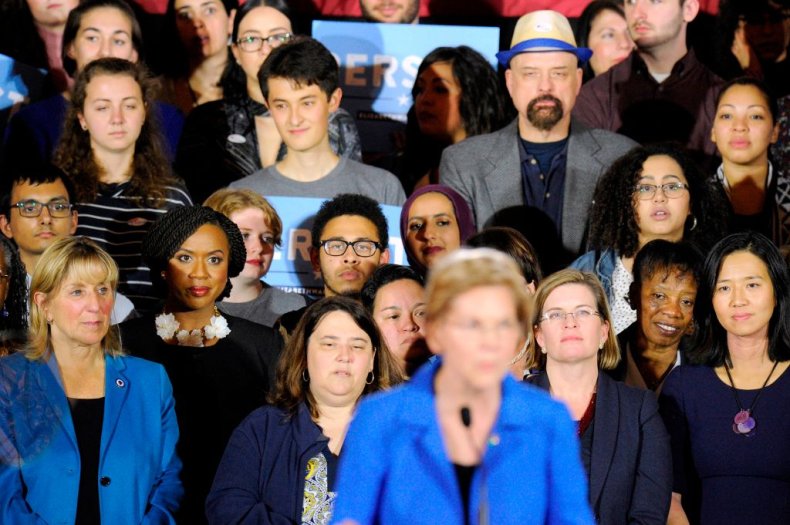 Jen Palmieri, a senior adviser to Clinton's 2016 campaign, said "Democrats have a lot of trauma about the 2016 outcome and are suspicious that voters have an unease with women candidates. But the actual record shows a different story," she told The Daily Beast Monday.
Despite Democratic or independent-leaning voters clearly still holding onto gender bias, their conservative counterparts are far less likely to care whether more women enter top political or corporate posts.
A 2018 Pew Research Center survey of U.S. adults found fewer than half of U.S. men (48 percent) said there are too few women in high political offices, compared to 70 percent of women who agreed. Democrats and liberal-leaning respondents were more than twice as likely to say women should be in more top leadership roles.
Nearly 80 percent of Democratic-leaning voters said there are too few women in top political jobs compared to just 33 percent of Republican-leaning voters who felt the same.
The Pew data also showed nearly twice as many women versus men, overall, said gender discrimination was a "major reason" why there aren't more women in high political offices. Fewer than half of all U.S. adults, men and women, said gender discrimination was a large factor behind more women not attaining top government positions.
In contrast to the polling data, a record 102 women began serving in the House of Representatives after last year's midterm elections. More than one-third of those women won their respective seats for the first time during the 2018 election.
"Talk about learning the wrong lessons," Palmieri told The Daily Beast. "We've had two elections since Trump has been either on the ballot or been in office. In one, a woman got 2 million more votes than he did, and in the midterms, women candidates won in historic numbers. So the only evidence that we have shows that having women on the ballot in the Trump era is a good thing."