Democratic Campaign Manager Allegedly Assaulted at 'Blue Lives Matter' Rally in Texas
A Democratic candidate for Texas' 1st Congressional District said his opponent's supporters attacked and assaulted his campaign manager during a protest in Tyler on Sunday afternoon.
The alleged assault took place in the midst of a clash between supporters of Hank Gilbert, who is running against Republican Representative Louie Gohmert, and Blue Lives Matter protesters, according to Gilbert's campaign. A press release published on Gilbert's campaign website said the individuals who attacked Ryan Miller, Gilbert's campaign manager, chanted Gohmert's first name during the incident.
"Miller was attacked by at least four protesters, some of whom were armed, and sustained blows to the head and other parts of his body, as well as a large gash under his eye," the press release said.
Gilbert posted a photo of Miller on Twitter that showed a bloody mark beneath Miller's left eye. In the post, Gilbert wrote, "Louie, you need to get your supporters under control."
Gilbert's campaign said Miller felt worse on Monday and sought medical attention for his injuries. "He has a serious headache, difficulty moving his jaw, and general soreness in his back and chest from where he was hit," Vince Leibowitz, a consultant for Gilbert, told Newsweek. "He also has a knot on the back of his head from where he was struck."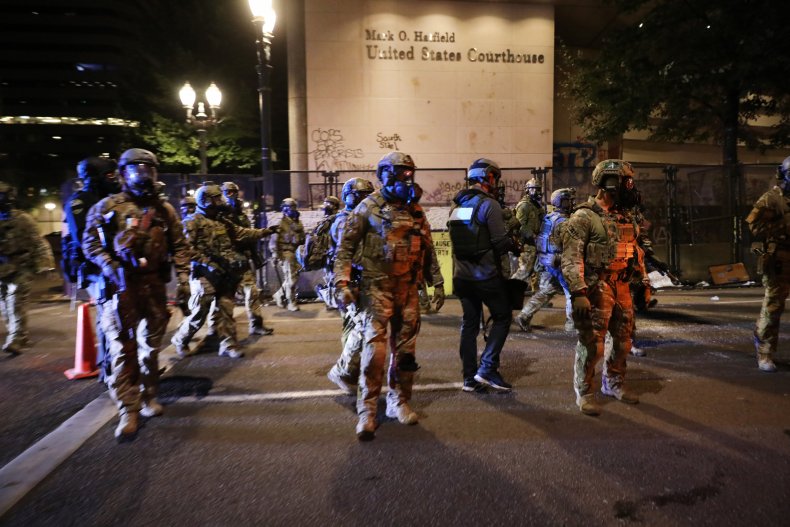 Leibowitz said the Tyler Police Department contacted Miller to gather additional information about the incident.
The incident started as a protest against the federal forces that were sent to oversee protests in Portland, Oregon, earlier this month. In the event description Gilbert's campaign posted on Facebook, attendees were encouraged to wear masks and practice social distancing while gathering at the courthouse square in downtown Tyler.
As Gilbert's group gathered, a "Back the Blue" event supporting the federal forces" deployment in Portland began nearby, according to the Tyler television station KETK.
Leibowitz said in the press release that the counterprotesters made it difficult for some of Gilbert's supporters to attend the event.
Gilbert posted photos on his Twitter account showing what the scene looked like for those who were able to attend. Gilbert's images and clips from local television stations showed some protesters carrying signs and wearing hats supporting President Donald Trump. One protester with a Trump hat was caught on camera shoving another individual into a wall and holding him down with a hand gripped around his neck. Others were photographed carrying Confederate flags around the square and sporting "White Pride" tattoos.
Gilbert encouraged his supporters to call the Tyler Police Department to ask why the officers who were monitoring the event didn't intervene in sooner. "The Tyler police were idly driving around the square in their patrol cars and waving at the counterprotesters who were heavily armed," Gilbert said.
The congressional candidate said he asked the FBI to look into the Tyler police officers' conduct and asked Texas Governor Greg Abbott to initiate an investigation through the Texas Ranger Division of the Texas Department of Public Safety.
Gilbert also said Gohmert needs to address the violence that broke out at what he said was supposed to be a peaceful event.
"Louie Gohmert needs to immediately denounce the violence that occurred in his name in downtown Tyler today," Gilbert said in the press release. "Gohmert also needs to get his disgusting rhetoric under control, because, just like Donald Trump, the vitriol that spills out of his mouth leads to violence."
Newsweek reached out to Gohmert and the Tyler Police Department for comment, but did not receive a response in time for publication.
Update 1:39 p.m. ET: This article has been updated to include a response from Vince Leibowitz, a consultant for Hank Gilbert's congressional campaign.