Watch: Democratic Candidate Kisses His Husband in Ad on 'Fox & Friends' to 'Piss Off Trump'
A campaign ad featuring Maryland gubernatorial candidate Richard Madaleno kissing his husband outside of his home ran on Fox & Friends Thursday morning. The thirty-second spot, which touted the state senator's progressive track record, is the first political ad in America to show a candidate kissing his or her same-sex partner.
The advertisement, which aired on President Donald Trump's favorite morning show, was designed to irritate the president and his conservative base. Toward the end of the commercial, Madaleno stared directly into the camera and asked, "what's the number one way I piss off Donald Trump and the Republicans?" before kissing his husband, Mark Hodge.
The campaign ran locally in the Washington D.C. region to "make sure the president had an opportunity to see this ad," explained Keith Presley, Madaleno's campaign manager. Hillary Clinton won Maryland in 2016 by about 26 percentage points.
"I'm running for governor to deliver progressive results and to stand up to Donald Trump," Madaleno explained earlier in the ad. "Here are a few of the things that I've done that already infuriate him," he said touting legislation he sponsored to fund Planned Parenthood, ban assault rifles and support public schools instead of voucher programs.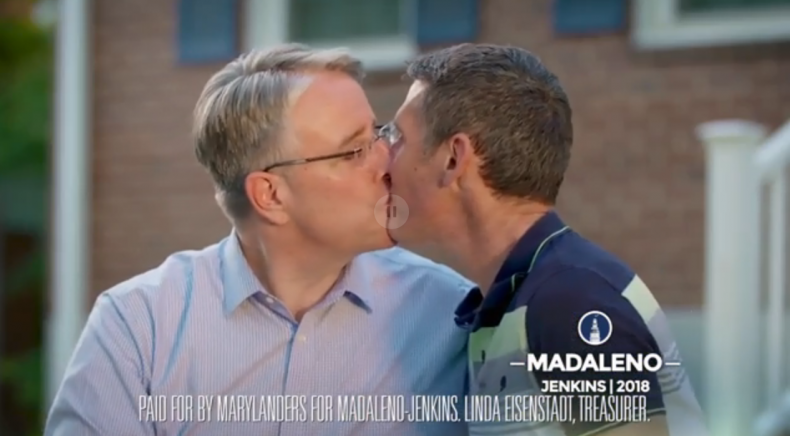 In 2012, Madaleno and his husband successfully sponsored a bill to legalize same-sex marriage in Maryland. The pair held a wedding ceremony in 2001 and received an official marriage certificate when their bill was ratified statewide in 2013. They have two adopted children, who are also featured in the commercial.
"June is LGBT Pride Month and I couldn't think of a better time to release this ad," Madaleno said in a statement. "I am proud of my family, proud of my record of standing up for our progressive values and proud to be unflinching in standing up against hate. Love truly does trump hate."
Trump's White House has so far failed to recognize June as Pride Month, and sided with the Supreme Court in their recent decision to allow a bakery to refuse service to gay couples. "At a time when the White House and other anti-LGBTQ politicians are attempting to erase our visibility and rollback our rights, Rich Madaleno is boldly stating he's proud of his family and will fight for all Marylanders if elected," said Mayor Annise Parker, president and CEO of LGBTQ Victory Fund.
The advertisement began running Thursday and will stay in rotation until Maryland's primary elections on June 26. The Democratic field is crowded with seven candidates vying for the nomination. Madaleno is currently polling in fourth place with only 6 percent of the vote, but 39 percent of voters remain undecided.
If Madaleno does cinch the Democratic nomination in Maryland, he faces a tough race against the broadly popular incumbent governor Larry Hogan—about two-thirds of Democrats approve of the Republican.