Democratic Challengers Lead Incumbent GOP Senators By Significant Margins in North Carolina and Montana, New Polling Shows
Incumbent Republican senators in Montana and North Carolina are currently trailing their Democratic challengers by significant margin, new polling has shown.
Montana's GOP Senator Steve Daines currently trails Democratic contender Governor Steve Bullock by 7 points, a lead within the Montana State University (MSU) poll's margin of error. Meanwhile, North Carolina's Republican incumbent Senator Thom Tillis trails Democratic challenger Cal Cunningham by 9 points, polling by Civiqs has shown.
In Montana, Daines is currently backed by just 39 percent of voters while Bullock is supported by just over 46 percent. However, 7 percent of voters said they were still undecided while 6 percent said they'd vote for a different candidate. Both the Green Party and the Libertarian Party are also running candidates in the race.
Cunningham has an even more commanding lead in North Carolina, with 50 percent of voters backing the Democratic challenger. Tillis, who is finishing his first Senate term, is backed by only 41 percent of survey respondents. An additional 4 percent of voters in the state said they'd back a different candidate, while 5 percent said they were still unsure who they'd support.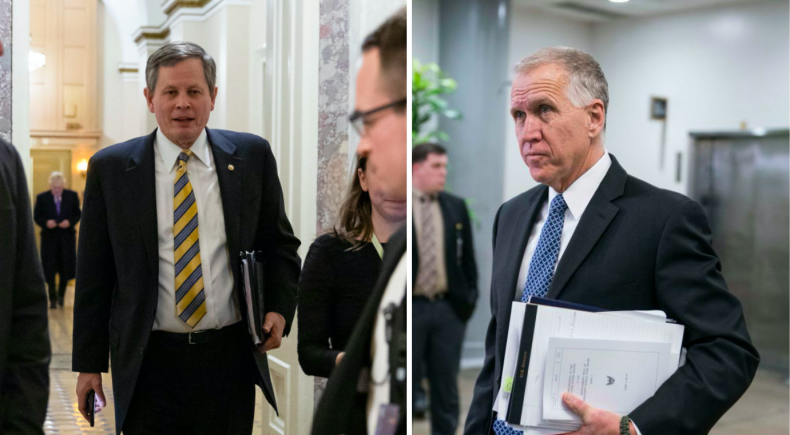 Newsweek has reached out to press representatives for the incumbent Senators Tillis and Daines for comment, but they had not responded as of the time of publication.
The data from the Civiqs poll aligns with a survey conducted by Public Policy Polling (PPP) in mid-April. Those results showed Cunningham leading North Carolina's Republican senator by 7 points, 47 percent to 40 percent. A previous poll conducted by PPP in mid-March showed Daines and his Democratic challenger neck-in-neck. Both of the Montana politicians were backed by 47 percent of voters in that survey.
While national attention is more heavily focused on the presidential election between President Donald Trump and presumptive Democratic nominee former Vice President Joe Biden, Democrats also aim to wrestle control of the Senate from Republicans. Most analysts expect Democrats to maintain their control of the House of Representatives, but the battle for the Senate is less certain.
With 100 seats in total, the Senate is currently comprised of 53 Republicans, 45 Democrats and two independents that caucus with their Democratic colleagues. In order to guarantee control of the upper chamber of Congress, Democrats would have to maintain all their current seats while flipping four GOP-controlled seats.
Democrats are hopeful that they can flip Arizona's Republican-controlled Senate seat. Most recent polling has shown Democratic challenger and retired astronaut Mark Kelly ahead of GOP Senator Martha McSally. A mid-March survey by Marist College showed Kelly ahead by 3 points, 48 percent to 45 percent, while a separate poll by Monmouth University showed the Democratic contender ahead by 6 points, 50 percent to 44 percent.