At least two Democratic challengers for U.S. Senate seats raised more money than GOP incumbents over six weeks in April and May that saw the COVID-19 pandemic sweep through the country.
Filings with the Federal Election Commission (FEC) show that challengers in Iowa and Montana both had more success in fundraising efforts than their Republican counterparts. Republicans currently control the Senate with a 53-47 advantage but the November election will see dozens of seats contested, with the potential for Democrats to win back control of the chamber if they can achieve a net gain of at least four seats, or three if they also win the presidency.
Montana Governor Steve Bullock outraised incumbent Sen. Steve Daines by more than $1 million from April 1 to May 13, according to his campaign's FEC filing. Bullock, who entered the race on the last possible day, March 9, raised $2.4 million versus $1.3 million for Daines. However, Daines has more money available overall, $5.8 million to Bullock's $4.1 million.
In Iowa, incumbent Sen. Joni Ernst is trailing challenger Theresa Greenfield in fundraising by a smaller margin. Ernst raised $1.2 million to Greenfield's $1.5 million from April 1 to May 13. Like her GOP colleague in Montana, Ernst has a larger amount in the bank than her challenger despite the recent shortfall, with a total of $7 million to $4.7 million.
"Iowans are ready to flip this seat, and we have the momentum to get it done," Greenfield said in a tweet announcing her fundraising haul.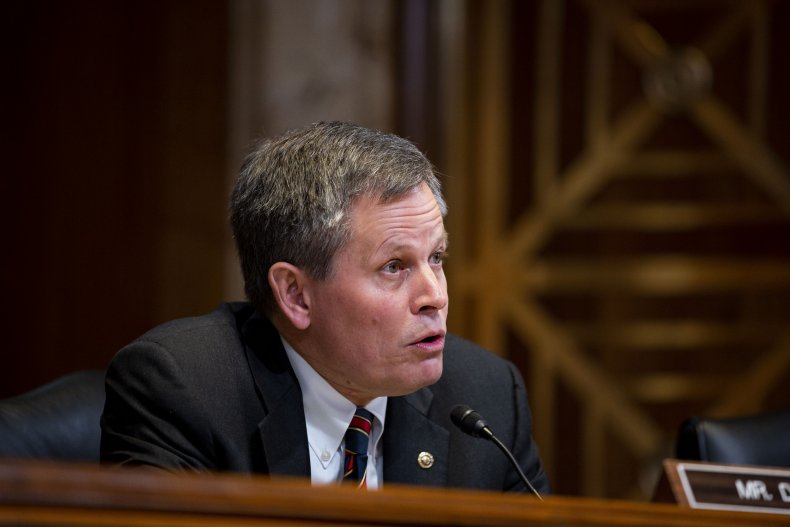 Candidates in the Iowa and Montana races recently submitted FEC filings because primaries in the states are set for take place on June 2. Both Bullock and Greenfield are expected to win the Democratic nominations. Daines is also likely to again win the GOP nomination, while Ernst is running for the nomination unopposed.
Although the races for the Iowa and Montana Senate seats are viewed as competitive, the GOP incumbents will not be easy to defeat. Both states tend to vote Republican and elected President Donald Trump by wide margins in 2016. Other states with Republican incumbents that could be competitive include Arizona, Maine, Georgia, North Carolina, Colorado and Kansas. Democrats could have difficulty retaining seats in Alabama and Michigan.
Arizona's Republican Sen. Martha McSally might be particularly vulnerable after being outraised by her Democratic challenger, former astronaut Mark Kelly, by $13 million through March. A recent poll also showed McSally trailing Kelly by 13 points among voters.
McSally lost the 2018 election against Democratic Sen. Kyrsten Sinema, but Republican Arizona Governor Doug Ducey later appointed her to the Senate seat that had been held by former Sen. John McCain.
Newsweek reached out to the National Republican Senatorial Committee for comment. This article will be updated with any response.
Correction (5/22/2020, 11:45 p.m.): This article originally stated that the Senate race in Minnesota was contentious, not Michigan. We regret the error.