Here Is a List of the 463 Democrats Who May Challenge Donald Trump for President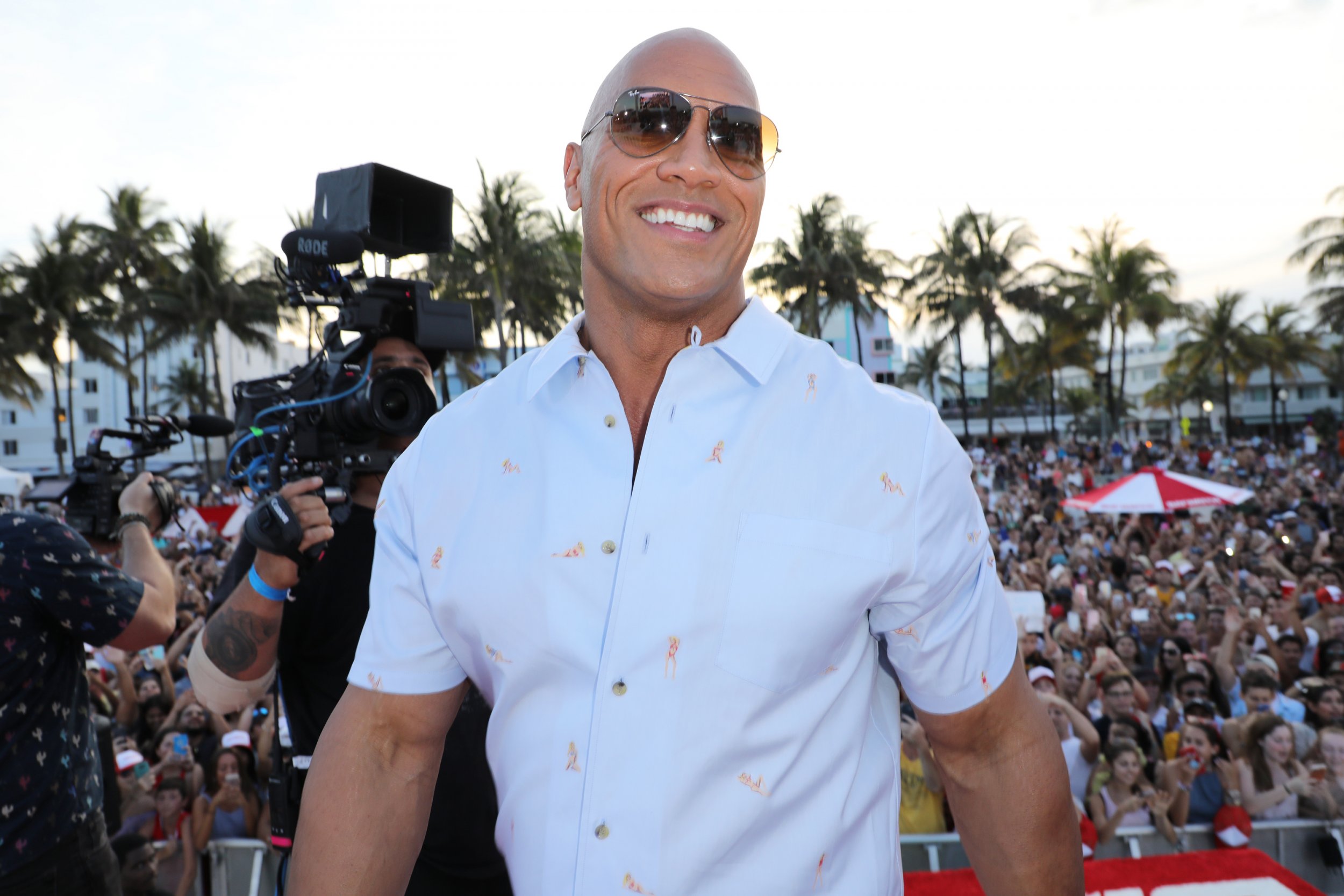 Shortly before his second inauguration on January 1 as the mayor of New York City, Bill de Blasio travelled to Iowa. I've been to Iowa. It is a lovely state, carpeted by wildflowers. Yet one does not go to Iowa in mid-December, where the weather at night is frequently below zero. Unless, of course, one is planning to run for president, since Iowa's first-in-the-season primary caucus carries outsized import for candidates. And though the next presidential primary is two years away, de Blasio is almost certainly thinking about running for president.
De Blasio is not alone in taking the kind of trips that suggest White House ambitions. Over the summer, Eric M. Garcetti—the smart, young mayor of Los Angeles—travelled to New Hampshire. It was not to lounge on the shores of Lake Winnipesaukee, but, rather, to campaign for Joyce Craig. You are forgiven for not knowing much, or anything, about Craig, who was running for mayor of Manchester. I suspect that Garcetti knew nothing about her, either, until an aide handed him a memo with her credentials as he got on the plane flying east. But he does know that any candidate planning a presidential run better get familiar with the diners and Congregationalist churches of New Hampshire.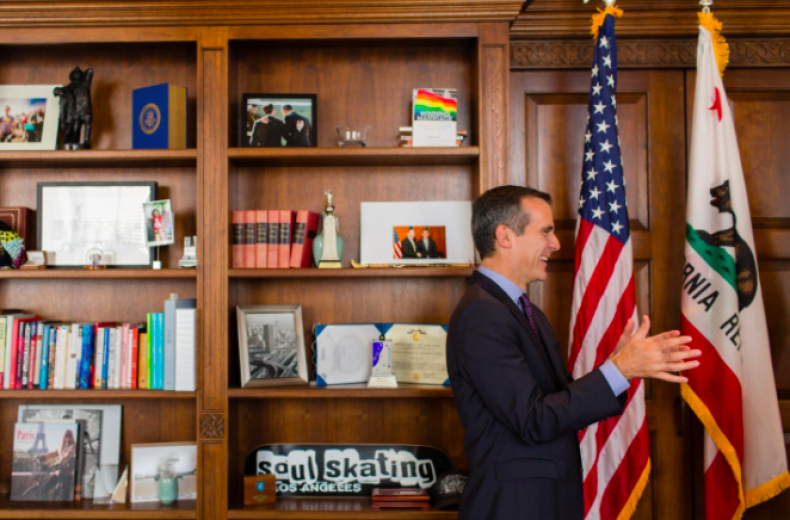 Hey, you can't blame people for wanting to travel: "There's such a lot of world to see," goes the famous "Moon River" lyric. One place you could see is Alabama. Sen. Cory A. Booker, Democrat of New Jersey, and Deval Patrick, the former Democratic governor of Massachusetts, went there to campaign for Doug Jones, who was running for that state's open Senate seat. Also, you could see Afghanistan. Feeling the need to show she has foreign policy expertise, Senator Elizabeth Warren, Democrat of Massachusetts, took a trip there last summer. "Warren positions herself for potential 2020 run," said a Politico headline on the second day of 2018.
Warren, Garcetti, Patrick, Booker and de Blasio are all on The Hill's list of potential Democratic challengers to President Donald Trump in 2020. So are 38 — yes, 38 — other prominent or ascending liberals, including both well-known names like Sen. Kirsten Gillibrand, Democrat of New York, and ambitious newcomers like Rep. Seth Moulton, Democrat of Massachusetts. Former First Lady Michelle Obama is on the list, though she likes politics about as much as Donald Trump likes not tweeting. Former Vice President Al Gore is on the list. So is Dwayne "The Rock" Johnson, the former pro wrestler turned actor. I could go on, but if you want to know who else is on The Hill's list, you may just want to scroll through it. It is a good list, but I have other lists to discuss.
The New York Times has a list, with Al Franken on it. It was published before Franken, Democrat of Minnesota, had to resign from the Senate for groping several women. Now they will have to do a new list, for we can obviously not have a candidate accused of sexual harassment running for the highest office in the land.
On the Guardian's list, there are 20 potential candidates for '20. Clever, right? One of them is Jason Kander, the former Missouri secretary of state. "Kander is a rising star among grassroots activists who demonstrated rare crossover appeal in a staunchly red state," the article says. I don't know if that's true, but cramming four political cliches into a single simple sentence is an impressive feat. Maybe the person who wrote that sentence should run for president. I'll put him or her on my list.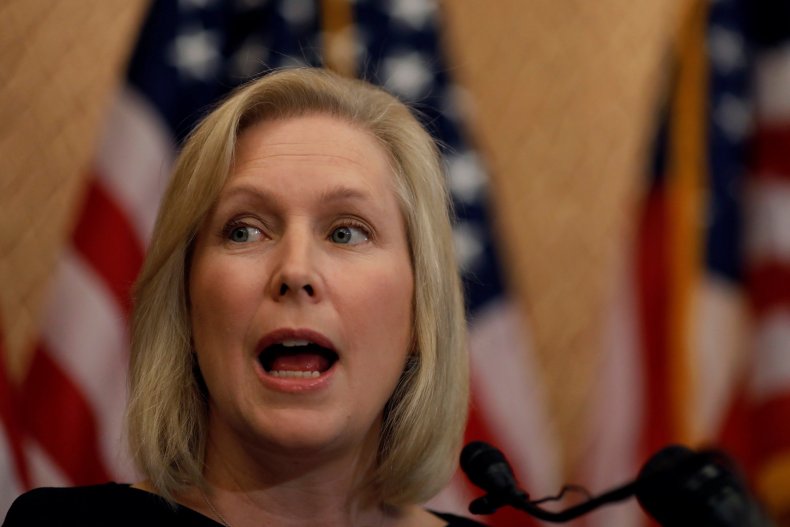 The best list, by far, is from The Washington Post. It is about the 2024 presidential election, which experts in nonlinear mathematics tell me is nearly six years away. And—get this—it was published in 2015, which means that list author Howard Gutman can obviously see the future. And what does our glorious future hold? Here's looking at you….President Tim Kaine.
Not all these people will run for president, of course. Some will step to the edge of the pool, wiggle their toes in the shallow end of national electoral politics, and back away to safer territory. But many will announce, in video or tweet, in a presser from an Ohio factory, that while serving the citizens of South Bend, Indiana, has been unspeakably gratifying, greater office—and greater sacrifice—calls.
(And yes, that's a reference to Pete Buttigieg, mayor of South Bend. "Mayor Pete" is not on The Hill's list, but he is on plenty of others. Frank Bruni, the New York Times columnist, wondered if Buttigieg would be "the first gay president." And that was in the summer of 2016. A trip to New Hampshire is doubtlessly in the works.)
As the burgeoning who-will-run? obsession demonstrates, presidential primaries have become an extended silly season, a reality show with real-world consequences. In 2016, the Republican presidential primary started with 17 candidates, including one who couldn't name three federal agencies (Rick Perry, the Republican governor of Texas) and another whose greatest accomplishment was causing a horrific traffic jam on a bridge and yelling at a lot of people (Chris Christie, the Republican governor of New Jersey). The months before the Republican National Convention were a brawl without rules or decorum. When it ended, only the man who'd brawled on a pro-wrestling stage—Trump—was left standing, every flaxen hair in place.
Was this good for America in 2016? Will it be good for America in 2020? In 2024, as we approach the exalted reign of President Kaine? And how did the presidential primary become such an intensely crowded affair? In 1956, after all, the Democratic primary had just five candidates challenging incumbent Republican president Dwight D. Eisenhower. Four years later, there were five Republicans running for the White House, which was eventually won by John F. Kennedy, then a young senator from Massachusetts. In 2020, however, we can expect a field at least three times that size.
This primary insanity—with even a hapless leader like de Blasio, whose notable achievements include fending off corruption allegations, being showered with media attention—can be traced back to 1968, explains William G. Mayer, a political scientist at Northeastern University who has written extensively about primary politics. That year, the Democratic National Convention in Chicago was beset by violence, with clashes between protesters and police playing out on television screens. The establishment selected Hubert H. Humphrey, Jr. as its candidate, even though activists wanted a candidate who would end the Vietnam War, in particular Edmund S. Muskie, the liberal senator from Maine. The lingering split among Democrats allowed the Republican candidate, Richard M. Nixon, to win.
After that dispiriting loss, the Democrats impaneled the Commission on Party Structure and Delegate Selection, also known as the McGovern-Fraser Commission for its principals: Sen. George S. McGovern, Democrat of South Dakota, and Rep. Donald M. Fraser, Democrat of Minnesota.
"The McGovern-Fraser Commission, which set out the basic parameters of the modern nominating system, was heavily dominated by antiwar party reformers," writes election expert Elaine C. Kamarck, of the Brookings Institution, in Primary Politics. "The cumulative effect of the McGovern-Fraser reforms was to transform the modern nominating system into a system where mass persuasion replaced elite persuasion."
That made the cries of a "rigged system" from Bernie Bros during the 2016 primary acutely ironic, not to mention deeply uninformed. If anything, the system has been meticulously un-rigged, so that even a dyspeptic senator from Vermont with no legislative accomplishments during a 20-year career in Congress can make a halfway credible run at the White House.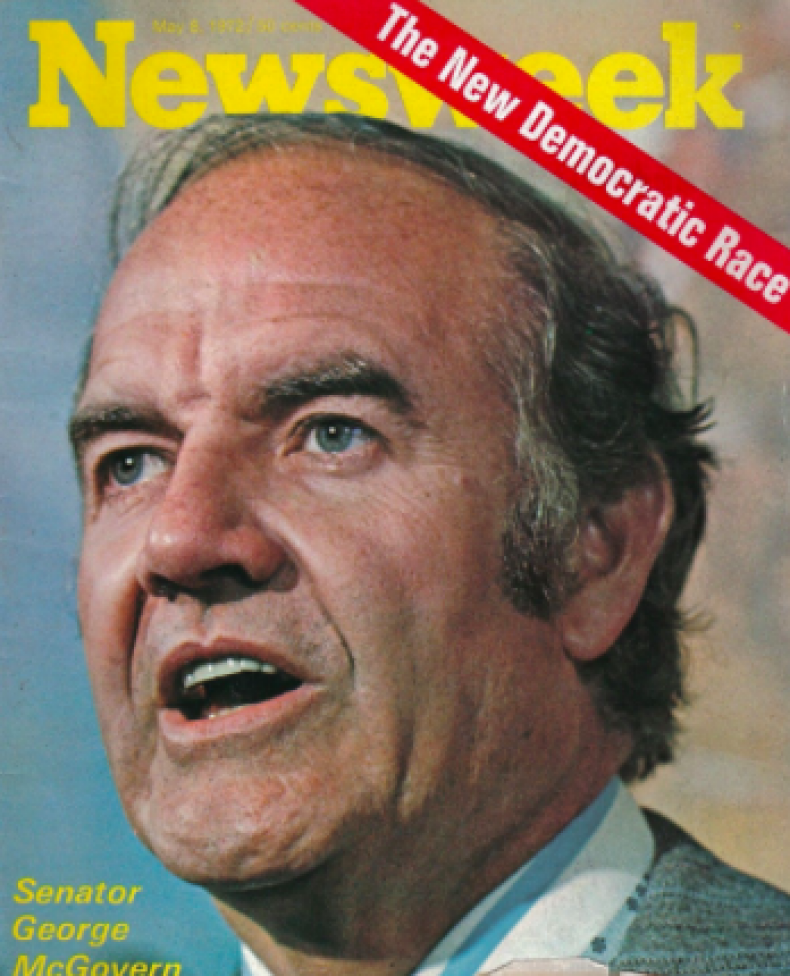 The effect was that the number of binding primaries rapidly increased, turning the convention into a coronation, instead of a convening of party insiders in archetypical smoke-filled rooms. That, in turn, gave hope to outsiders without influence in Washington but sway in the states, as long as they had the stomach, and the stamina, for corn dogs in Iowa and endless cups of lukewarm coffee in New Hampshire.
The McGovern-Fraser Commission, Mayer has written, "led to the development of the contemporary presidential marathon," one that is "characterized by an extraordinary rush to judgement—that is, a system in which enormous power is entrusted to one or two early caucuses and primaries; in which candidates who do poorly in those early contests are forced to drop out of the race."
Since then, running early, and running hard, has been strategy in presidential politics. Waiting doesn't help, as Vice President Joe Biden found out in 2016. Conversely, a strong showing—not even a win—in Iowa or New Hampshire can cast a little-known candidate as a dark horse breaking from the pack. It was his Granite State victory in 1992 that earned Bill Clinton the nickname "Comeback Kid." (How he earned the nickname "Commander-in-Briefs" is another story.)
The tendency of the political media is to reward colorful characters and riveting plot developments with coverage, to treat politics like a pageant that would only be ruined by discussions of the nuclear triad or the value-added tax. Trump understood this perfectly. The cable news networks in particular yearn to turn candidates into stars. In Trump, they had a ready-made one. And they're already on the lookout for the liberal knight of '20. Hence the lists. How will people know whom to vote for without a list of candidates? Without a list, democracy could die.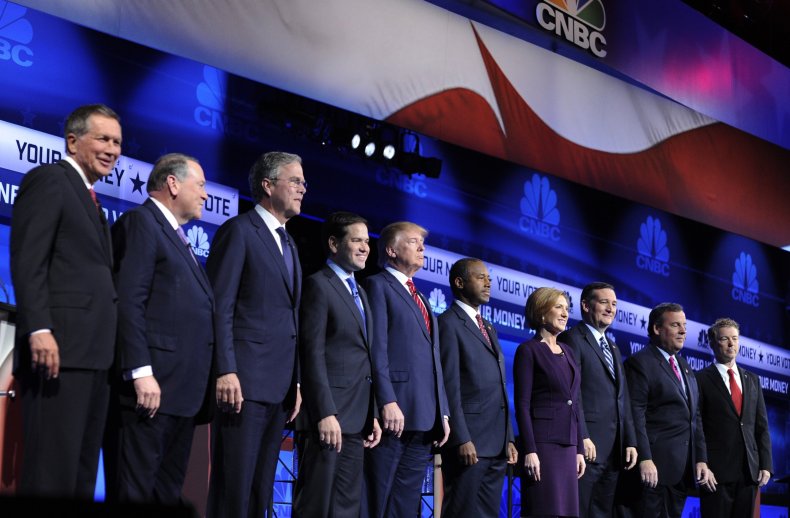 And this year, the list will be longer than the list of Hillary Clinton's excuses for 2016, now available in book format. The zeal to take down Trump will likely make the Democratic field larger in 2020 than it has been in years. "The Democrats have been positioning themselves since day one," says Julian E. Zelizer, a political historian at Princeton. He adds that because the Democratic Party doesn't have a strong natural leader, second-tier candidates will have little compunction against declaring for the White House. "The party is somewhat disorganized. There's not many power brokers in the party. That naturally leads many people to enter the fray," Zelizer says.
Mayer of Northeastern predicts that there will be fewer than 20 candidates for the Democratic primary in 2020, but probably more than eight. So, perhaps 73. (Again, I am not a mathematician.)
The rewards of running are many: exposure to donors, free media coverage, a potential spot as a guest contributor on CNN or Fox News. Even an unsuccessful run can serve as an audition for the next administration. George H.W. Bush lost to Ronald Reagan in the 1980 Republican primary, but was rewarded with the vice presidency. He used that to launch his successful presidential run in 1988. Speaking of the Bushes, what if Jeb switches party allegiance and runs as a Democrat in 2020? You know what, let's put him on the list.
There is, therefore, very little downside to the presidential hopeful, even if he or she is ultimately hopeless. For the voter, however, the proliferation of candidates can be disorienting, as can the media's ever-shifting focus. "My fear is it just kind of fuels a circus-like atmosphere," Zelizer says. Nobody wants to restrict choice, to return to the conventions of the past, ruled by party bosses. But voters aren't helped by the cacophony of nearly two dozen candidates shouting at each other.
Then again, shouldn't we admit that this is precisely what we love about politics? Its incredible entertainment value, the human dramas playing nightly on our screens? They shout and tweet at each other for two years, and then the winner gets the nuclear codes. The loser gets a book deal and a chair across from Rachel Maddow on MSNBC or Sean Hannity on Fox News.
You know where they didn't have crowded primaries? Soviet Russia. This is America, darn it, where anyone can be president: Hillary Clinton, Eminem, a junior city councilman from Kansas City.
Let the circus begin. Let a thousand lists bloom.