Democratic Challengers Warnock, Ossoff Lead Loeffler, Perdue by Single Digits, Poll Shows
Less than one week prior to Georgia's upcoming runoff elections, new polling data places Democratic contenders Raphael Warnock and Jon Ossoff ahead of their Republican opponents.
The challengers are campaigning against incumbent Georgia Senators Kelly Loeffler and David Perdue in a pair of ongoing congressional races that will determine partisan control of the U.S. Senate.
Figures reflected in a new survey suggest that Warnock leads Loeffler, and Ossoff leads Perdue, by 9 and 7 percentage points, respectively. Most survey participants who originally identified as "undecided," in response to a question that inquired about which candidates they intended to support in the runoff races, later noted their leanings toward Warnock and Ossoff over Loeffler and Perdue.
More than 90 percent of the poll's respondents had previously cast ballots for their preferred senate candidates, or plan to do so before the end of Georgia's early voting period. Early voting began statewide on December 14, and is due to end on Wednesday or Thursday of this week, depending on specific county deadlines. Political data firm JMC Analytics and Polling conducted the survey between December 28 and 29, when it collected responses from 500 individuals registered to vote in Georgia. The survey's margin of error was 4.4 percent, according to the firm.
Georgia's runoff elections are set to take place on January 5. Trailing the record-breaking voter turnout reported last month, roughly 2.5 million people have already cast ballots, both in-person and by mail, throughout the senate races' final weeks. Prominent politicians, political action committees and public figures launched robust initiatives to mobilize Georgia voters in the aftermath of Election Day, given the significance of the runoff contests and their outcomes.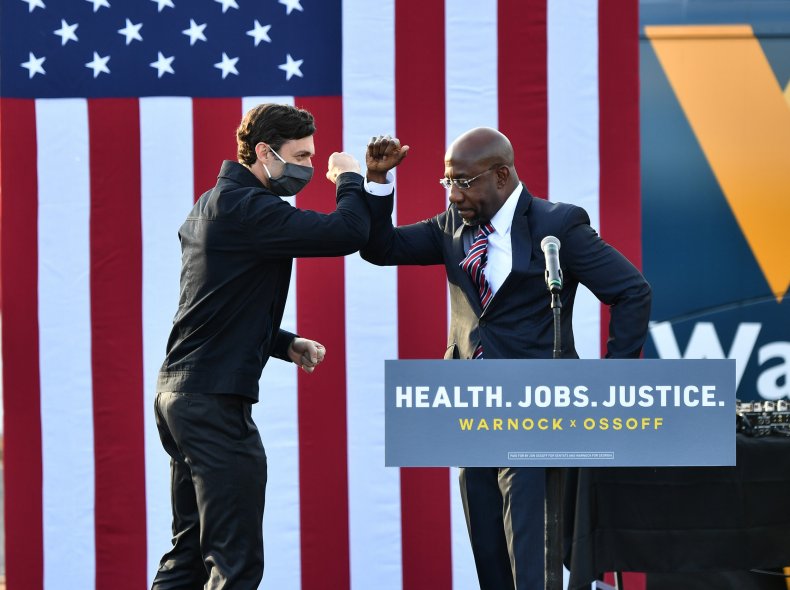 Wins from both Warnock and Ossoff next Tuesday will give Democrats a majority in the Senate, with the addition of Vice President-elect Kamala Harris' tie-breaker vote. Republicans will maintain control of the chamber if either Democratic candidate loses his runoff contest. In Georgia, runoffs take place after no individual candidate earns more than 50 percent of the popular vote during an initial election.
Although none of the state's four senate candidates secured at least half of the votes cast this past November, each race yielded fairly close results.
Perdue received 49.7 percent of votes, while Ossoff received 47.9 percent, in the general contest. Warnock received 33 percent of votes, compared with 26 percent for Loeffler, in a special election that followed Georgia Senator Johnny Isakson's resignation last year and Loeffler's subsequent appointment to replace him. The special election involved multiple candidates, among whom Warnock earned the largest fraction of public support.