Democratic Congressional Candidate Curses At GOP Opponent During Synagogue Debate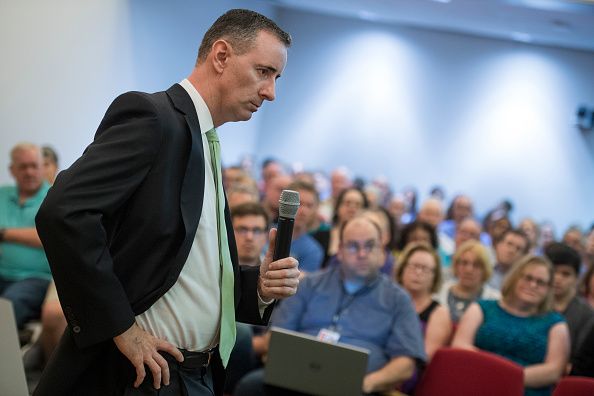 Democratic congressional candidate Scott Wallace of Pennsylvania cursed at his opponent Brian Fitzpatrick during a debate in a synagogue, telling the Republican representative to "f*** off."
"Ironically, there was a later question about the need for civility in politics," Fitzpatrick told WBCB News. "Well, a good start is to not use vulgarities in the sanctuary of a synagogue in the middle of a congressional debate."
The expletives came during a debate between the two candidates on Sunday night at the Congregation Tifereth Israel in Bensalem, Pennsylvania. The two candidates are running for the House in the state's first congressional district, a largely Jewish community. According to WBCB, Wallace's outburst "silenced" the audience.
Fitzpatrick, who was first elected in 2016, said that he was "stunned" by Wallace's comment.
The Democrat dropped the expletive when being questioned about his campaign's attack ad against Fitzpatrick's position on health care. The ad states that the representative wants to remove health care from people who have pre-existing conditions. Fitzpatrick claims that the points made in the advertisement are false, pointing to his vote against the Republican-led effort to repeal and replace Obamacare.
Wallace's campaign released a statement on Monday night explaining the outburst, saying he was "exasperated by yet another attempt from Rep. Brian Fitzpatrick to hide from his votes to take away protections for people with pre-existing conditions."
"I apologize for any offense that might have been taken, I am passionate about protecting people from insurance company abuses, and I'm sorry that in this instance, my frustration got the best of me," the statement read.
It's not the first time the two candidates have been in a hot-headed debate. Last week during a debate in another synagogue, the two could not think of a single issue on which they agreed upon when asked by the moderator.
"You know, I wish I could answer that question," Fitzpatrick said. "Nothing comes to mind, to be honest, that I can think of."
A Monmouth poll released in early October showed Fitzpatrick with a slight lead over Wallace, with a 50 percent to 46 percent edge.
But this year, Pennsylvania got a new district map for the House of Representatives, replacing the previous map that has been struck down by the state's Supreme Court as a GOP gerrymander. This means that Fitzpatrick's district now has a better chance of swinging Democrat. According to the Monmouth survey, the race narrows to a virtual tie of 49 percent for Fitzpatrick and 48 percent for Wallace if the institute uses a polling model that incorporates a Democratic voter surge.
Fitzpatrick and Wallace are set to debate again on Thursday at Bucks County Community College.