Democratic Congressman Believes a Black Woman on the Supreme Court Is a Priority Over VP
A top Democratic lawmaker said Friday that he believes having a Black woman on the U.S. Supreme Court is more of a priority than as a running mate for presumptive Democratic presidential nominee Joe Biden.
"The V.P. is good on style, but, on substance, give me an African American woman on the Supreme Court," House Majority Whip James Clyburn said during a segment on PBS News Hour. "That's where we determine how our democracy will be preserved."
The South Carolina Democrat has maintained that Biden picking a Black woman as his running mate would be a "plus" not a "must," saying it was a bit "foolhardy" to be focusing solely on the Democratic Party's choice for vice president. Other things, like a Supreme Court nominee, are equally if not more important, Clyburn said.
"I long for an African American woman to sit on the United States Supreme Court," he said. "It's a shame that we have had three women to sit on the United States Supreme Court, and no one has ever given the kind of consideration that is due to an African American woman."
Clyburn referenced the Court's 2013 5-4 decision regarding the Voting Rights Act of 1965, effectively giving nine states, primarily in the South, the freedom to change election laws without needing prior approval by the federal government.
"This Supreme Court has neutered the Voting Rights Act of 1965," Clyburn told PBS. "And so I am very concerned about the composition of the United States Supreme Court."
The Court's ruling was heavily criticized for upholding voter suppression on the basis of race, and former President Barack Obama had said at the time he was "deeply disappointed" by the ruling.
Newsweek contacted Clyburn's office for comment.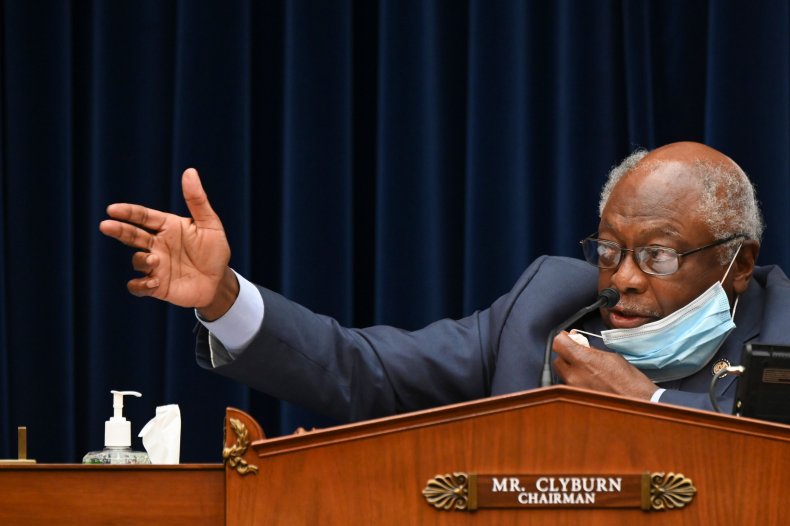 Biden has told reporters he would announce his pick for vice president during the first week of August, but shortlists for potential running mates have largely featured women, and particularly women of color.
Names that have been widely circulated include Democratic Senators Elizabeth Warren of Massachusetts and Kamala Harris of California; Congressional Black Caucus Chair Karen Bass of California; and former White House national security adviser Susan Rice.
Clyburn, who has long been regarded as one of Biden's top allies, has previously stated Biden needs to pick a running mate who has "a lot of passion."
"Joe Biden is a guy full of compassion. He has much more compassion than he exhibits passion," Clyburn told MSNBC Friday. "So he needs a running mate with a lot of passion to connect to voters."
Clyburn advised Biden to survey voters to see who they think would best complement the ticket. A recent USA Today/Suffolk poll suggested that Democratic voters believe Biden should select a woman of color for his running mate.
Nearly three-quarters (72 percent) of Democrats said it was "important" for the Democratic candidate to choose a woman of color, the poll found.