Democratic Congressman Says Pelosi 'Making a Mistake' by Not Taking Trump's $1.9 Trillion Stimulus Deal
Representative Max Rose, a New York Democrat, criticized Speaker of the House Nancy Pelosi on Tuesday, arguing that she was "making a mistake" by not accepting the White House's latest $1.9 trillion COVID-19 stimulus deal.
The White House, Democrats and Republicans have been at odds over a new round of economic stimulus since mid-May, when House Democrats passed the $3 trillion HEROES Act. At the time, President Donald Trump and Republicans largely dismissed the package as a Democratic "wish list." Then at the end of July, the White House and Senate Republicans put forward a relatively more modest $1 trillion package, dubbed the HEALS Act. Negotiations have continued from there, with the White House's most recent offer standing at about $1.9 trillion while House Democrats passed a $2.2 trillion bill at the beginning of October.
The current hangup surrounds language in the bill regarding the federal government's plans to respond to the pandemic, as new infections surge across the country. "The Republicans' continued surrender to the virus—particularly amid the recent wave of cases—is official malfeasance," Pelosi, a California Democrat, wrote in a Monday letter to House Democrats.
The Quote
"She most certainly is making a mistake," Rose said when asked about Pelosi's rejection of the latest White House deal. "I mean let's remember the Republican Party, the president, [Treasury Secretary Steven] Mnuchin—two months ago, they didn't want to do anything."
"And now, because of the sheer force of our argument as well as the obvious pain of the American people, they have moved up to $1.92 trillion," the Democratic lawmaker said. "It's a tremendous bipartisan framework for action that's commensurate with the scale of the crisis that we're facing. He pointed out that Senate Republicans have not committed to the deal, saying if House Democrats passed it now, the focus of the country would shift its attention to them.
"The truth of the matter is, is that it is clear what the American people need. They need action right now," Rose said. "And they cannot wait until the next election."
Why It Matters
Millions of Americans remain unemployed, as hundreds of thousands of new jobless claims continue to be filed weekly. As many Americans struggle to pay rent and provide food for their families, the stimulus negotiations have remained at an impasse. Economists, including Federal Reserve Chair Jerome Powell, have urged Congress to take further action to prop up the economy as the impact of the global pandemic persists.
Former Democratic presidential candidate Andrew Yang lamented that a deal has not already been made in a Sunday tweet. "For the life of me I don't know why more people aren't calling for a deal to be done - millions are suffering and any functioning government would have passed additional relief months ago," Yang wrote.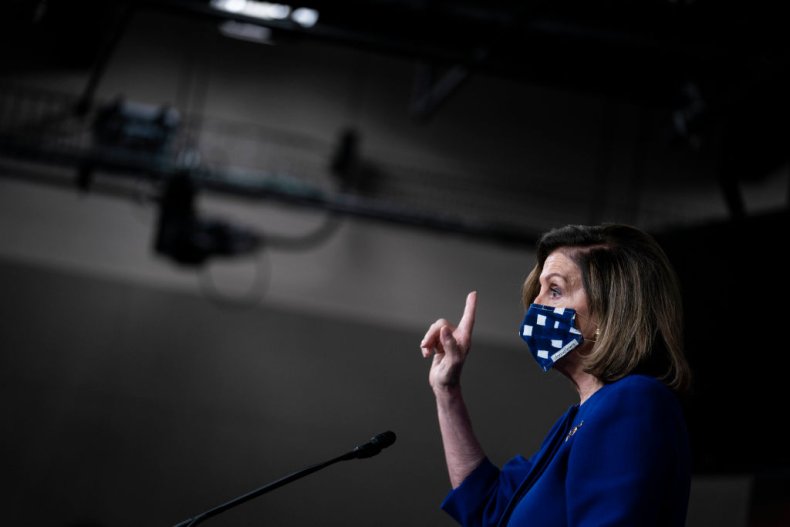 Opposing View
Pelosi and her staff argue that the language of the bill, specifically as it concerns how to address testing for the novel coronavirus and other health-related sections, remains inadequate. In a Sunday statement, Pelosi's spokesperson Drew Hammill said: "We continue to eagerly await the [Trump] Administration's acceptance of our health language."
Hammill also pointed fingers at Senate Republicans, saying that it's "clear that our progress depends on [Senate Majority] Leader [Mitch] McConnell agreeing to bipartisan, comprehensive legislation."
Even if House Democrats accept and pass the White House offer, it's success in the GOP-controlled Senate remains uncertain. Although McConnell committed to take up a compromise bill "at some point," several prominent Republican lawmakers have staunchly opposed such a high level of spending, raising concerns about the rapidly growing national debt.
Newsweek reached out to press representatives for Pelosi on Tuesday, but they did not respond by the time of publication.