A Democratic congressman had a message for Vladimir Putin after a commission hearing on Russia's aggression toward Ukraine.
Representative Steve Cohen of Tennessee told the Russian president to "chill" amid concerns that Moscow's buildup of military and equipment along its border with Ukraine could preclude an attack.
"I want to make a direct appeal to Mr. Putin," Cohen said during a meeting of the U.S. Helsinki Commission on Wednesday. "Please pour yourself a vodka, get a blini, have some caviar, enjoy the Winter Olympics, get your thrills vicariously, watch your athletes perform—hopefully they'll win some gold medals, I'm sure they will they're great athletes, Russia has great athletes and great people—chill."
Ben Cardin, a U.S. senator from Maryland who chairs of the commission, remarked: "That's a nice final comment."
The commission, which is independent of the federal government, convened to discuss the situation.
Fiona Hill, a former White House national security aide, told the commission that in her experience if Putin threatens, "he usually intends to act in some fashion."
"We should be very careful about the idea of this being a bluff," she said.
U.S. officials continue to state that an attack could happen "at any time" as Russia has amassed an estimated 130,000 soldiers around the border. President Joe Biden and other senior administration members have repeatedly stated Putin will face "swift and severe" consequences if Russia decides to invade the Eastern European country.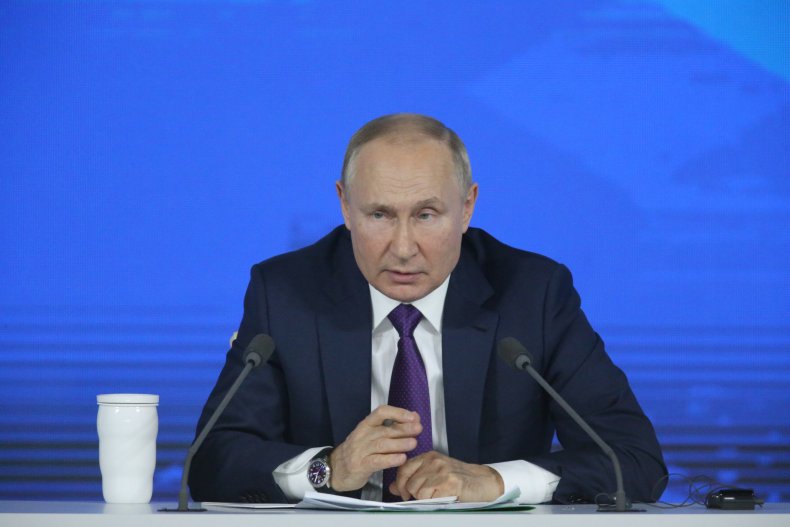 The U.S. military is sending 3,000 troops to bolster NATO countries on the eastern flank. Poland and Germany will receive 2,000 troops, and 1,000 service members will be sent to Romania.
Pentagon spokesperson John Kirby stressed that the deployments are not permanent.
The Kremlin has claimed the U.S. is stoking hysteria on the issue and said the troop deployment is meant to "stir up tensions." Russia has also accused the U.S. of not being concerned about its security concerns.
Ukraine has also differed with the Biden administration's assessment, urging its residents to stay calm and that an invasion is not imminent.
But Ukraine President Volodymyr Zelenskyy said that any military confrontation with Russia would prompt "a full-scale" war in Europe.
"There will be, unfortunately, a tragedy if the escalation against our state begins," Zelenskyy said, according to state-run Ukrinform. "That is why I openly say: this will not be a war between Ukraine and Russia — this will be a war in Europe, full-scale war, because no one will give up their territories and people anymore."
Newsweek has reached out to Russia's Foreign Ministry for comment but didn't receive a response before publication.