Democratic Congressman, Who Tested Positive for COVID, Calls Out Mask-Less Republicans Who 'Strut' Around Capitol
A Democratic congressman criticized Republican lawmakers for walking around Capitol Hill without face coverings in his announcement that he had tested positive for coronavirus.
Representative Raúl Grijalva of Arizona said in a statement Saturday that the Capitol's physician informed him he had tested positive for the disease, which has infected more than 4.5 million Americans since the crisis began earlier this year.
Grijalva, 72, wrote he would be following the doctor's recommendation to self-isolate in quarantine, adding that he was not currently feeling any symptoms and hopes to make a quick recovery.
Grijalva's diagnosis came shortly after Representative Louie Gohmert tested positive for coronavirus Wednesday. Gohmert, a Texas Republican, has frequently been seen walking around the Capitol without a mask.
Gohmert and Grijalva attended the same congressional hearing Tuesday and reportedly sat close together. Gohmert did choose to don a face covering during the hearing, except for when questioning the witnesses.
In his statement Saturday, Grijalva made sure to speak directly to his Republican colleagues.
"While I cannot blame anyone directly for this, this week has shown that there are some Members of Congress who fail to take this crisis seriously," Grijalva said. "Numerous Republican members routinely strut around the Capitol without a mask to selfishly make a political statement at the expense of their colleagues, staff, and their families."
Gohmert, who is also not currently experiencing any symptoms, recorded a statement in his Capitol Hill office Wednesday explaining his diagnosis of the "Wuhan virus." Gohmert assured the public that he had been wearing a mask more in the last one to two weeks than he had in the past four months.
A spokesperson for Grijalva told Newsweek that there was no way to determine for sure whether Grijalva had contracted the virus from Gohmert, but it was concerning that they had interacted with one another on Tuesday.
There are a lot of Republican members of Congress who choose not to wear face masks and describe them as ineffective, and Gohmert falls into that category, the spokesperson said.
Newsweek contacted Gohmert's office for comment, but did not hear back in time for publication.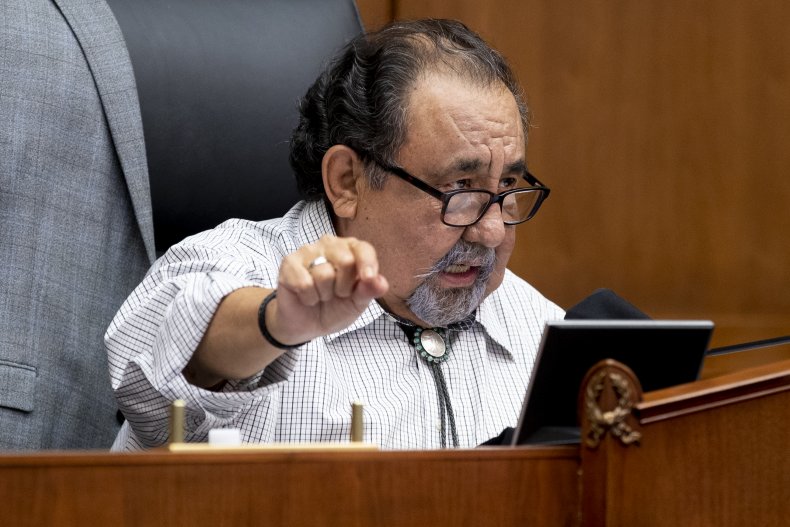 Grijalva is at least the 11th member of Congress who has tested positive for coronavirus. Other members include Senator Rand Paul, Representative Tom Rice, and Representative Morgan Griffith.
House Speaker Nancy Pelosi announced Wednesday following Gohmert's positive diagnosis that all members of the House must wear masks while on the floor. Pelosi, a California Democrat, said she now has the authority to ask those who violate the order be removed.
Lawmakers were already required to wear masks while in House committee rooms, but some Republicans have continued to deny that order.
Grijalva said in his statement Saturday that he was happy with Pelosi's decision to require masks.
"I'm pleased that Speaker Pelosi has mandated the use of masks at the Capitol to keep members and staff safe from those looking to score quick political points," Grijalva said. "Stopping the spread of a deadly virus should not be a partisan issue."
Senate Majority Leader Mitch McConnell, a Republican from Kentucky, said Wednesday that a mask mandate in the Senate was unnecessary.
Appearing on PBS NewsHour following the news that Gohmert had tested positive, McConnell was asked about Pelosi's mask requirement for the House floor and if he would consider doing the same in the Senate.
"It appears not to be necessary since everybody seems to be doing it," McConnell said, adding that the Senate has "had good luck without a requirement," as many members have been wearing masks voluntarily.
Update (08/01/20, 5:12 p.m. ET):This article has been updated to include additional comments from Representative Raúl Grijalva's office.