The Republican National Convention (RNC) is just getting underway today, but critics are already taking aim—and many of their comments focus on race.
Half of the 12 "key speakers" for the RNC will be members of the Trump family. Only one speaker will be a person of color: Senator Tim Scott, the lone Black Republican in the 100-person chamber.
That's a stark contrast to last week's Democratic National Convention (DNC).
The DNC featured 17 key speakers, 11 of whom were people of color. Other notable appearances included the families of George Floyd and Eric Garner, two Black men who were killed during police arrests. Even the roll call of the states, usually a mundane aspect of the convention, was celebrated for highlighting diverse voices from all 57 American states and territories.
"I can't imagine we're going to see anything like that in the next week from the Republican convention," said Robert Jones, founder of the Public Religion Research Institute (PRRI) and author of White Too Long: The Legacy Of White Supremacy In American Christianity. "We'll have to wait and see."
PRRI data from 2019 found a wide racial gap between the two parties. In more than 50,000 interviews, self-identified Republicans were 81 percent white and non-Hispanic, while self-identified Democrats were 56 percent white and non-Hispanic.
Jones said that in his lifetime he's never seen the issues of racial injustice and inequality be "as powerful and as animating as they are in this election."
Perhaps recognizing the political moment, the Republican convention aims to highlight the party's diversity throughout the convention with speakers of color like Senator Scott, Housing Secretary Ben Carson, White House staffer Ja'Ron Smith, House candidates Kimberly Klacik and Burgess Owens, Georgia Democrat Vernon Jones, Kentucky Attorney General Daniel Cameron and criminal justice reform advocate Alice Johnson. Florida's Hispanic Lieutenant Governor Jeanette Nuñez is also slated to make an appearance.
Still, only about a dozen of the more than 70 people expected to speak at the convention are Black or Latino. And tother appearances are likely to ruffle some feathers, including Mark and Patricia McCloskey, the white couple who went viral for pointing guns at Black Lives Matter protesters who marched past their home in St. Louis, Missouri.
Paris Dennard, a senior adviser on Black media for the Republican National Committee, said the convention will have people of color speaking, highlighted and showcased throughout all of the event programming. Dennard added that the diversity showcased at the Democratic convention—which he described as "boring" and "low energy"—was an attempt to "pander" to voters.
He said the focus should be on Joe Biden's record on race.
"They could put as many Black people up on that stage as they wanted to, and they did," Dennard said. "They could put big Hollywood celebrities up on the video screen, which they did. But none of those people, no matter how many Black people they had on that stage, would be able to erase what Joe Biden has said and his horrible record."
But advocates for people of color say the Republican Party has a lot more work to do when it comes to making meaningful contact with communities of color.
Clarissa Martinez, the deputy vice president of policy at UnidosUS, said discrimination has become a top tier concern for the Latino community since the start of the Trump administration. She noted that it's even remained a top-five issue amid the coronavirus pandemic and economic recession, both of which have disproportionately affected minorities.
"For the most part, the sentiment is that the community feels like it has a target on its back," Martinez said.
The Democratic convention, she said, raised the bar for whether Republicans are going to have similar messaging about the strength of immigrants and diversity. At the very least, the GOP has to start competing for the Latino vote and stop being its own "worst enemy."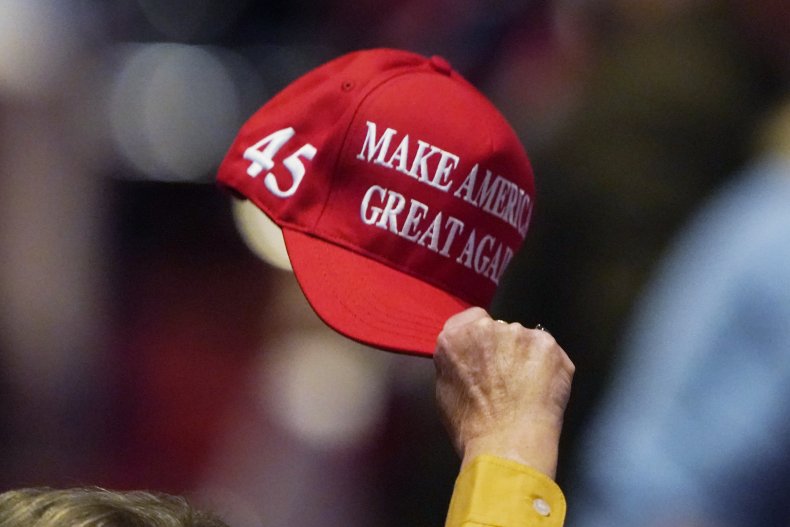 Cliff Albright, a co-founder of the Black Voters Matter Fund, said the Trump campaign in 2020 has been "trying to double down on their 'white only' strategy." He criticized the administration and the Republican Party for their response to racial unrest in the nation and the most recent efforts to make mail-in voting more difficult amid the health crisis.
"Black folks aren't blindly allegiant to the Democratic Party just because we're being hoodwinked," Albright said. "We see what the other side is doing, it's right in front of our face."
Albright said that while Biden is not a perfect candidate given his past record on policing and racial issues, the difference between him and Trump is still "night and day."
Trump has repeatedly claimed that he has done more for the Black community than any other president with the exception of Abraham Lincoln. But polling shows Biden leading among African American voters as well as Hispanic voters. The latest survey from the Pew Research Center found Black voters overwhelmingly support Biden, 89 percent to 8 percent. Among Hispanic voters, Biden had a 28-point advantage.
David Flaherty, a Republican strategist who once worked for the RNC, said the GOP will have a hard time winning elections if it doesn't start to improve it's standing among minority voters: "The writing is on the wall," Flaherty said. "It's math. It's a matter of time."