The Democratic Convention is Struggling to Get America's Attention, Initial Data Suggest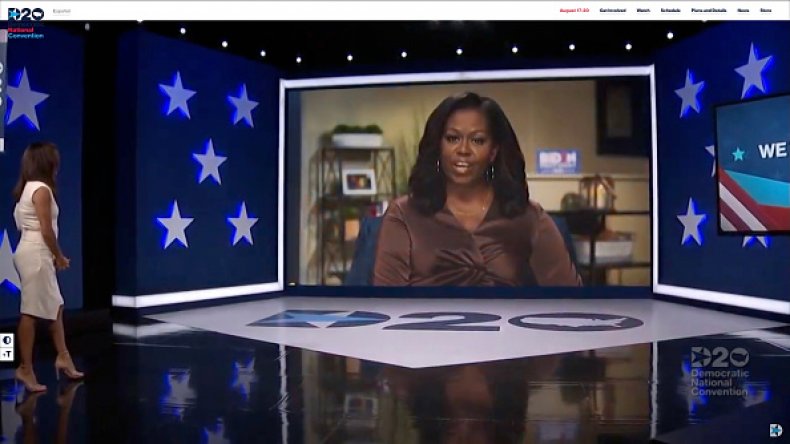 The Democratic National Convention began on Monday, but is struggling to get America's attention.
In Day 1 of its broadcast on Monday night, ABC led with 2.1 million viewers, about a quarter of what the network draws nightly for its flagship news program, World News Tonight, according to Nielsen data. NBC was next with 1.9 million and CBS was third with 1.7 million.
In all, 5.8 million people tuned in to the first night of the Democratic National Convention, down a whopping 50 percent from 11.6 million that tuned into the first night of the party's convention four years ago.
While insiders — and some media outlets — are spinning the numbers as a victory, considering the event lacks a live audience, falling balloons, dramatic reactions and everything else that makes a political convention worth watching, such analysis ignores the fact that the extreme partisanship in the nation did not boost interest in the convention that will nominate Joe Biden and Kamala Harris for president and vice president, respectively.
That the convention is virtual this year is, of course, due to the coronavirus pandemic, and a virtual convention is designed in large measure for online streaming. But preliminary numbers there, too, are small.
At the DNC's YouTube channel, a replay of Michelle Obama's 18-minute primetime speech where she said, "If we have any hope of ending this chaos we have got to vote for Joe Biden like our lives depend on it," was viewed just 4,000 times in the first 10 hours after it was posted.
It took 12 hours before an eight-minute speech made by Bernie Sanders managed to crack 1,000 views.
Meanwhile, a two-minute recap of the Monday night's event focusing on the death of George Floyd, Black Lives Matter protests, COVID-19 and speech highlights garnered only 333 views the first hour after it was posted Tuesday morning.
The live stream of the entire first night, which weighs in at two hours and 17 minutes, fared a bit better, with 538,000 views so far.
But many reviews are positive. The one getting the most attention comes courtesy of Deadline, a trade publication for the entertainment industry, which predicted Biden will beat President Donald Trump due to the DNC's brilliant convention.
"The first of four nights of Joe Biden and Kamala Harris' official bid for the White House was just over two hours of fast paced television that may just seal the deal," reads Deadline's review.
When cable TV is added to broadcast, 18.7 million tuned in to Monday's opening night, down 28 percent from four years ago, further suggesting that the virtual convention viewership isn't living up to the hype of the event.
Late Tuesday, though, Biden national press secretary TJ Ducklo tweeted that 10.2 million people watched at least some of Monday's event via digital streaming. "We are producing a digital convention, and people are watching," he wrote.
This story and headline have been updated to reflect cable TV ratings and a Tuesday tweet from Joe Biden's national press secretary.