Democratic Debate Live Stream: Start Time, Channel and How To Watch First 2020 Debate in Miami
The race for the White House will enter its next chapter on Wednesday, when the first Democratic debate takes place in Miami, at the heart of a swing state that could prove crucial to the outcome of the 2020 election.
Wednesday's debate is scheduled to begin at 9 p.m. ET and will be shown live on NBC, MSNBC and Telemundo. A live stream via NBC News can be viewed below.
Due to the huge size of the Democratic field running for a chance to take down President Donald Trump, the first debate will be split over two nights. While frontrunner Joe Biden will face off against 2016 contender Bernie Sanders in a star-studded lineup on Thursday, Wednesday will be highlighted by Senator Elizabeth Warren.
Warren has seen her poll numbers soar in recent weeks as voters have begun to latch on to her seemingly endless list of plans to address some of the fundamental issues impacting Americans. The progressive from Massachusetts will be center stage Wednesday, with the arrangement of the candidates determined by their performance in polls.
Warren is averaging 13 percent in polling, according to an average from RealClearPolitics, narrowly trailing Sanders although someway behind former Vice President Biden. Focusing on fleshed out proposals, many aimed at tackling inequality in the United States, Warren has become synonymous with the line "I have a plan for that."
Next to Warren on the stage at the Adrienne Arsht Center will be former Texas Representative Beto O'Rourke, who faced early criticism for lacking proper policy heft to accompany his enthusiastic and often impromptu town halls.
After also being rebuked for launching his campaign through a Vanity Fair cover story, O'Rourke, who lost to Ted Cruz in the battle for a Senate seat last year, relaunched his bid for the White House last month with a series of cable news appearances.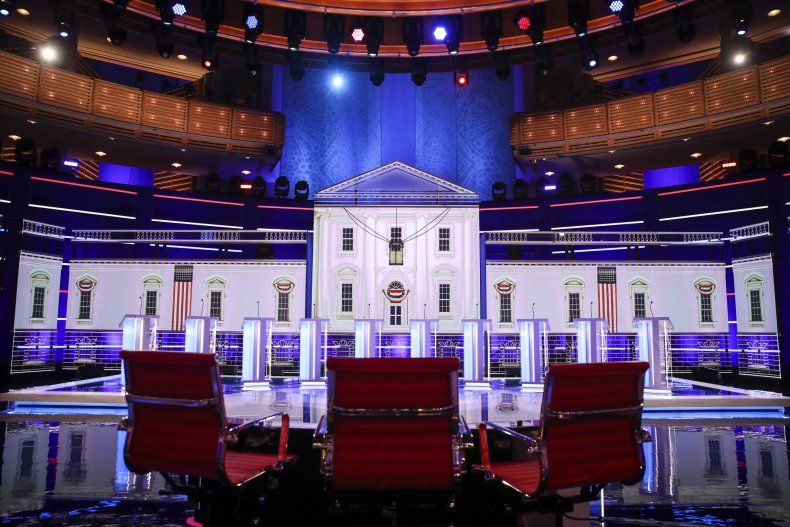 On other other side of Warren will be Senator Cory Booker, who, like O'Rourke, entered the race with a lot of enthusiasm but has struggled to kickstart his campaign in the polls. Also looking for a moment to ignite their campaigns on Wednesday will be Senator Amy Klobuchar and former Secretary of Housing and Urban Development Julián Castro.
Elsewhere there are several candidates who will be aiming to gain some traction in order to merely ensure they make the stage when the next debates take place at the end of July. Representatives Tim Ryan and Tulsi Gabbard, Washington Governor Jay Inslee, former Representative John Delaney and New York City Mayor Bill de Blasio are all averaging 1 percent or lower in the polls and could be in danger when the Democratic National Committee's qualification threshold stiffens after the first set of debates.
Democratic Debate Night One Lineup (Left to Right)
Bill de Blasio
Tim Ryan
Julián Castro
Cory Booker
Elizabeth Warren
Beto O'Rourke
Amy Klobuchar
Tulsi Gabbard
Jay Inslee
John Delaney
Time: 9 p.m. ET
TV Channel: NBC, MSNBC, Telemundo
Live Stream: NBCNews.com, Telemundo, Twitter, YouTube