Democratic Primary Performances: Here's How Elizabeth Warren, Julián Castro, Tulsi Gabbard and Others Did
Wednesday evening marked the first Democratic debate of the primary season, with 10 candidates taking the stage hoping to make a good impression on the American electorate.
Of course, expectations were different for each candidate. Below is Newsweek's official analysis of which candidates dazzled and will likely see a donation and poll boost in the coming weeks, and who fell short of what they needed to stand out in the long slog to election day.
Elizabeth Warren
Expectations: The bar for Warren's debate performance was set just about as high as it could be. A former debate champion who won a scholarship to George Washington University on her arguing skills, the Massachusetts Senator headed into the first primary debate as the clear frontrunner in her group of 10 candidates, with 13 percent of the vote. Already far ahead of those on the stage around her, she just needed so she just needed to maintain her lead. She didn't need a knock-out viral moment to gain recognition. Performing as expected would have meant she still won the debate as she didn't need to outdo expectations.
Reality: Met expectations.
Warren had a good debate where she was able to outline many of her policy proposals, explain that her key issue was protecting consumers from corporations and stayed away from interrupting other people. She had some applause lines but overall, no huge moments. She performed well, as expected.
Standout Line: "When you've got a government, when you've got an economy that does great for those with money and isn't doing great with everyone else, that is corruption pure and simple. We need to call it out. We need to attack it head on, and we need to make structural change in our government, in our economy and in our country."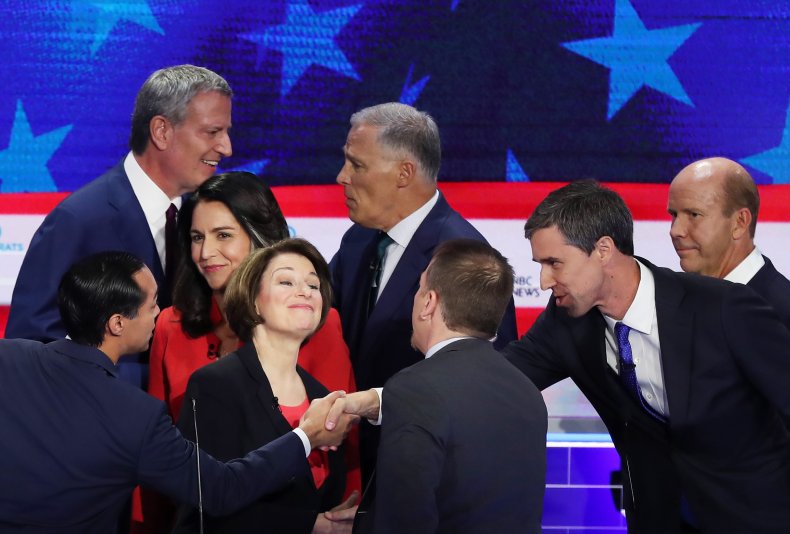 Cory Booker
Expectations: Booker began the 2020 primary with some buzz, but has since lost stamina and is polling at about 2.3 percent. But Booker is well-known for his attention-grabbing moments during Senate hearings and could have had a "viral" moment tonight that would boost his name in the polls. Booker is also known for his criticism of former Vice President Joe Biden's recent comments about segregationists, which gained significant attention.
Reality: Beat Expectations
Booker didn't have one "viral" moment per se, but he commanded the stage and came off as well-informed and passionate. He also had more speaking time than any candidate, with 11 minutes and six seconds total, during which he spoke in both English and Spanish. He showed that he had that presidential x-factor.
Standout Line: "If you need a license to own a car, you should need a license to buy and own a firearm."
Beto O'Rourke
Expectations: O'Rourke is another candidate who launched his campaign to great fanfare, complete with a highly-publicized Vanity Fair cover. But with just 3.3 percent of the vote, he needs a campaign boost, and has already held a campaign re-launch. O'Rourke is known for giving passionate talks that gain traction with the press, like his 2018 explanation of why he supports football players who kneel for the national anthem. He was expected to win the crowd over tonight.
Reality: Below Expectations
O'Rourke needed a "viral" or "standout" moment to bring him back into the public eye, but his performance fell flat. Despite grabbing a large amount of speaking time, just over ten minutes, his most memorable moment in the debate was getting called out by fellow Texan Julián Castro for his immigration policy.
Standout Line: "Trump has alienated our allies and our friends and alliances... He has made us weaker as a country—less able to confront challenges, whether it's Iran or North Korea or Vladimir Putin in Russia who attacked and invaded our democracy in 2016."
Amy Klobuchar
Expectations: Klobuchar needs something to set her apart from other candidates tonight. She's known as a strong orator in the Senate, but so far her voice has been lost in the crowded 2020 field. That could be because her moderate policies don't generate as much excitement as the more leftist policies of her competitors like Bernie Sanders and Elizabeth Warren.
Reality: Beat Expectations
Klobuchar had some good applause lines, some of the best of the night, and made a salient and memorable point around male candidates' action over abortion rights. Other standout moments included her attacks on Donald Trump—she mentioned the president nine times, the most of the pack—and her praise of the Parkland students. She showed that she could hold her own amongst the rest of the field, but was ultimately unable to establish herself as the go-to moderate candidate on stage. At times she got lost in the facts and had trouble making salient points, but overall she made a good impression.
Standout Line: "I just want to say there are three women up here who have fought pretty hard for a woman's right to choose."
Tim Ryan
Expectations: The name of the game for Tim Ryan is name recognition. Though the Congressman has served Ohio for nearly 20 years, he entered the primary field late in the game and has not gained as much national attention since. He really needed to distinguish himself on the stage.
Reality: Below Expectations.
Ryan was right in the middle of the candidates with his speaking time, but ultimately it felt like he spoke much less than he actually did. Ryan did spend more time talking about the working, rural class than other candidates but got little applause or reaction from the audience. Ryan also received some blowback for saying that the U.S. needed to remain engaged in Afghanistan, and inaccurately claimed the Taliban was responsible for the September 11 attacks.
Standout Line: "I've had family members that have to unbolt a machine from the factory floor, put it in a box, and ship it to China. My area, where I come from in northeast Ohio, this issue we're talking about here, it's been going on 40 years. This is not a new phenomenon in the United States of America."
John Delaney
Expectations: Despite being the first to declare his candidacy for president way back in 2017, Delaney is struggling with serious name recognition, and is polling at less than 1 percent. This national television was his best chance of grabbing some attention, but he needed to do something big to get that attention.
Reality: Beat Expectations.
Delaney grabbed time that wasn't given to him and made sure to repeat that he was a moderate, business-minded candidate. While some on the left might resent his views, he did manage to separate himself from the rest of the field while appealing to moderate, and even Republican, voters. And even if his insistence on working with Republicans upset some Democrats, at least they know who he is now.
Standout Line: "You know, I'm very different than everyone else here on the stage. Prior to being in Congress, I was an entrepreneur. I started two businesses. I created thousands of jobs. I spent my whole career helping small- to mid-sized businesses all over the country, 5,000 of them I supported. The Obama administration gave me an award for lending to disadvantaged communities. I know how to create jobs."
Jay Inslee
Expectations: Inslee has made a name for himself as the climate change candidate but he needed to be able to prove to Democratic voters that he can deliver on all fronts. If Inslee could show that he's more than a single-issue contender, he would have exceeded expectations.
Reality: Met expectations.
The candidate had some standout applause lines, like when he hammered home the importance of unions to fighting income inequality. But for the most part, Inslee stuck with his focus on climate change and with just five minutes of talking time spoke the least of all ten candidates on stage.
Standout Line: "Donald Trump is simply wrong. He says [wind turbines] cause cancer. I say they cause jobs."
Tulsi Gabbard
Expectations: Gabbard is seen as a bit of a fringe candidate, and her meetings with Syrian president Bashar al-Assad, views on vaccinations and now renounced views against LGBTQ rights raise eyebrows. She would do better than expected tonight if she could avoid being pushed on, or is able to explain, her reasoning for these actions and views.
Reality: Beat Expectations
While Gabbard began the night with a weird introduction instead of answering the question she was asked, she managed to answer questions about some of her previous views on LGBTQ rights well. She also showed off her military experience and foreign policy expertise in a particularly sharp exchange with Congressman Tim Ryan. According to Google Trends, Gabbard was the most Googled candidate on the debate stage, so she clearly left an impression on viewers.
Standout Line: "Maybe many people in this country can relate to the fact that I grew up in a socially conservative home. I held views when I was very young that I no longer hold today."
Julián Castro
Expectations: Julián Castro leads the field with his immigration plan, and his ideas have since been picked up by other candidates like Elizabeth Warren. Tonight was his chance to shine and take credit for his policy, and push others on the issue. It was also his chance to show that his policy expertise extends beyond immigration.
Reality: Beat Expectations.
Castro led the debate on immigration and dominated in a fierce standoff with Beto O'Rourke on his plans. Saying a recent photograph of a father and daughter who died trying to enter Texas "broke our hearts [and] it should also piss us all off," Castro also made strong comments on abortion and trans rights. Overall the candidate was poised, authoritative and made an impression on viewers who didn't know who he was beforehand.
"It was [Julián] Castro that came out of nowhere," says Van Jones on CNN. "Nobody was talking about Castro. He did the Texas takedown. Turned around, clocked Beto. You never saw it coming... he bought himself a lifeline and that's why I love these debates."
Standout Line: "I grew up with a mother who raised my brother, Joaquin, and me as a single parent. And I know what it's like to struggle. I know what it's like to rent a home and to worry about whether you're going to be able to pay the rent at the first of the month and to see a mom work very, very hard and know that moms across this country are getting paid less simply because they're women."
Bill de Blasio
Expectations: The New York City mayor has been lacking in both name recognition and likeability, but he tends to perform well in debates. If he could have come off as genuine or authentic and tell a compelling story he'll overperform expectations.
Reality: Beat expectations
De Blasio established himself as the only candidate aside from Elizabeth Warren on the stage who supported Medicare for All, and managed to grab debate time by interrupting other candidates. The move may have upset viewers, but it also showed them that he would be able to stand his ground to Donald Trump.
The progressive political group that supported Alexandria Ocasio-Cortez in her 2018 election, Justice Democrats, praised his performance. "Bill de Blasio made a clear case for a Democratic Party based in populist ideas and takes on a ruling class that wants to distract us by blaming immigrants for our problems," they wrote. To be fair, the bar was set low for de Blasio, so it was easy to exceed.
Standout Line: On the biggest political threat to the U.S., "Russia because they're undermining our Democracy."