As Impeachment Saga Continues, Democratic Candidates Battle Ahead of Next Debate
Amid all the impeachment drama on Capitol Hill, a la President-Trump-openly-asked-Ukraine-to-investigate-a-2020-competitor (which, sadly, has not lent itself to the simple slapping of "-gate" at the end), it's easy to forget that there's still a Democratic primary going on.
And Wednesday was a big day.
First, Bernie Sanders' campaign announced the senator had a heart procedure to have two stents inserted after he was found to have a blockage in an artery. The candidate is "conversing and in good spirits," his campaign said. The campaign showed impressive message discipline, quickly pivoting to Sanders' support for Medicare for All.
Then, the remaining leading candidates took to the stage in Las Vegas—two years and one day after a mass shooting left 58 people dead—for March For Our Lives' presidential forum. While universal background checks and banning assault weapons are widely supported, candidates differ greatly on a gun licensing system and whether there should be a mandatory buyback of those assault weapons. (Yes, say Beto O'Rourke, Cory Booker and Kamala Harris. Joe Biden, who conveniently released his gun reform plan yesterday, wants a voluntary scheme).
Former Congressman Beto O'Rourke, the only candidate to have supported March For Our Lives' gun plan, took some heat from Senator Cory Booker for flipping his position after a recent mass shooting in his hometown of El Paso, Texas. "Beto O'Rourke was not for gun licensing, criticized me when I came out for it," Booker said. "He saw the horrors visiting his community. Are we going to have to wait until Hell's lottery comes to your community?"
Finally, as all this was unfolding, the lineup was announced for the fourth (shudder) Democratic primary debate on October 15. Twelve candidates met the criteria of 130,000 donors and 2 percent support in at least four major polls by 11.59pm on Tuesday, and the powers that be decided they'll host them all on one stage—making this the largest ever presidential debate. There will be 10 returning candidates from September, plus surprise guests Congresswoman Tulsi Gabbard and billionaire Tom Steyer.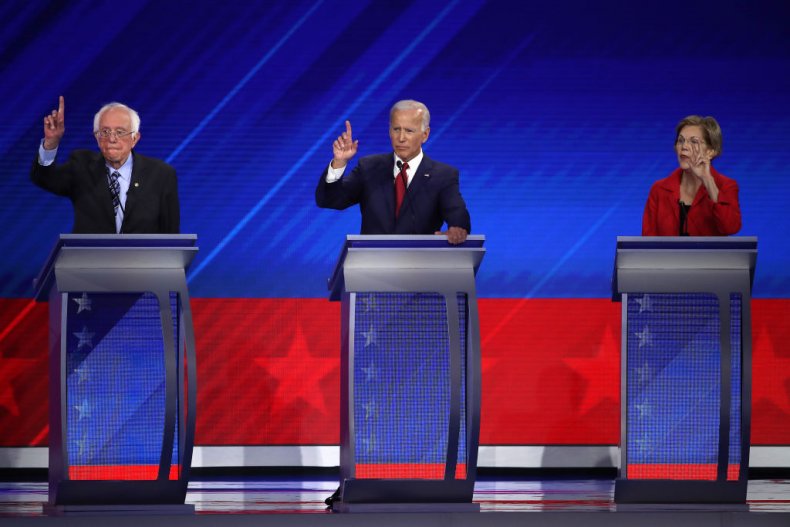 One thing to note, is the stage layout (which, thank the polling and funding gods, remains symmetrical). If you get a feeling of déjà vu, I don't blame you. The returning candidates will be standing in almost exactly the same spots, including Biden and Elizabeth Warren standing center stage.
Last debate, all eyes were on these two as it was their first debate matchup. Warren largely ignored Biden, while the former vice president looked energized and mentally present (the bar can be low when you're known for rambling and then cutting yourself off mid-sentence). By returning to the middle spot, Warren is cementing her position to viewers as a key frontrunner in this race. Not putting the two oldest white men at the middle of the most diverse candidate spread in history certainly helps Democrats too.
But will Sanders even take his spot at the podium? His campaign said he will be resting up for the "next few days" but that all appearances have been cancelled "until further notice."
On Thursday afternoon, Sanders' campaign confirmed to Newsweek that Sanders will "be at the debate" in a little under two weeks.
What's for sure is that in a primary where candidates' ages and "passing the torch" have been hot topics at debates, Warren could come off looking like a spritely candidate and a smart choice for progressive voters who don't want to gamble on 78-year-old Sanders. She might end up being the beneficiary of the simultaneous questions around Sanders' health issues and Biden's political ones.
As for Biden, he'll probably have a thing or two to say about this whole Ukraine matter. Or, maybe, he won't finish that sentence.