Andrew Yang, Cory Booker: College Republicans and Democrats Divided on Who Won Second Night of CNN Debate
Republican and Democrat college students differed on who they thought won the most recent presidential debate, with one group selecting entrepreneur Andrew Yang and the other opting for Senator Cory Booker.
On Tuesday, 10 presidential candidates took the stage for the second round of CNN's Democratic presidential debate. Last night, a different group of candidates were on stage, but tackled many of the same issues as the night before, including immigration and education.
Representative Tulsi Gabbard and former Secretary of Housing and Urban Development Julián Castro both touched on the cost of college. However, the topic of higher education was far less prevalent during the second night of CNN's debates than it was on Tuesday.
College students selected Senators Elizabeth Warren and Bernie Sanders, who have both proposed plans for forgiving student debt and establishing free college, Tuesday's winners. For Wednesday's debate, neither Gabbard nor Castro was ranked among the top three winners for Democrat college students.
Based on what students heard or saw during the second night of the debate, college students identifying as Democrats selected Booker as the winner out of all 10 candidates. Chegg, a learning platform, and College Pulse, a survey and data analytics company, surveyed 1,500 students after the debate and 17 percent of Democrats choose Booker.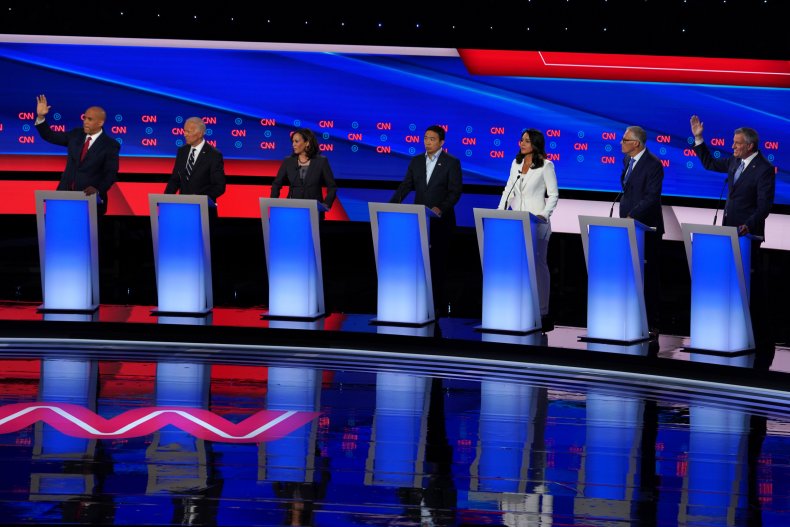 Republican college students largely rejected Booker, with only six percent claiming him as the winner. Their winner was Yang at 16 percent. Gabbard was a close second for Republican college students at 15 percent.
Fifteen percent of Democrat students selected Yang as the winner and when political affiliation wasn't a factor, the entrepreneur was considered the top performer out of all the candidates on the stage. Gabbard was second with 12 percent and Booker third at 11 percent.
However, the most popular response as to who won the second night of CNN's debates was "none of them" at an average of 30 percent.
For Tuesday's debate, the option "none of them" had 14 percent, coming in after Sanders at 22 percent and Warren at 27 percent.
During Wednesday's debate, Gabbard broke with Sanders' plan to provide free college tuition to undocumented immigrants. Instead, she said it was time to fix the legal immigration system to give people who were "living in the shadows" a pathway to legal residency or citizenship.
Gabbard also advocated for tackling the "crushing" student debt many people face and credited her generation with having the "bold, creative solutions" to be able to solve the problem.
Castro told viewers he would make higher education available to everyone by way of tuition-free public state universities and community colleges.
While college students seemed less enthused by Wednesday's candidates, the second night received more attention than the first. College Pulse found only 19 percent of college students watched Tuesday's debate, whereas 22 percent tuned in for Wednesday's.