Democratic Debate Live Stream: What to Know As Joe Biden, Kamala Harris Face Off in Detroit
Night two of the second Democratic presidential debates in Detroit will kick off Wednesday at 8 p.m. ET, with a rematch from the first debate of front-runners ex-Vice President Joe Biden and Senator Kamala Harris.
The remaining 10 candidates of the 20 who qualified for the debates, based on garnering at least 1 percent in three polls and 65,000 individual donors, will take the stage at the Fox Theater for about two hours. Candidates were split up more evenly than in the first debates hosted by MSNBC late last month.
CNN will broadcast the debates live on television, and provide a live stream at CNN.com that can be accessed without a subscription or login. Here are key things to know.
Candidates:
Joe Biden (former vice president)
Kamala Harris (senator from California)
Julián Castro (former housing secretary)
Kirsten Gillibrand (senator from New York)
Cory Booker (senator from New Jersey)
Andrew Yang (entrepreneur)
Tulsi Gabbard (congresswoman from Hawaii)
Jay Inslee (governor of Washington)
Bill de Blasio (mayor of New York City)
Michael Bennett (senator from Colorado)
Dynamics:
Biden and Harris will face a month after she burned him in the Miami debates over his reminiscence of working with segregationists in the past. "I do not believe you are racist," Harris, a black former prosecutor, told Biden, pointing out that he opposed integrated schools through busing.
Biden responded, "I did not praise racists" and said her remarks about his opposition to busing were "not true," before saying, "Anyway, my time is up."
At a fundraiser in Detroit last week, Biden promised, "I'm not going to be as polite this time" regarding the second debate.
Booker, who is also black, attacked Biden on his segregationist comments before Harris and will debate against the former vice president for the first time.
Meanwhile, Gillibrand, Gabbard, Bennett, de Blasio and Inslee, who have all polled between 0 and 1 percent, will be seeking breakout moments to stay alive in the race. To qualify for the third Democratic debate, set for September in Houston, candidates must receive 2 percent or more in at least four polls and have 130,000 unique donors.
Castro, who had a breakout moment in the first debate when he shared the stage with only one front-runner, Senator Elizabeth Warren, may have a tougher time repeating that on Wednesday. Yang will seek to have more speaking time after having only about 3 minutes in the first debate when he stood beside top-tier candidates Biden, Harris and Bernie Sanders.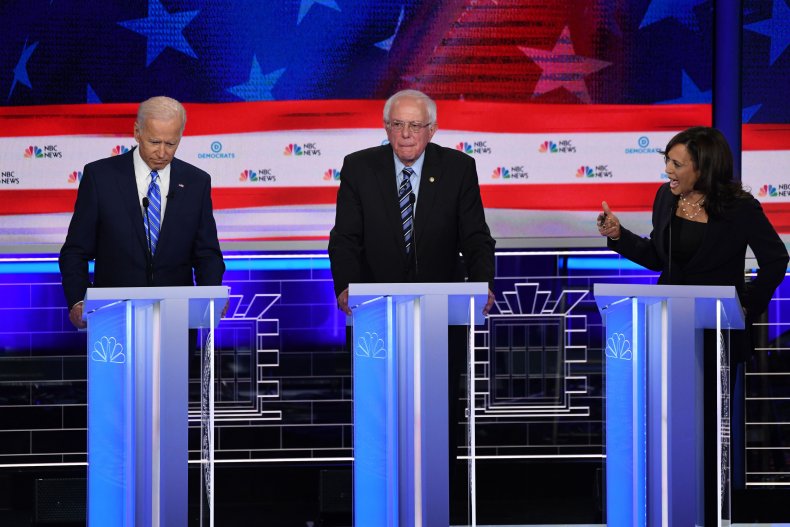 Issues:
Health care, the economy, immigration and foreign policy issues including Iran will continue to be major topics in the second debates. Race may also feature prominently, in light of President Donald Trump's tweets telling progressive congresswomen of color to "go back" to places where they came from.
Inslee will likely push his comprehensive climate agenda, which he updated Monday with a "community climate justice" plan to transition to a clean economy. Yang will again pitch his universal basic income proposal which would provide all American citizens over age 18 with $1,000 per month as a way to combat job loss to automation.
Moderators:
The debate will be moderated by three CNN personalities. They are chief political correspondent Dana Bash, CNN Tonight anchor Don Lemon and chief Washington correspondent Jake Tapper.
Watch:
The television broadcast will be aired exclusively by CNN.
Online live streams will be available on CNN.com, CNN apps and fuboTV.