What do Tulsi Gabbard, Cory Booker, Andrew Yang and Tom Steyer Have To Do To Qualify For The Next Debate?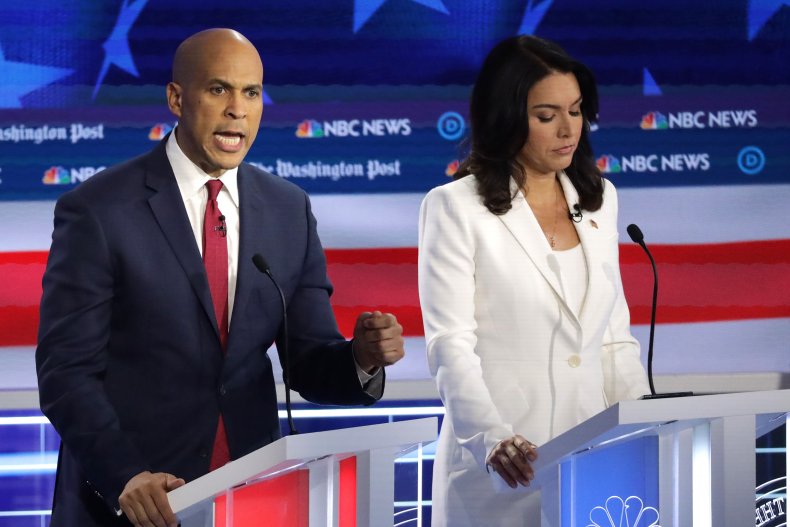 The final Democratic primary debate before the crucial Iowa caucuses will take place next week, and a narrowing qualification window promises to winnow the field to just a few candidates.
The Democratic National Committee (DNC) has tightened the requirements to appear on stage at each successive debate, and so far only five candidates have qualified for January 14 debate in Des Moines, Iowa.
Down from an unwieldy 20 candidates on the debate stage in June, the current line-up is slated to feature former Vice President Joe Biden, Senators Bernie Sanders, Elizabeth Warren and Amy Klobuchar and former South Bend, Indiana, Mayor Pete Buttigieg.
Most other candidates who could feasibly qualify have met the DNC's threshold of 225,000 unique campaign donors. Debate-stage candidates must also achieve four national or early-state polls with a ranking of 5 percent or higher, or earn 7 percent or more in two early-state polls.
A few candidates still stand a chance, albeit a long shot, of qualifying. Former New York City Mayor Michael Bloomberg has achieved the requisite number of qualifying polls, but has not yet met the threshold for unique donors. Bloomberg, however, has said he's not accepting campaign donations, meaning that there is a scant chance he could ever qualify for a Democratic debate.
Tech entrepreneur Andrew Yang has achieved just one of four required polls placing him at 5 percent or higher; billionaire Tom Steyer has achieved two of these polls. Senator Cory Booker has not qualified in a single poll for either polling pathway.
Yang and Steyer both appeared in the most recent presidential debate, and they risk becoming the latest pair of candidates to be cast aside amid the party's higher thresholds.
Hawaii Representative Tulsi Gabbard has neither met the polling nor donor threshold. Although she did not qualify for the December debate, she announced beforehand that she would not attend even if she had.
Polls must be released before Friday at midnight in order to count for primary qualification, so candidates have mere days to surge in a handful of additional surveys.
In addition to the stricter requirements, a relative deficit of polls is adding to frustrations expressed by some candidates about their inability to participate on stage.
In mid-December, Booker organized eight other candidates to sign onto a letter calling on the DNC to make it easier to qualify for future debates. All five candidates currently poised to appear on stage next week were signatories.
In part because of a struggle to appear in recent debates, former Housing and Urban Development Secretary Julián Castro folded his campaign.
"There's a sense of just frustration that you're excluding people from a debate because they don't have the money that often billionaires do to get on those stages," Booker said in an interview last week on MSNBC.
"I absolutely agree we should narrow the field, but not to do it in a way that benefits billionaires and not, unequivocally, one of the strongest campaigns going on in Iowa right now," Booker added, referring to his early-state efforts.
No nationally qualifying polls have been released since December 19, the date of the last Democratic primary debate. It is not clear how many more polling results will be released by the January 10 deadline.
In a statement to The New York Times, DNC spokesperson Xochitl Hinojosa urged poll sponsors to field additional polling. The committee had been facing increasing pressure to conduct its own polling to help boost the survey gap or to rescind the polling requirement entirely.
With just days to go before the cutoff date, candidates may have only a few more chances to notch enough qualifying polls to appear on stage. The most readily available pathway would require Steyer to achieve 5 percent in any two qualifying national or state polls, or for Yang to amass three of these polls.