Who Won the Democratic Debate? Biden, Beto and 10 Andrew Yang Fans
The three hour marathon that was the third democratic debate has ended (there are nine more of these, by the way) and we're ready to spend our "Democracy Dollars" on the winners and losers this time around.
We've got to talk about former Obama-era Housing and Urban Development Secretary Julián Castro, because he went hard on former Vice President Joe Biden...And it didn't work. Castro implied that Biden was off of his game and forgot about his own position on healthcare policy. But it turns out, it was Castro who was wrong. Maybe he should have learned from former 2020 candidate and California Congressman Eric Swalwell in a previous debate, calling out Biden on his age doesn't seem to work very well. Look, I get it, Biden is the frontrunner and he's trying to sink the ship. But sometimes, when you sink the ship, you get sucked down with it.
Other candidates that elicited a meh: Senators Amy Klobuchar and Kamala Harris. Senators Bernie Sanders and Elizabeth Warren did just fine, but likely won't gain any ground from their performance. Same goes for South Bend, Indiana, Mayor Pete Buttigieg. The chart below, from Statista, shows exactly how much time each candidate spent on the mic this debate.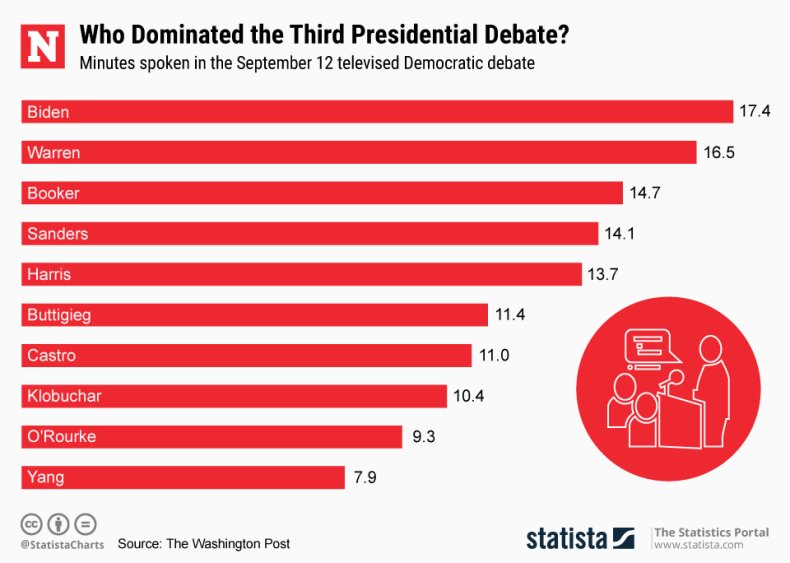 The beneficiaries of the debate this time around: Vice President Joe Biden, entrepreneur Andrew Yang and former El Paso Congressman Beto O'Rourke. The trio only won by default; there were no huge, stand out moments. Biden appeared to be alert and energized and dominated the field in speaking time. These things should be a baseline requirement for the Democratic candidate but here we are. Andrew Yang made Democrats on stage laugh at his unique policy plans, but the crowd was into it, and he had a number of applause lines. O'Rourke shined on gun policy and reparation talks, he'll likely gain some ground but not enough to boost him into the top tier of the race.
Overall, it appears that these debates helped us clarify policy positions and get to know the Democratic candidates a bit more, but won't do much to change the polls. Tonight was just further evidence that Biden, Warren and Sanders are cemented into the top tier as the race already begins to stratify.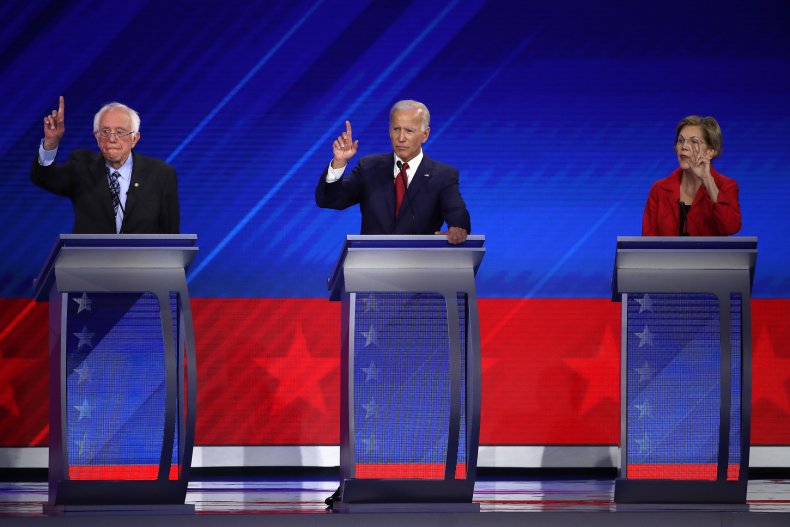 Yang: You Get a Car, And You Get a Car!
If you can't win 'em, buy 'em. In his opening speech, entrepreneur Andrew Yang fulfilled his promise of doing something that had never been done before on a debate stage: He announced a contest to give 10 American families $1,000 a month for a full year. The $120,000 spend is meant to highlight—and surely, Yang's hope is, prove the concept of—his Freedom Dividend plan to give all Americans a universal basic income each month.
"It's time to trust ourselves more than politicians," Yang said, telling those watching who "believe you can solve your problems better than any politician" to go to his website to sign up for the contest.
His announcement came just moments after Senator Amy Klobuchar complained about President Donald Trump, "running the country like a game show." She laughed and clapped in response to Yang's announcement.
South Bend, Indiana, Mayor Pete Buttigieg took time to compose himself after Yang's announcement, as laughter could be heard from another candidate, before commenting that, "it's original, I'll give you that."
To be fair, Yang got a whole lot of applause, not laughter, from the audience.
Biden Forgets, Castro Reminds
Vice President Biden, 76, has been called out for his forgetfulness and series of gaffes on the campaign trail, causing some to question whether he has the mental acuity to take on the office of the presidency. Tonight, he appeared to briefly forget Senator Elizabeth Warren's name, referring to her as "my distinguished friend..the Senator on my left..." and accidentally called Senator Bernie Sanders "president," but otherwise seemed sharp and perky.
Former Obama-era Housing and Urban Development Secretary Julián Castro, however, went directly after Biden's forgetful reputation. When he believed he heard Biden change his stance on buying into and opting out of healthcare plans and exchanges, Castro loudly asked, "Are you forgetting what you said two minutes ago? Are you forgetting what you just said two minutes ago?" Just in case the message wasn't clear enough, Castro added, "You're forgetting that!"
The crowd, by the way, audibly did not like Castro's jabs at Biden. After the debates, Castro attempted to explain his position and why he thought Biden was wrong to ABC News, and defended his aggressive positioning on the stage by saying that this wasn't personal, it was about policy and that he has "tremendous respect" for Biden.
Warren Ignores Biden
Julián Castro went after Joe Biden multiple times during the debate, pointing out that Biden was vice president while President Obama deported huge numbers of migrants from the U.S., and claiming that Biden "wants to take credit for President Obama's work without answering any questions."
Senator Bernie Sanders took some jabs at Biden on healthcare, and greeted him with a little bit of cheeky familiarity. "Sorry, Joe" he said before repeating his now-famous line about Medicare for All, "I wrote the damn bill, if I may say so...Let us be clear, Joe, in the US we are paying twice as much on healthcare than Canada or other countries. Maybe you'll run into people who looove their premiums, I haven't." (Biden also went after Sanders, to be fair. "Let me tell you something," he said. "For a socialist, you've got a lot more confidence in corporate America than I do.")
Elizabeth Warren, however, kept the former vice president out of it. She decided to stay above the fray, and focus on her own business. It worked. She came across as focused, and above petty fighting.
In that way, she was actually able to set herself apart from the other candidates without hitting us over the head with the differences. Show don't tell, people.
"Hell Yeah" O'Rourke is Taking Away Guns
Beto O'Rourke received heavy praise from several of his fellow 2020 candidates on his response to the August 3 shootings in El Paso, Texas. The candidate took time to suspend his campaign in the wake of the racially-motivated tragedy and later announced his support for a gun buyback scheme and a ban on assault weapons.
"The way he [O'Rourke] handled what happened in his hometown is meaningful," Biden said. "To look in the eyes of those people, to see those kids, to understand those parents, to understand the heartache, we are ready to do this."
Other candidates also took the time to praise O'Rourke, seemingly because they were truly inspired by him and not just because they no longer view him as a competitive threat.
It gave O'Rourke the perfect backdrop to showcase the toughest stance on guns by far this debate season.
When asked if he would require gun owners to sell their guns back to the government per recent comments, he said, "Hell, yes," without blinking. "We're going to take your AR-15, your AK-47. We're not going to allow it to be used against our fellow Americans anymore."
The former El Paso Congressman continued, "If it's [a] weapon that was designed to kill people on a battlefield. If the high impact, high velocity round, when it hits your body shreds everything inside of your body because it was designed to do that so you would bleed to death on a battlefield, and not be able to get up and kill one of our soldiers."
O'Rourke's stance received applause from the audience and praise on Twitter, but he still remains the only candidate to take such a staunch position. The question is how it goes over with more moderate Democrats.
Oh and by the way, that line was likely pre-planned because O'Rourke's team is already selling merch...He delivered it well though, I believed it was off the cuff.
Pete Buttigieg Has Some Sharp Lines, But Little Else
On President Donald Trump's trade wars: "I remember President Trump scoffed and said he'd like to see me making a deal with Xi Jinping. I'd like to see him making a deal with Xi Jinping."
On bickering on the debate stage: "This is why presidential debates are becoming unwatchable," Buttigieg said, ironically cutting into a question meant for Yang. "This reminds everybody of what they can not stand about Washington — scoring points against each other, poking at each other and telling each other that you're, my plan..."
But Buttigieg didn't get much speaking time overall, clocking in at just 11 minutes and 31 seconds. Biden got 17:24, Warren got 16:27 and Booker got 14:44, for comparison. At least he made the most with what he had.
Obama's Back, Baby
Former Vice President Joe Biden has seriously stressed his friendship and record with former President Barack Obama while campaigning. I mean, he won't let us forget about it. On the debate stage tonight, he explained that, "I stand with Barack Obama through all eight years, good, bad and indifferent, that's where I stand." Okay!
Other candidates, meanwhile, have attempted to distance themselves from the last Democratic commander-in-chief. In the June debates, Senator Kamala Harris criticized Obama's deportation record as did former Obama-era Housing and Urban Development Secretary Julián Castro.
Even Obama expressed worry about his changing legacy this summer, remarking during a speech in Berlin that he feared progressives in the U.S. were "creating what's called a 'circular firing squad.'"
Today that ended.
Multiple candidates said "thanks, Obama" and actually meant it. "We all owe a huge debt to President Obama who fundamentally transformed healthcare in America," said Senator Elizabeth Warren, starting the trend.
"I want to give credit to Barack Obama," added Harris. Later, she addressed Biden, "Hey Joe, instead of saying no, let's say, 'Yes, we can,'" invoking Obama's famous campaign slogan. Castro did the most he absolutely could to name drop his old boss. He wanted us to know that "I also worked for President Obama" and "we owe a debt of gratitude for President Barack Obama." He even turned Biden's calling card back on him: "I'm fulfilling the legacy of Barack Obama and you're not," he said.
But Biden, always good with a zing, got the final word. "That would be a surprise to him," he said. Burn.
Anyway, Obama appears to be back in style..Just in time for fashion week.