What to Look For in Tonight's Democratic Debate
Tonight, 10 of the 2020 White House hopefuls will face off on a Texas stage for three hours. This is the third Democratic debate, but also the most important yet, the stakes are higher and the number of candidates are lower.
Unlike previous debates where 20 candidates were randomly split up between two nights, this is the first time that all of the top contenders will appear together, and one of the first chances they have to fully differentiate themselves from one another.
Participating in the debate are: Former Vice President Joe Biden, Senator Bernie Sanders, Senator Elizabeth Warren, South Bend, Indiana, Mayor Pete Buttigieg, Senator Kamala Harris, Senator Amy Klobuchar, Senator Cory Booker, former Congressman Beto O'Rourke, former Housing Secretary Julián Castro and tech entrepreneur Andrew Yang.
Here are five things we'll be watching for:
Biden v. Warren
Tonight will be the first time Elizabeth Warren and Joe Biden share a debate stage, and we'll be watching to see how the two front runners—who have dismissed the type of approaches taken by each of their campaigns—interact with one another on issues like healthcare, climate change, criminal justice reform, student debt and more.
Meanwhile, progressives Bernie Sanders and Warren will have to prove that they stand out from each other as they jostle for second place in the election. Using Biden as a foil may help them do that (it worked for Kamala Harris in an earlier debate).
The Gaffes
Joe Biden has never been known for his smooth-talking ways, he's had a reputation as a bit of a loveable gaffe machine for years. But multiple stories about the former vice president mixing up basic names and places, like forgetting what state he's in, or referring to the president as "Donald Hump," or saying things like, "Poor kids are just as bright and just as talented as white kids," have left some worried that the 76 year-old isn't up to the job. He was particularly criticized in recent weeks for conflating parts of a war story in Afghanistan, defending his comments by saying, "The details are irrelevant in terms of decision-making."
We'll be looking to see how he performs on the debate stage. We're also curious to see if any other candidates are willing to call him out on his recent misstatements.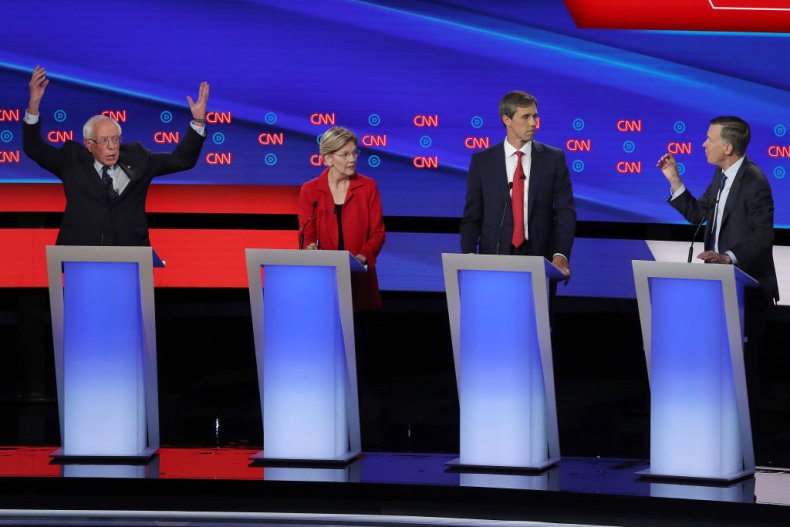 Can Buttigieg and Harris Stand Out?
Right now the top three candidates in the race—Biden, Warren and Sanders—appear to be miles ahead of their competition. While it would take a miracle for Castro, Yang, O'Rourke or Klobuchar to catch up to the front (and miracles do happen!), things aren't quite so dire for Pete Buttigieg and Kamala Harris who are in fourth and fifth place, respectively.
They'll need to use their time on the stage to really stand out. They both need big moments that the media talks about and replays. Harris had a moment with Joe Biden during the first debates, we'll see if she tries to recreate it. Buttigieg, meanwhile, has performed well but hasn't said or done anything to receive that poll-propelling spotlight since his burst onto the scene earlier in the year.
#YangGang
Of all the candidates who will be on stage tomorrow night, Andrew Yang is the only non-politician and also stands out for his unique ideas around a universal basic income and measuring the economy through happiness and other intangibles, rather than GDP.
In past debates, Yang has been unable to get much airtime, and it seems likely that he'll have trouble attracting the cameras when competing against big names and seasoned debaters like Biden and Warren. But we, and his diehard supporters, want to hear what he has to say, and we want to hear how the other, more mainstream candidates react to his views.
How Messy Will It Be?
This is just the third of TWELVE Democratic debates scheduled. To be clear: Those don't include the debates between President Donald Trump and whoever the Democratic nominee is. We're still in the salad days of this marathon feast, and it already feels pretty tiring.
Will this be another debate where candidates interrupt each other and ignore the moderators? Or will this debate feature respectful candidates who are able to explain substantive policy ideas? My guess is the former, but we'll see!