The four-month process of choosing a Democratic presidential nominee began on February 3 in Iowa and will end when those in the U.S. Virgin Islands vote in June. In July, party members will converge on Milwaukee, Wisconsin to finalize their choice on who will take on President Donald Trump in November.
Newsweek is tracking the number of delegates each candidate has been awarded in the race to date. The current tally per Statista (for both those still running and those who have withdrawn) is as follows: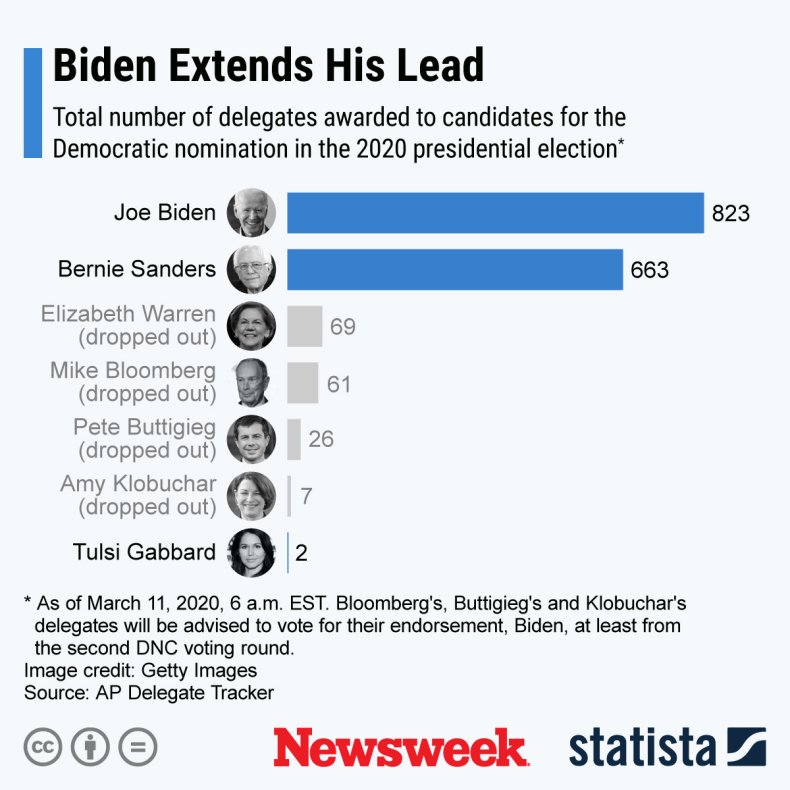 The candidates are battling for a majority of 3,979 pledged delegates, meaning the magic number to secure the nomination is 1,991 delegates.
There are also 771 superdelegates who will be able to vote for their desired nominee at the Democratic National Convention in Milwaukee from July 13-16. These superdelegates can cast their ballots in the first round of voting only if a candidate has already secured a majority of pledged delegates.
If no candidate has a majority, the superdelegates can vote from the second round onward. Then, a candidate will have to win a majority of 2,375 pledged and superdelegates.
The rules around delegates representing candidates who have dropped out vary by state laws and state party rules, though they will largely be able to report to the DNC and vote for whoever they like. Some states dictate that the delegates will still have to vote for their candidate in the first round of balloting.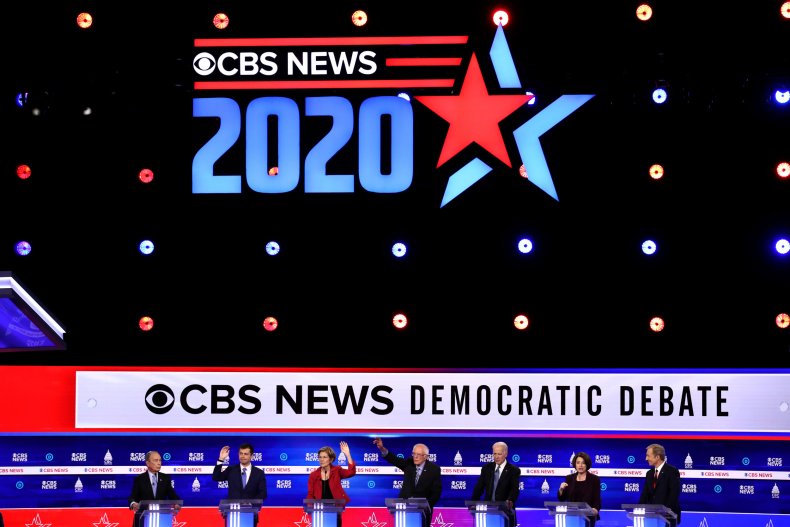 Many of these delegates will likely follow the endorsements of their original candidates—for example, Buttigieg and Klobuchar delegates may well back Biden—once they are able to vote freely.
A total of 1,357 delegates—around 34 percent of the total—were up for grabs on Super Tuesday. They were spread across fourteen states and one U.S. territory as follows, in descending order of the number of delegates available:
California: 415
Texas: 228
North Carolina: 110
Virginia: 99
Massachusetts: 91
Minnesota: 75
Colorado: 67
Tennessee: 64
Alabama: 52
Oklahoma: 37
Arkansas: 31
Utah: 29
Maine: 24
Vermont: 16
American Samoa: 6
A week-long vote for Democrats abroad also began on Super Tuesday, from which 13 delegates are awarded.
The other largest states by delegate number are spread out over the weeks between Super Tuesday and the end of voting in June. Biden and Sanders will be the final two left battling for the nomination in the contest's latter stages. Some key dates and states are:
March 10
Michigan: 125
Washington: 89
Missouri: 68
Mississippi: 36
Idaho: 20
North Dakota: 14
March 14
Northern Mariana Islands: 6
March 17
Florida: 219
Illinois: 155
Ohio: 136
Arizona: 67
March 24
Georgia: 105
March 29
Puerto Rico: 51
April 28
New York: 274
Pennsylvania: 186
Maryland: 96
June 2
New Jersey: 126
This article has been updated to reflect pledged delegates as of 6:00 a.m. ET on 03/11/20.