Democratic Delegate Count Update: Primary Election 2020 Results for Joe Biden, Bernie Sanders, and Tulsi Gabbard
Florida, Arizona and Illinois held their primaries on Tuesday. Ohio, which was originally scheduled to hold its primary elections on Tuesday, closed its polls due to the coronavirus pandemic.
Former Vice President Joe Biden held the highest number of delegates going into Tuesday's primary elections with 898. Vermont Senator Bernie Sanders was in second place with 745 delegates while Hawaii Representative Tulsi Gabbard was a distant third with two delegates.
In order to be considered as the Democratic Party's nominee, a candidate must be awarded 1,991 delegates during the primary election cycle.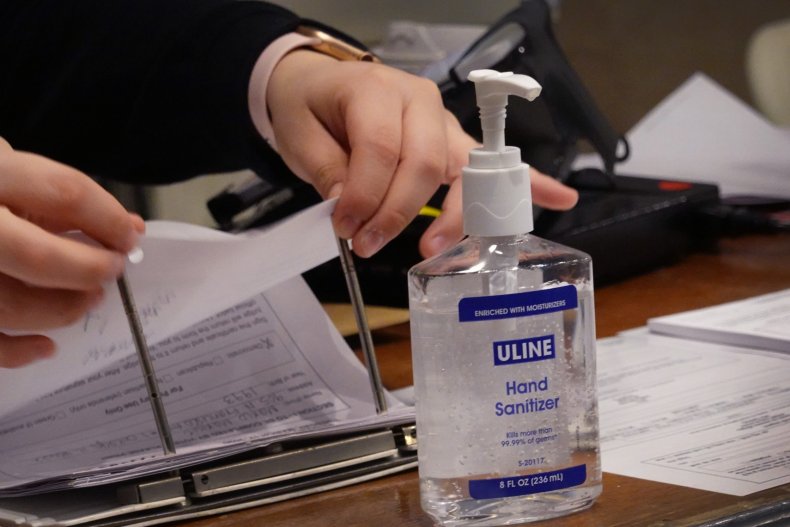 If a candidate does not receive at least 15 percent of the popular vote, they are not awarded any delegates. Above that threshold, delegates are allocated to each candidate according to how much of the vote they received. In other words, the winner of a primary will be awarded more delegates than any other entrant.
Florida had the most delegates to award Tuesday with 219 up for grabs. Illinois had 155 delegates while Arizona had 67 delegates to be awarded. That number represents a total of 441 delegates.
Candidates showed concern about the manner in which residents of those states cast their ballots amidst the coronavirus pandemic.
"Elections are happening today in Arizona, Florida, and Illinois," tweeted Biden. "I encourage folks to vote by mail or curbside vote if you can. If you vote in person, please wash your hands, don't touch your face, and stay 6' from others in line."
"While Arizona, Florida and Illinois are still voting today, going to the polls amid the coronavirus outbreak is a personal decision and we respect whichever choice voters make," Sanders tweeted, encouraging people to visit the CDC website for coronavirus information.
Gabbard tweeted Tuesday that primaries should not be conducted during the current health crisis at all.
"There are a number of reasons why primary elections should not be held at this time," Gabbard wrote. "#1. It'll help spread deadly #coronavirus disease. #2. Many of our seniors, being concerned about their health, won't go to the polls—i.e. senior votes will be suppressed."
With 98 percent of the districts reporting in Florida, Biden has received 1,058,600 votes for a running total of 61.7 percent of the popular vote, according to the Associated Press. Sanders is in second place with 392,180 votes putting him at 22.9 percent of the vote. Gabbard received 8,650 votes, coming in at 0.5 percent.
This gives Biden 130 delegates to Sanders' 48 delegates with 41 left to be allocated.
In Illinois, Biden has received 93 delegates while Sanders has been allocated 46 delegates so far. With 86 percent of the precincts reporting, Biden has 747,513 votes while Sanders trails with 457,652 votes. Biden is currently ahead with 59.1 percent of the popular vote, leaving Sanders with 36.2 percent. Gabbard has received 7,495 votes, placing her at 0.6 percent of the vote. There are 16 delegates left to be allocated.
Arizona polls were the last to close and early results indicate a win for Biden with six percent of the precincts reporting. Biden currently has received 199,860 votes, placing him at 42.4 percent of the vote. Sanders, with 139,419 votes, has 29.6 percent of the popular vote. Gabbard sits at 0.5 percent with 2,428 votes.
TOTAL DELEGATE COUNT: Biden has a total of 1,147 delegates. Sanders has accrued 861 total delegates. Gabbard is holding steady at two delegates.
Last Updated at 11:47 p.m. 3/17/2020