Democratic Field of 2020 Presidential Candidates Shrinks More as Washington Gov. Jay Inslee Withdraws
Wednesday night, Jay Inslee, the Governor of Washington state, withdrew his name for consideration to become the next Democratic presidential nominee for the 2020 election.
Inslee championed climate change as one of the most important agenda items during his campaign. He reiterated in his message Wednesday that Democrats would continue looking for the candidate who would fight for the planet's climate.
"I believe we're going to have a candidate to fight this battle," Inslee said Wednesday. "I'm inspired by the people I've met across the country. I'm not going to carry the ball but we're going to make sure somebody is."
According to the Associated Press, two people close to Inslee said that he suspended his Presidential campaign in order to seek a third term as governor. The sources requested anonymity as they were not authorized to discuss Inslee's announcement publicly.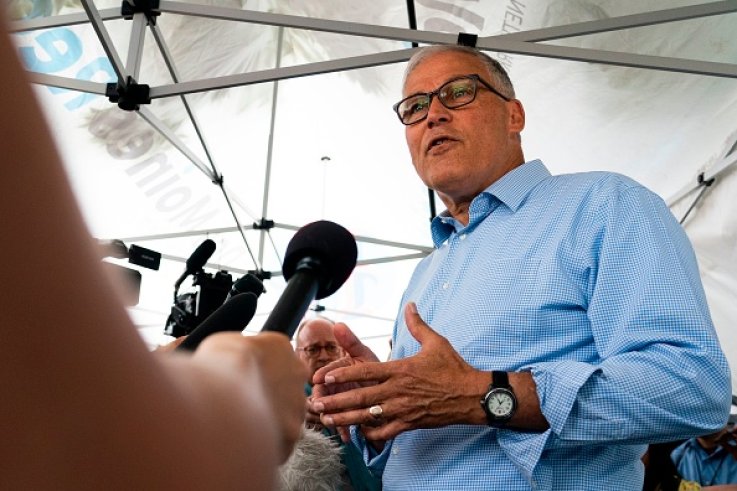 Inslee is the third prominent Democratic candidate to withdraw from the race, following the paths of California Rep. Eric Swalwell and former Colorado Gov. John Hickenlooper.
The governor acknowledged he would most likely not get the candidacy when he told MSNBC, "I'm not going to be president, so I'm withdrawing tonight from the race."
Inslee also announced his decision to bow out of the race against President Donald Trump in a Twitter post on Wednesday.
"As we turn to the future, I will have more to say about what comes next for me in the days ahead. I will continue to lead, to demand bold action, and to do everything in my power to ensure the fight to defeat climate change stays at the top of the national agenda," Inslee wrote.
The governor was one of many among a crowded field of 2020 Democratic hopefuls who hope to unseat President Donald Trump.
Many of those candidates spoke out on Twitter when Inslee announced he was stepping down, including two candidates near the top of the polls.
Sen. Bernie Sanders thanked and congratulated Inslee for his climate awareness charge brought to the 2020 race.
"There is no more important issue facing humanity. Together we will work to pass a Green New Deal and create millions of jobs," Sanders wrote in his farewell.
Sen. Elizabeth Warren also recognized Inslee's climate change initiative.
"Thank you @JayInslee for fighting every day to make sure that climate change remains a primary focus of this election. Climate change is real and it's a crisis—and I will keep fighting alongside you to take bold action before it is too late."
Democratic Field of 2020 Presidential Candidates Shrinks More as Washington Gov. Jay Inslee Withdraws | U.S.