Democratic Frontrunners' Favorability Dropping, But They're Still More Popular Than Trump, New Poll Shows
Among top Democratic presidential candidates, "none are especially well-liked by registered voters," according to a recent poll by Quinnipiac University.
But they're still more popular than President Donald Trump, the poll found.
It's the latest measure of lackluster support for Democrats heading into crucial primary elections. In fact, voters are more confused about who to support now than they were in mid-April as momentum stalls for just about everyone, a similar survey by Reuters/Ipsos found.
Trump's net "favorability score," a unit calculated by subtracting unfavorability from favorability, was -17, according to Quinnipiac's poll of 1,553 registered voters during the first week of December.
That's significantly worse than Democratic frontrunners including former Vice President Joe Biden (-3), Senator Bernie Sanders (-4), Senator Elizabeth Warren (-7) and South Bend, Indiana, Mayor Pete Buttigieg (+2).
Notably, all the Democrats' favorability scores were negative except Buttgieg's, but respondents were also less familiar with him compared to the other frontrunners.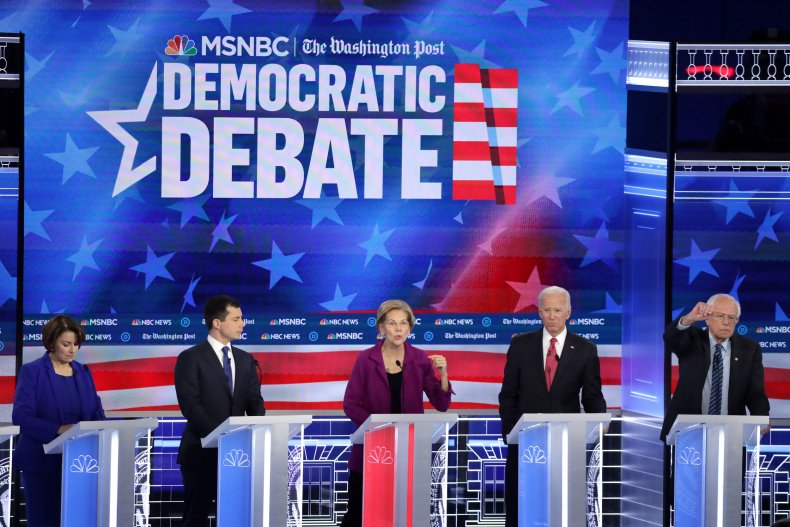 At this point in the 2016 election, the polls told a different story. A Quinnipiac poll on December 2, 2015, found that 47 percent of voters supported Hillary Clinton, compared to 41 percent for Trump––a stronger showing than seen today for Biden (44 percent), Sanders, Warren and Buttigieg.
That said, when compared more directly to Trump, respondents are mostly choosing Democratic candidates, whether or not they view them as "favorable" in a separate question. If the general election were being held today, Biden and Sanders would win the most votes (51 percent) compared to Trump (roughly 43 percent).
Warren, billionaire Mike Bloomberg, Buttigieg and Senator Amy Klobuchar also come out on top when respondents were forced to choose between them and the president.
On the other hand, a recent survey by Monmouth reported Trump's favorability at -6, better than any of the Democratic front-runners except for Buttigieg.
The Quinnipiac poll is one of several over the past few weeks to show growing momentum for Biden, who claimed 29 percent support among likely Democratic voters. Sanders is also doing well, while Warren's numbers are low, but stable.
"This is the first time Biden has had a double-digit lead since August, and Sanders' best number since June. While Warren's numbers seem to have stabilized, Buttigieg's numbers have dipped," said Quinnipiac polling analyst Tim Malloy.
In 2016, polls seemed to underestimate support for Trump and Brexit, but a recent analysis by FiveThirtyEight found that polls, broadly speaking, are just as accurate as they've ever been by historical standards. It's just that "polls were never as good as the media assumed they were before 2016," according to the analysis.